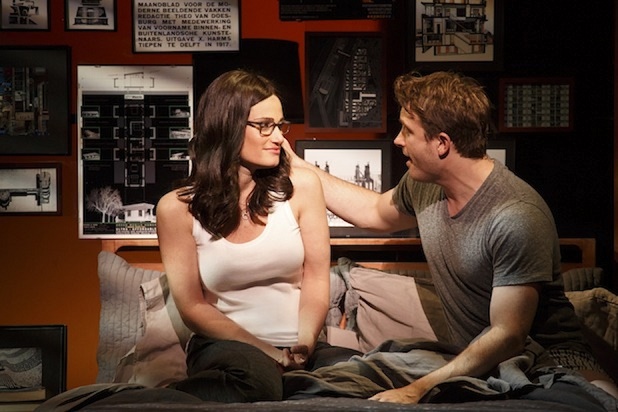 Nearly 45 years ago, I saw a performance of Stephen Sondheim and George Furth's musical "Company." The show had just opened and the theatergoers at my particular performance were more than a little confused and exasperated at this tendency the characters had for repeatedly showing up at the same birthday party. They wanted to know, Why is Bobby celebrating so many birthdays?
That was 1970. In 2014, I've been experiencing déjà vu when I visit the theater chat rooms to read all the confusion and exasperation with regard to Tom Kitt and Brian Yorkey's new musical, "If/Then," which opened Sunday at the Richard Rodgers Theatre. The question now isn't so much why as how. How do we tell apart the parallel lives led by the lead character, Elizabeth (Idina Menzel)? You'd think these people online had never seen "Company" or "Follies," where the characters meet younger/older versions of themselves, or "Merrily We Roll," where the narrative moves in reverse. Today, audiences seeing those classic shows understand perfectly what's going on. Audiences seeing them in the original productions – take it from me – were very confused and exasperated.
Also read: Adele Dazeem Makes Mock Broadway Debut in Idina Menzel's Show (Updated)
Yorkey's double-narrative book is one of the most interesting things about the "If/Then," frankly. Did none of these chat-room people see the 1998 movie "Sliding Doors," wherein Gwyneth Paltrow's character enters a subway car in one story line, and in the other she just misses it as the train doors close a second ahead of her? Granted, "Sliding Doors" is easy to follow, thanks to editing and the fact that Paltrow's character in one story line gets a radically short bleach job while she keeps her hair long and brunette in the other. But then, the switching back and forth in the film doesn't have the pleasures of the stage, where the physical space never changes and Elizabeth goes to bed with one man but wakes up with another – and ends up pregnant. Two pregnancies, two very different men: the very handsome doctor-soldier Josh (James Snyder), whom she's just met, or the nerdy bisexual urban-activist Lucas (Anthony Rapp), who's an old friend.
How to tell the two Elizabeths apart? The one who has a family is called Liz, the one who follows a high-powered career is called Beth. Needless to say, nearly every sequence begins with someone calling the character either Beth or Liz. It's not so tough to follow, if you're paying attention. Then again, it's definitely not "Oklahoma" or "South Pacific."
Also read: Idina Menzel Broadway Musical Capitalizes On Travolta's Oscar Mess-Up
Not that "If/Then" doesn't owe something to those classics of the musical theater. Rodgers and Hammerstein's musicals almost always offer a primary love story, as well as a secondary one. Usually, the primary story features a more mature romance, the secondary story involves a much younger couple or one with essentially comic characters.
In "If/Then" that secondary romance features a same-sex couple. But since there are parallel primary romances going on, that means we have two same-sex couples to follow: the lesbians (LaChanze and Jenn Colella) and the gay guys (Rapp and Jason Tam). Maybe that's just one too many stories. Sorry, lesbians, but your story is a little superfluous, whereas Lucas is one of the show's two impregnators.
Again, it's not confusing with all these stories; it's just all spread a little thin. And it's all a little too fast. To kick off Beth/Liz's stories, Yorkey doesn't mess around. Has any female character having just moved to Manhattan been offered so many great jobs and been so relentlessly pursued by this many good-looking men? The show might be bettered titled "Lucky Girl!" Even though Elizabeth is essentially living two lives, there's no unemployment or Internet dating problems in either of them. In fact, Yorkey's script has more references to the lead character's beauty, talent and intelligence than the first reel of a Barbra Streisand movie.
Also read: John Travolta Butchers Idina Menzel's Name, Inspiring 'Adele Dazeem' Madness (Video)
Even so, it's an intriguing book, but one that Yorkey might tinker with beyond opening night, just as the books of "Merrily We Roll Along" and "Follies" went through many revisions after their respective Broadway premieres. In other words, see "If/Then" now so you can have the fun of making comparisons to its future revivals, of which there will be many.
Yorkey and composer Tom Kitt made theater history with their first Broadway show, 2009's "Next to Normal," a Pulitzer Prize winner that won the Tony for best score, which is hard rock. Well, hard for Broadway. With the non-bipolar characters of "If/Then," these songwriters have wisely switched to light pop. It's a lovely, lilting score with harmonies that shimmer in perfect unison with Mark Wendland's mirrored, revolving set. Not to push the "Company" comparison too much, but what Wendland achieves here is as stunning in its spare complexity as what Boris Aronson did 45 years ago. With its elevators and staircases, "Company" had the eye moving up and down; "If/Then" keeps its heroine's paths spinning on two parallel horizontal planes, an effect beautifully reinforced by Larry Keigwin's choreography and Michael Greif's fluid direction.
Not every song is a keeper. Sorry, same-sex couples: Your ditty-like duets in act two stop the show and not in a good way. Considering the enormous musical contributions that gay artists have made to the musical theater over the years, there should be hundreds of LGBT characters by now, but unfortunately, "If/Then" just isn't the show to make up for past omissions.
For a musical starring Menzel, Kitt's music is surprisingly low-keyed, restrained. Yet, here and there he gives the people that dote on "Defying Gravity" and "Let It Go" what they want. Those fans can rest assured that she does not disappoint. Menzel attacking a high note has all the high-voltage charm of a jackhammer going after reinforced concrete.