How 'The Irishman' Nailed a Vintage Look: 295 Locations, 28 Sets, Countless Details
A version of this story about the production design of "The Irishman" first appeared in the Oscar Nominations Preview issue of TheWrap's Oscar magazine.
Production designer Bob Shaw knew the territory when he signed on to do Martin Scorsese's "The Irishman." Not only had he worked with Scorsese on "The Wolf of Wall Street" and helped design the iconic organized-crime series "The Sopranos" and "Boardwalk Empire," he was from South Philadelphia, the main setting in "The Irishman." He even had relatives (his grandmother's brothers) who owned a lingerie shop that didn't actually sell lingerie. "Apparently, they were bookies," he said.
But "The Irishman" was still a mammoth undertaking, with 295 different locations and 28 different sets. "It called for a tremendous level of detail," Shaw said. "Marty is very detail-oriented and likes to be as accurate as possible. He likes a lot of references — if you think something is appropriate, he wants you to demonstrate why it's appropriate."
Also Read: 10 Best Narrative Films of 2019, From 'Parasite' to 'The Irishman' (Photos)
Shaw had a lengthy preproduction period, including several months of scouting potential locations with the location manager. "You begin to develop a list of what you'll build and what you'll look for," he said.
The trickiest locations included five different vintage gas stations — because, Shaw said, gas stations tend to be refurbished and updated, making it almost impossible to find a truly vintage one. (It's better, he added, to find buildings that once might have been gas stations and have since been converted into auto shops, and then add the pumps back in.)
He also looked for a series of hotels, among them a Howard Johnson's (the chain doesn't exist anymore, but he found one that was still standing), a late '40s hotel in Chicago and a colonial one in Washington, D.C. (Below, you can see how he (1) took an abandoned motel location, (2) sketched it as a vintage Howard Johnson's and (3) completed the look for a finished scene in movie with Joe Pesci and De Niro's characters.)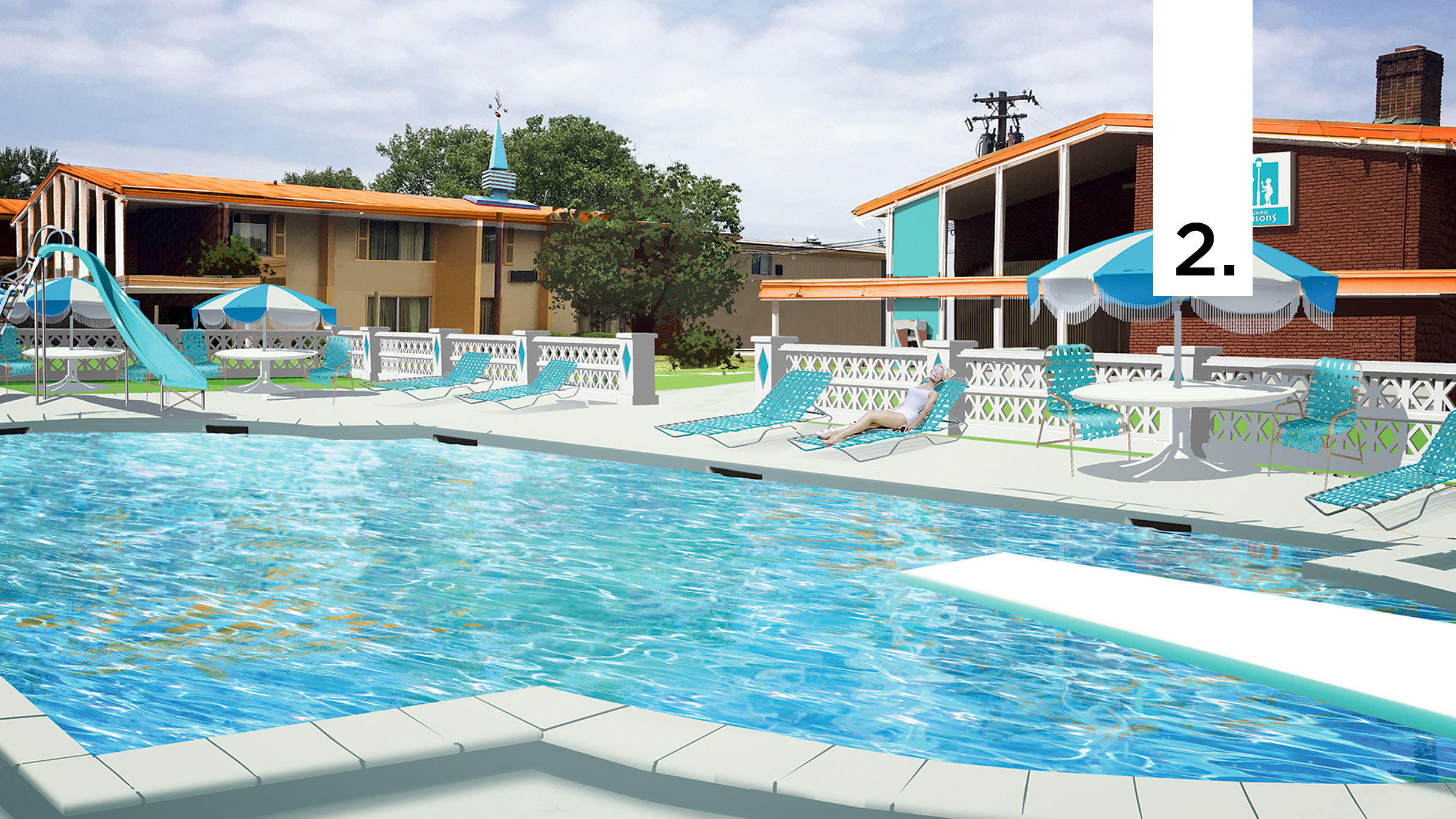 Also Read: 'The Irishman' Was Watched 26.4 Million Times in Its First Week, Netflix's Ted Sarandos Says
The Latin Casino, a hall at which the title character receives a Teamsters award, was also a difficult find. "The real Latin Casino was in Cherry Hill, New Jersey, down the street from my aunt Jeannie," he said. "We needed ours to be just the right size, so it can appear quite full without having an insanely large crowd. We chose this place with a big curved ceiling, which was a bit of a liberty — the real Latin Casino was more of a banquet hall, very low. When we were looking for the exterior, I told the scouts, 'Look for a closed supermarket.'"
But the setting that got the most action was the Villa di Roma restaurant. "That was the biggest example of a time where the truth is not really cinematically interesting," he said. "A version of the Villa di Roma still exists, but it's a very plain brick box — the kind of place that has the menu on the wall on a black felt board with stick-on letters. It isn't very evocative."
"The Irishman" version of the Villa di Roma, he said, is "a compendium of different things. Marty was a little slow to be sold on us building it — he thought it would be hard to get the atmosphere of decades of use and wear. So it was a challenge to create a set that he felt at home in, and we did that by having as many off-notes as we could find. The ceiling tiles are wonky because there was a flood at some point, they had to replace some of them and the colors don't match. There are cracks on the floor. I took pictures at a place that had dust and grease on all the vents, and we simulated that.
"We wanted it to look really lived-in, so you could assume that it had already been around for 20 or 30 years before we see it for the first time in the movie."
Read more of the Oscar Nominations Preview issue here.