With the deadline looming at the end of this week, submissions for the Oscar Foreign-Language Film category continue to trickle in. The biggest entry in the last couple of days came from Italy, the country that has won more Oscars than any other.
Italy has won 10 competitive Foreign-Language Film Oscars, plus three honorary or special awards before the category was instituted in 1956. (France has won nine, plus three honoraries.) But the country hasn't won since "Life is Beautiful" in 1998, and has only been nominated once since then, despite critics' favorites like "Gomorrah" two years ago.
This year's Italian entry is among the most notable recent submissions, part of a field that now also includes a dreamy metaphoric film from Colombia and an absurdist, sexually-charged tragicomedy from Portugal.
TheWrap's roundup of Oscar Foreign-Language submissions has been updated here.
As before, many of the trailers are not subtitled.
COLOMBIA: "Crab Trap"
Director: Oscar Ruiz Navia
Ruiz Navia's feature debut is a moody, meditative film that finds an understated political subtext in the story of a mysterious man on the run who comes to a small coastal village looking for a boat that'll help him get away – but all the boats in this fishing town are out to sea, so he's forced to bide his time as the tension mounts. John Anderson: "Landscape and dreamscape, like the clashing worldviews of the characters, meet in 'Crab Trap,' whose effect is an existential disequilibrium. If Samuel Beckett ever went to the beach, this is what he might have thought about."
Trailer.
HONG KONG: "Echoes of the Rainbow"
Director: Alex Law
Extremely popular in its home country, this semi-autobiographical period piece is set in Hong Kong in the 1960s, and follows a working-class family struggling to survive in a time of corruption and class division. Edmund Lee: "Detractors will deride this nostalgic melodrama for being preachy, borderline saccharine, and mawkishly life-affirming; but those, in this age of plenty, are precisely what lift 'Echoes of the Rainbow' above our cinema's usual fare."
Trailer.
INDONESIA: "How Funny (This Country Is)"
Director: Deddy Mizwar
A recent university graduate looking for work winds up tutoring a gang of young thieves in a satiric film that tackles societal ills with a humorous touch. Nauval Yazid: "this film recalls the glory days of not-so-old Indonesian cinema: of mixed drama and comedy, whose stories were often grounded in the struggling lives of the middle class in Jakarta, often seen laughing about the hardship."
Trailer.
ITALY: "La Prima Cosa Bella" ("The First Beautiful Thing")
Director: Paolo Virzi
Italy's last win was with "Life is Beautiful," a comedy about a serious subject. "The First Beautiful Thing" goes for that mixture, dealing with a college professor who returns home to care for his dying mother. James van Maanen: "One of the delights of this filmmaker is that he never pushes an agenda; he just lays out character and situation and lets these come up with events that, if singled out, might seem crazy, but as shown here are just part of 'family.'"
Trailer.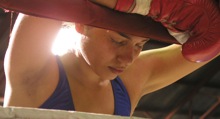 NICARAGUA: "La Yuma"
Director: Florence Jaugey
The trailer and synopsis suggest "8 Mile" meets "Million Dollar Baby": "a strong-willed and rebellious girl from the poor neighborhoods of Managua … dreams of being a boxer." Movies Kick Ass: "a refreshing, utterly exciting experience … structurally and in execution … more akin to Neorealism than 'Rocky.'"
Trailer.
PORTUGAL: "To Die Like a Man"
Director: Joao Pedro Rodrigues
This may be one of the most polarizing films in the mix – Rodrigues, who's been compared to Pedro Almodovar as a provocateur, has made a dark, surreal, sad comic exploration of sexuality that follows an aging drag queen contemplating a sex-change operation. Reviews have been wildly mixed. Glenn Kenny: "What does one conclude about a picture that falls short of greatness in such a way? I can only register my frustration, and note nonetheless that I was glad to have sat through it anyway" Trailer.