Blame it on the Boss.
The Toronto International Film Festival may be known as a mecca for lovers of independent film, or as the annual launching pad for Oscar season – but this year, the soundtrack to TIFF is classic rock radio, or a baby boomer's iPod playlist.
The festival's first five days will feature four high-profile music-related events, with George Clooney, Brad Pitt and Ryan Gosling sharing the TIFF spotlight with U2, Neil Young and Pearl Jam.
And if you're looking for reasons why this year's TIFF wants to rock around the clock, a good place to start might be the sellout audiences, long lines and wild enthusiasm that greeted Bruce Springsteen in Toronto '10.
Then, the rock icon showed the documentary "The Promise: The Making of Darkness on the Edge of Town" and sat for a well-received conversation with actor (and diehard Bruce fan) Ed Norton.
"Everybody was excited and happy about what we did with Bruce," TIFF documentary programmer Thom Powers told TheWrap. "Certainly, it was in our minds afterwards that it'd be great to do something like that again — but it also showed people in the music business that the festival is a way to make an impression not just in the music world, but in the film world and the world of pop culture."
This year's bookings, he said, were more a case of musicians approaching Toronto than the festival looking for rock 'n' roll.
The TIFF 2011 rock contingent:
>> For the first time, the festival's opening-night gala is a documentary: Davis Guggenheim's "From the Sky Down," which chronicles the making of the U2 album "Achtung Baby." The film will kick off the festival at the huge Roy Thomson Hall on Thursday, September 8, with members of U2 in attendance.
>> The next night, doc legend Albert Maysles will come to Toronto with the first screening of "The Love We Make," his film about Paul McCartney's preparations for a 9/11 tribute concert in New York City. Maysles shot the footage a decade ago, but hasn't shown it until now.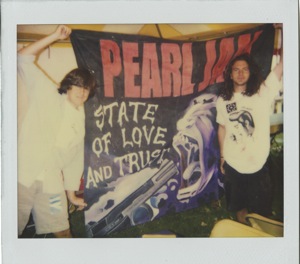 >> On Saturday afternoon, Cameron Crowe will premiere "Pearl Jam Twenty," his documentary about the seminal Seattle band with whom Crowe (right, with Eddie Vedder) has a long-standing relationship. On Sunday and Monday, Pearl Jam will play Toronto's Air Canada Centre as part of the band's first tour in more than a year.
>> And on Monday, Neil Young will come to Toronto – first in Jonathan Demme's "Neil Young Life," the third film Demme has made of Young in concert, and then in an onstage conversation between Young, Demme and TIFF documentary programmer Thom Powers.
That listing doesn't even include the three films that bring to seven the number of music-centric movies playing the festival: "Paul Williams Still Alive," Stephen Kessler's look at the veteran singer-songwriter, and Canadian director Bruce McDonald's classic punk-rock documentary "Hard Core Logo" and its sequel, "Hard Core Logo II."
Then there's Radiohead, which wrote the score for the documentary "The Island President"; Dead Can Dance member Lisa Gerrard, who scored "Samsara"; and Metallica, which contributed songs to "Paradise Lost 3: Purgatory."
And that's not to mention the film directed by a pop star, Madonna's "W.E.," or the one that gets its title from a Leonard Cohen song, Sarah Polley's "Take This Waltz."
"It's a definite uptick this year," said Powers. "We understand how it works in the festival business: You can't always manufacture a discovery filmmaker, or a phenomenon like 'Slumdog Millionaire,' or something like what happened with Bruce. But you have to be ready to embrace those opportunities when they come along."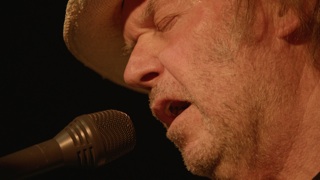 It helps that in this case the directors of the music films are festival veterans, and celebrated filmmakers: Guggenheim, Crowe and Demme are all Academy Award winners (for "An Inconvenient Truth," "Almost Famous" and "The Silence of the Lambs," respectively), and the fact that Maysles has only a single Oscar nomination and no win is a blot on the Academy's documentary record.
Of the films, "Neil Young Life" (above) is a no-brainer for Toronto: not only is Young from the city, but Demme is an esteemed director with another film at this year's festival, "I'm Carolyn Parker: The Good, the Mad and the Beautiful." The new Young movie is his third collaboration with the iconoclastic musician, after "Neil Young: Heart of Gold" and "Neil Young Trunk Show," and was filmed in May at Toronto's Massey Hall on the singer's solo "Le Noise" tour.
Crowe and Pearl Jam have a similarly lengthy relationship, with the director casting the band members in his 1992 film "Singles" the year after their debut album was released, and remaining close to them ever since. (Crowe is also no stranger to placing rock docs at film festivals: his film "The Union," about the collaboration between Elton John and Leon Russell, opened this year's Tribeca Film Festival.)
Guggenheim's U2 movie (right), meanwhile, is similar thematically to the Springsteen film. Like "The Promise," "From the Sky Down" deals with the difficult recording of a crucial album in which the artist had to follow an enormous success ("Born to Run" for Springsteen, "The Joshua Tree" for U2).
"Davis Guggenheim called me in late May, and told me he'd just come back from Germany, where he shot U2 in the same studio where they made 'Achtung Baby,'" said Powers.
"It was very late in our selection process, and he said it was going to take him a little while to pull the film together, but I was interested and I watched different rough cuts before I finally took it to Cameron [Bailey] and Piers [Handing]."
And as happened in the case of the Springsteen doc, "From the Sky Down" will soon find a home not in movie theaters but as a bonus disc on a special anniversary-themed box set devoted to the original album and due out in October.
But the fact that the film is destined not for theatrical release but to be part of a CD package didn't worry Toronto in the slightest, said Powers.
"The idea that films need theatrical release clings to an old idea of what content distribution is," he said. "In the current landscape, we see films taking all kinds of paths to reaching audiences. So if a film is going to be packaged with a CD, where it's going to reach hundreds of thousands of fans, that doesn't concern me.
"That said, a festival can make a real contribution to a film like this. There's still something very special about being in a theater and watching a music film in a concert-style setting with hundreds of other people."
And has booking people like Bruce Springsteen and U2 led to an increase in people hitting up Powers for tickets? Of course it has.
"Let's just say that I've become a much more popular person these last two years," he said with a laugh.