Don't blame James Franco. It was all Bruce Vilanch's fault.
That, at least, is what Franco wanted us to know (maybe) on Monday, when he tweeted "Bruce, he let me down" and linked to a photo of himself and veteran Oscar writer Vilanch, one of four staff writers on the 83rd Oscar show. After that show, Franco was roundly criticized for his listless performance.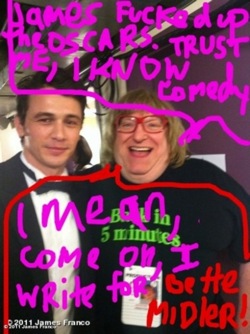 The photo (left), which has a "2011 James Franco" copyright on the bottom, is scrawled with two quotes supposedly coming out of Vilanch's mouth: "James f***ed up the Oscars. Trust me, I know comedy," on the top, and "I mean, come on, I write for Bette Midler!" on the bottom.
Franco deleted the tweet within minutes, but by then plenty of his 400,000-plus followers had seen it, taken screen grabs and spread it around the Internet.
At about 5 p.m., he reposted the photo, its scrawled comment intact.
Until now, Franco has largely stayed quiet amidst widespread criticism of his Oscar show performance. After the Oscars, he did post another photo sporting the scrawled obscenity "F*** the Yale Daily News," apparently in response to a columnist for that student paper who wrote, "James Franco, your Twitter sort of sucks." (And yes, the handwriting matches the Vilanch photo.)
His shots at Vilanch came shortly after an interview with the writer was published on Vulture, in which Vilanch joked, "I have to call James Franco and tell him the show's over … He took a nap and woke up in class."
Vilanch attributed Franco's lackluster performance to the actor having "too many balls in the air," and not arriving at rehearsals until three days before the show.
Vilanch also said that Franco had "a bunch of people who were writing for him," and that most of the communication came via email. Concluded the 22-time Oscar writer, "[H]e didn't get there."
The Vulture piece was published on Monday afternoon; Franco's tweet appeared soon afterwards, was withdrawn, and then went up again. Franco left no clues as to whether he meant that Vilanch let him down by not giving him good enough material to perform, or whether the Vulture interview itself was the letdown.
Asked by TheWrap if he'd like to respond to Franco's comments, Vilanch replied in an email, "I still want to have his child."
Update: James Franco Makes Up With Bruce Vilanch