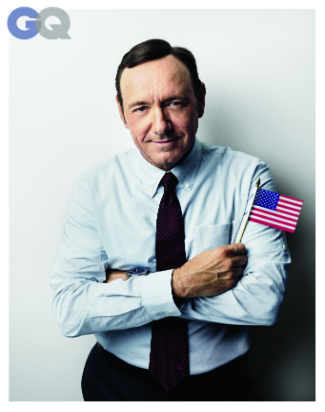 Kevin Spacey has climbed a lot of mountains in his career, but he's still hoping to get cast in a Woody Allen movie.
The actor told GQ magazine that he was so "depressed" by Allen's silence over the director's apparent lack of interest in casting him, that he took matters into his own hands.
"I wrote him a letter and introduced myself as an actor he may or may not know," said the actor, who was Emmy-nominated for his leading role in Netflix's "House of Cards." "And I sent him a Netflix subscription, because I want him to watch my work."
The result? Allen thanked Spacey for the subscription and put him in contention for future projects. Such is the inventiveness of Kevin Spacey, GQ Magazine's "Power Broker of the Year."
"I may," Spacey said, "write to Martin Scorsese next."
Also Read: How Kevin Spacey Created a Schemer for the Ages in 'House of Cards'
Reporters in Washington spoke to former Texas Congressman Tom DeLay, who was enjoying a moment of freedom Tuesday amidst a lengthy fight to stay out of the jailhouse on 2002 corruption charges. "The Hammer" served as House Republican Whip in the late 1990s, and is the apparent inspiration behind Spacey's  Majority Whip Frank Underwood.
That DeLay finds Kevin Spacey's Emmy nominated turn as ruthless, conniving Majority Whip Frank Underwood in Netflix's "House of Cards" disturbingly spot-on says volumes about Spacey's performance. Though he thinks the show is "too raunchy" overall, Tom DeLay agreed that Spacey is "unfortunately" damn good at playing a character that is essentially Tom DeLay.
But Spacey resisted the notion that he's particularly good at playing villains.
"I'm just fucking happy to have a great job," he said.  "I think people love it when anybody acts bad; it's not particular to me."
Spacey's role as Underwood has shined a new light the actor, who comes to the small screen after two Academy Award-winning performances and a decade-long directorship of a London theater. Though the actor acknowledges the tremendous opportunity he and director David Fincher have at Netflix – the streaming service reportedly gave the "House of Cards" production $100 million for 26 episodes with full season commitments – the platform should not overshadow the content it provides.
Also Read: How James Gandolfini's Body Got Back to America
"That camera doesn't know it's a film camera or a TV camera or a streaming camera," Spacey told GQ. "It's just a camera."