With Jon Stewart nipping at the heels of Jay Leno and David Letterman, Comedy Central president Michele Ganeless says next year's election could propel his politically-minded "Daily Show" to finally beat the broadcast icons in the late-night ratings.
With a few caveats, of course.
Those caveats — and there are a lot of them — make the latest late-night fight a matter of bragging rights rather than an apples-to-apples contest.
Also read: Jon Stewart to Jerry Sandusky: 'Horseplay? Are You F—ing Kidding Us?'
But a cable host scoring a higher rating than the longtime lords of late night would be a major accomplishment for Comedy Central, where Stewart and "Colbert Report" host Stephen Colbert have cornered the market on smart, nuanced, politically oriented humor.
Leno and Letterman, meanwhile, have slipped behind ABC's "Nightline," the news show they once trounced in the ratings.
"The lines are going to cross at some point, and it's very possible that it's going to happen in 2012," Ganeless told TheWrap. "I feel like we are almost there. I feel like it is a cable world now, particularly with the viewers that matter to us."
She's talking about winning among 18-to-49 year olds, since Comedy Central says it doesn't focus on the total number of viewers, just the ones in the most crucial demo.
"The broadcasters stopped serving young adults a long time ago," Ganeless adds. "I think Jon and Stephen are unmatched in what they do. They have a way of tapping into the zeitgeist. People are tuning into them to hear their point of view, and and that's not what the network broadcast shows do. … 'The Tonight Show,' 'Conan,' even Letterman — they're very broad variety shows."
The broadcast networks and TBS declined to comment for this story.
Also read: Late-Night Shakeup: Stewart Tops Networks; Dave Beating Jay
It's worth noting in any late-night ratings discussion that Stewart's show ends before Leno, Letterman, or "Nightline" begin, meaning he never faces them head to head. And that "The Daily Show" and its follow-up, "The Colbert Report" air just four nights a week, while the networks also air their late-night shows on Fridays, the lowest-rated weeknight. That drives down their ratings averages.
Finally, "Nightline" is only half an hour long, so it doesn't lose as many viewers to sleep as the "Tonight" and "Late" shows, which dip in viewers in their second halves.
Those types of nuances are important in a late-night landscape crowded with so many programs competing for so few bleary eyes that no victory is too small to go unmentioned. One sign of how closely networks contest every ratings point: Comedy Central holds that it has already beaten Leno and Letterman once, a claim the broadcasters reject.
Comedy Central says Stewart won in the quarter from April to June of this year, in the 18-49 demo. But broadcasters note that the claim was based only on new episodes, not re-runs, which are typically included in ratings averages.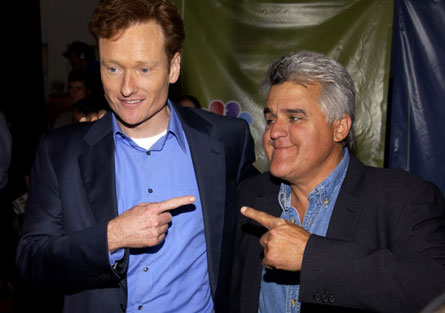 Something about late-night just brings out fights. The landscape is still scarred by early 2010's feud between Jay Leno and Conan O'Brien over NBC's demand that O'Brien move his "Tonight Show" to after midnight.
Rather than acquiesce, he decamped, and landed at TBS — where he is now at the back of the late-night pack, behind E!'s "Chelsea Lately."
But Leno hasn't returned to his former glory, either. Once the late-night ratings champion, he now finds himself narrowly behind "Nightline," along with longtime rival David Letterman, who moved to CBS after the previous fight for "The Tonight Show."
It isn't just the veterans who are bruised this season. On broadcast and cable alike this season, every late-night show is slightly down in viewers, the 18-49 demo, or both — with three exceptions.
Also read: Conan's Real Late-Night Foe Isn't Jay or Dave — It's Jon Stewart
"Nightline," is up slightly in the demo and total viewers, and is now the top-rated and most-watched late-night show. The show that follows it, "Jimmy Kimmel Live," is also up slightly in viewers, and steady in ratings in the demo. NBC's "Late Night with Jimmy Fallon," meanwhile, is exactly where it was this time last year in the demo and total viewers.
TBS's "Conan" has suffered the biggest slide since this time last season, with good reason: The show debuted in the second week of last November, and curiousity and excitement earned it a 1.6 rating. This season, which began the week of Sept. 19, it has settled down to only a .4 rating — as low as TBS' now-canceled "Lopez Tonight" was this time last year.
The only lower-rated late-night show is "Last Call With Carson Daly," which can't reasonably be considered a "Conan" competitor because it doesn't air on NBC until 1:35 a.m. "Conan" airs at 11 p.m.