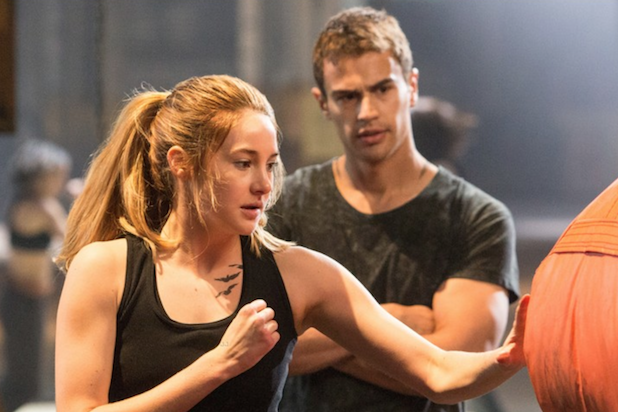 Lionsgate shares slid 6.6 percent in after-hours trading on Thursday, after the film and TV company reported earnings of $49.2 million for its fourth quarter, or 35 cents a share.
The numbers, filed after the market closed, were below Wall Street expectations of 40 cents a share for the period ending March 31. The shares dropped $1.96 to $27.57.
Quarterly revenues for the studio were $721.9 million, down eight percent from the year-ago quarter's $785.7 million. Some of that drop can be attributed to a $141 million tax benefit that Lionsgate received during the same period last year.
Also read: Lionsgate Partners With Freddie Wong's RocketJump Studios
The quarterly profits declined 70% from earnings of $163 million compared to the same period last year.
Returns were boosted by the box office and ancillaries from the studio's blockbuster "The Hunger Games: Catching Fire," which came out in November. But the benefits from another young-adult hit, "Divergent," weren't felt because it was released on March 21. The distribution and marketing costs were factored in however, and that hurt the bottom line.
The full-year revenue was $2.63 billion, off from $2.71 billion last year.
Also read: 'Power Rangers' Getting a Reboot Feature Film by Lionsgate
The good news came from the full-year revenues of the TV production division ($447.4 million) and international operations ($39.7.1 million), both of which were records.
The movie division's revenues fell to $2.18 billion, compared to $2.32 billion a year earlier, while theatrical revenue was off two percent to $524.7 million. Some of that was simply volume; the company released 13 movies, rather than the 19 of fiscal 2013.
Home entertainment revenue was $863.9 million for the fiscal year, compared to $964.1 million a year ago.
Also read: Johnny Depp 'Mortdecai' Has Franchise Written All Over It, Lionsgate Says
Lionsgate's chief executive Jon Felthheimer will take questions from analysts Friday, but issued a statement on Thursday.
"Our strong operating momentum, the diversity of our portfolio of businesses and the continued enhancement of our capital structure all contributed to another year of outstanding financial results," he said.
"The trajectory of our business, the depth of our content pipelines and the ongoing generation of predictable income from our film franchises, television properties and filmed entertainment library continue to give us excellent long-term visibility."