If you're looking for an Oscar category full of scandal and controversy, snubs and surprises, look no further than Best Foreign Language Film.
And if you want a category that has spent years taking dramatic, sometimes unprecedented steps to deal with those controversies, you can look in the same place.
The Foreign Language category has been mocked and misunderstood as it has nominated some of the finest films of our time, from "The Lives of Others" to "A Prophet," and shockingly overlooked others, among them "4 Weeks, 3 Months and 2 Days."
It has been the subject of political jockeying within countries trying to choose a candidate that the Academy voters, often derided as old and out-of-touch, will like.
On the other hand, no category has taken the kind of drastic steps to address its problems.
The changes, carried out under the decade-long tenure of producer Mark Johnson, have resulted in the creation of a unique three-step nominating process that puts the final decision in the hands of a carefully-chosen committee that in recent years has included actors Ryan Gosling and Keanu Reeves, directors Jonathan Demme and Nora Ephron, writer Dustin Lance Black, composer Harry Gregson-Williams, editor Thelma Schoonmaker and cinematographer Wally Pfister, among many others.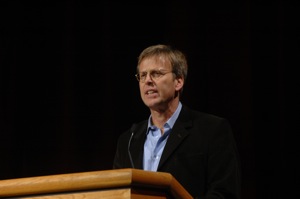 But by turning the major decision over to his hand-picked committee, has Johnson cut regular voters out of the process and taken too much power for himself?
Or has the result — better, smarter nominations in the estimation of many — justified the tinkering?
"I stand behind what we've done," said Johnson, the Oscar-wining producer ("Rain Man," "The Chronicles of Narnia") who has chaired the Foreign-Language executive committee for longer, he admits, than Academy rules technically allow. (He gets an exemption because he's also a member of the AMPAS Board of Governors.)
"It's a flawed system in many ways, and in a perfect world this category wouldn't exist and all movies would be viewed on an equal basis," Johnson (pictured above right) told theWrap. "But we've worked hard on this."
The process starts with volunteers from all across the Academy (the "general committee") viewing the eligible submissions – 65 of them this year – over a period of months.
The problem, critics have been charging for years, is that Academy members who have enough free time to see what is generally a minimum of about 16 films tend to be the members who aren't working – i.e., older, often retired members who may not be comfortable with tougher, edgier material that makes up much of the best international cinema.
Johnson agrees that the critics are in some ways right, particularly when the Foreign Language general committee members failed to nominate Cristian Mungiu's acclaimed 2007 Romanian film "4 Months, 3 Weeks and 2 Days."
Johnson's solution was to add two blue-ribbon committees to the process, diminishing the input of the estimated 250 to 300 voters who participate in the general committees.
After those voters have cast their ballots – attending months of double features, and scoring each film on a scale of 6 to10 – PricewaterhouseCoopers tallies the results and sends a representative to a meeting of a 20-person executive committee that last year included cinematographers Caleb Deschanel and Janusz Kaminski, director Florian Henckel von Donnersmarck, writer Michael Tolkin and producer Ron Yerxa.
The PwC rep reveals the top six films from the general committee vote, and then the executive committee gets to work. Its task: to add three additional films to the general committee's six favorites in order to make up a shortlist of nine. "We'll spend hours and hours arguing over which films were overlooked and which need to be added," said Johnson.
The committee members, he added, have attended screenings and are aware of the films (often rougher, darker and more adventurous) that might be overlooked by the more conservative members on the general committee.
"There are always a couple of films that we've liked a lot," he said, "and the committee members have looked at each other and said, 'If this is going to make the nine, we're going to have to put it there.'"
Once the shortlist of nine is announced – an announcement that this year will come on Jan. 19 – a pair of phase-two committees go to work. One is based in Los Angeles, with 20 members; the second, in New York, has 10. Half of the L.A. members have been randomly selected from among the general committee of first-round voters; the others are recruited and selected by Johnson, in consultation with AMPAS Executive Director Bruce Davis.
"We work hard to make sure that it represents a cross-section of the Academy," said Johnson. "They're people who want to be involved but don't have the time for the first-round screenings. The whole point is to bring in people who are still working, and we work hard to make sure it represents a cross-section of the Academy at large."
The phase-two committees view the nine shortlisted films over a single weekend, three each on Friday, Saturday and Sunday. At the end of that weekend, it is their votes that narrow the nine semifinalists down to the five nominees.
The results, in the last two years, have certainly been more reflective of the best of international cinema than in previous years, though observers decried the snub of, for example, the Italian film "Gomorrah." Johnson said that dark crime drama was duly considered by the executive committee, which opted not to add it to the shortlist.
Of course, the process leads to a few questions. For instance: when the phase-two committee chooses the five nominees, are the three shortlisted films added by the executive committee generally well represented?
"Well, we've only done it for two years," said Johnson, who then stopped and did the math in his head. "Yes. Yes, they are well represented."
And if that's the case, aren't you disenfranchising the main body of voters, who used to do the nominating on their own but are now can only pick two-thirds of the shortlist before being nudged aside by another select committee?
"I hope not," he said quickly. "That's not the intention, and no one has said that yet. We thought we addressed that because of our 20 people on the phase-two committee here in L.A., 10 are from the general committee. So those voters are still very well represented in picking the final five nominees."
The process also puts a surprising amount of power in the hands of one man: Johnson (in AMPAS photo, right). Many avid watchers of the category are already singling out one or two films in this year's race with knowing comments like, "Mark will make sure that gets on the list."
"I haven't heard that people think I have too much power, but I'm sure it's true that some people say it," he conceded. "I do think I'm pretty forceful. I won't say which film, but there was one film last year that I was just bound and determined to get into the nine. And it made it. But I don't think it was because anybody was kowtowing to me. A lot of the committee are good friends of mine, but I don't think anybody's going to blatantly do my bidding."
He read the names from a roster of last year's phase-two committees: Sid Ganis, Ryan Gosling, Harry Gregson-Williams, Rod Lurie, George Segal, Stacey Sher, Dustin Lance Black, Jay Cocks, Ed Pressman, Thelma Schoonmaker, Mira Sorvino …
"It's not like they represent my point of view," he said. "Now, when I started with this there was no phase two, and I thought that needed fixing. And in putting together these phase-two committees, I really do it all myself. So in that sense, yes, maybe I do have too much power. But I don't know who else could do it."
In the end, he says, the board of governors has been completely supportive of the changes, even as those changes have consolidated the decisions in the hands of fewer members. And as the nominations have gotten smarter, the Academy has gotten happier.
"I think the board recognizes what a strong category it is, and how important it is," said Johnson, who has seen more than 50 of this year's 65 eligible films. "I keep arguing that the Foreign Language Oscar in many cases is more meaningful than the Best Picture Oscar – because not only is it meaningful to the filmmaker, but also to the national cinema of the country that made it.
"When 'The Secret in Their Eyes' won last year, there was a billboard in downtown Buenos Aires with a huge Oscar, saying 'WE WON.' [Director] Gavin Hood told me that in Johannesburg, they had a ticker tape parade when 'Tsotsi' won."
This year's Foreign-Language process is about to enter its final stretch. The last screening for the general committee takes place on Thursday, with a double-bill of Denmark's "In a Better World" and Latvia's "Hong Kong Confidential." The executive committee meets early next week, with the shortlist revealed on Wednesday, January 19. The phase-two committees will then view those nine on Friday, Saturday and Sunday.
And about 35 hours after that final screening ends, Oscar nominations will be announced, and the power shifts to any voter who sees all five of the nominated films.
At that point, Johnson admitted, "it's out of my hands."
(Coming up: TheWrap reviews more than 30 of this year's Foreign-Language entrants.)