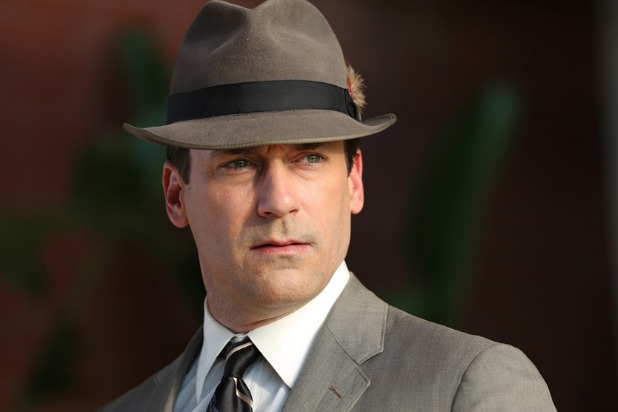 The first episode of the final season of "Mad Men" begins with something so good it takes everyone a very long time to realize how good it is, if they realize it at all.
That's how I think we'll feel about "Mad Men" next year, when the second part of this season wraps and the show leaves for good. It racked up Emmys and praise in the beginning, but then we started taking it for granted.
Also read: 'Mad Men's' Matthew Weiner Q&A: Are We Over-Analyzing TV?
But "Mad Men" is getting better as it goes on. We used to fuss over all the nice suits. Now the clothes are changing radically, not so much reflecting the personalities of the characters as the personalities of the people they feel obliged to become. It's the '60s, it's advertising, no one wants to be left behind – so they hurl themselves into whatever they assume will be the future.
With one exception: Don Draper, once the impostor at the center of the show, has settled firmly into his adopted identity, and can't seem to escape it. He's earned this life, and isn't about to change it, no matter how many relationships or hangovers all but scream at him to change. Season 6 ended with Don being asked to leave the job that defined him. But many things have stayed the same.
Also read: 'Mad Men' Cast on What Product They Would Never Endorse (Video)
He's a modern man of the '60s, but it's almost the '70s.
No one knows what's coming. And if they did, they might be even more cynical.
This isn't so much a period drama as a transitional story about how we went from the old world to the new. Men like Don and women like Peggy Olson drove us here, with big cars we probably didn't need. It feels like Peggy will have no problem navigating the new world, but Don might be one of the curmudgeons complaining about how it used to be, feeling constantly cheated despite his role in building it, one line of copy at a time.
Also read: New 'Mad Men' Final Season Images, Explained by Matthew Weiner
Plenty of characters will just meander through, enjoying themselves or not. Roger Sterling has learned – or maybe has always known – to live for the moment, because the good times don't last. So, to some extent, has Joan.
The really tragic characters, like Pete Campbell, actually think getting what they want will make them happy.
Life can only be lived forward, and understood backward, and all that. And that's how it will be with the show. We won't be able to fully appreciate it from moment to moment, because we're so eager to learn what's coming next, to get to whatever the future holds.
But that future is a world without "Mad Men," so let's not get there too fast.