(UPDATED WITH COMMENTARY)
Mexico's "Biutiful," Canada's "Incendies" (below) and Denmark's "In a Better World" were named to the shortlist of nine films that will continue in the Oscar race for Best Foreign-Language Film.
Spots on the shortlist also went to films from Algeria, Japan, South Africa, Spain and Sweden, as well as the daring, unconventional Greek film "Dogtooth."
(TheWrap's guide to the eligible films: Part 1, Part 2, Part 3.)
Among the more notable films not included on the shortlist were France's "Of Gods and Men" and Thailand's "Uncle Boonmee Who Can Recall His Past Lives," which won the Palme d'Or at Cannes.
Sony Pictures Classics, the most well-represented distributor in the field, had four films in contention and placed three of them on the shortlist: Susanne Bier's "In a Better World," Denis Villeneuve's "Incendies" and Oliver Schmitz's "Life, Above All."
The nine films on the shortlist were chosen by a two-step process instituted three years ago in the wake of widespread criticism that the worthiest films were being overlooked. An estimated 200 to 250 Academy members from all branches viewed portions of the 65 eligible films in AMPAS screenings over the past three months, scoring each film on a scale of six-to-10. The six films with the highest average scores automatically made the shortlist.
After those choices had been made, an executive committee of 20 members met and chose three additional films for the list. The assumption, which committee chair Mark Johnson does not deny, is that the executive committee tends to choose tougher, more challenging films that might not be recognized by the often older and more conservative general committee voters.
Two "phase-two" committees — a 20-person panel in Los Angeles, and a 10-person group in New York — will convene this Friday, Saturday and Sunday and watch all nine of the shortlisted films, three each day. At the conclusion of those screenings, they will vote to select the five nominees.
In the past, the phase-two committees have included the likes of Ryan Gosling, Jonathan Demme, Keanu Reeves, Rod Lurie, George Segal, Jay Cocks, Thelma Schoonmaker and Mira Sorvino. The identify of this year's members has not been revealed, but they are known to include at least one likely Oscar nominee and a couple of high-profile directors, one of whom is not generally associated with the type of films on the shortlist.
The shortlist:
Algeria, "Hors la Loi" ("Outside the Law"), Rachid Bouchareb, director;
Canada, "Incendies," Denis Villeneuve, director;
Denmark, "In a Better World," Susanne Bier, director;
Greece, "Dogtooth," Yorgos Lanthimos, director;
Japan, "Confessions," Tetsuya Nakashima, director;
Mexico, "Biutiful," Alejandro Gonzalez Inarritu, director;
South Africa, "Life, Above All," Oliver Schmitz, director;
Spain, "Tambien la Lluvia" ("Even the Rain"), Iciar Bollain, director;
Sweden, "Simple Simon," Andreas Ohman, director.
COMMENTARY:
Overall, I'd say the system has worked pretty well to this point. The shortlist is a strong and in places challenging selection of films, and you can come up with an admirable selection of nominees from this group.
After my three-day survey of 38 of the foreign-language contenders, I only managed to predict four of the nine shortlisted films (Canada, Denmark, Mexico and Sweden), though I had four others on my "watch out for" list and considered "Dogtooth" a possible executive committee save.
Of this year's selections, "Dogtooth" (right) is the big surprise; it and the dark Japanese film "Confessions" seem clearly to have been choices by the executive committee, while the Canadian, Danish, South African and Swedish films are apt to have been well-received by the general committee. There's no way to tell for sure — at least until people start talking down the line — which film needed that third save.
Beyond the inclusion of "Dogtooth," the biggest surprise is that the crowd-pleasing Italian film "The First Beautiful Thing," which I repeatedly heard that the general committee loved, didn't score high enough to make the list. Neither did films from Israel and China, which reportedly played well to the committee.
The shortlisted films were spread out evenly across the four general committees, which are identified by color. Three of them came from the red committee and two each from the green, blue and white committees.
But films that screened late in the three-month process scored better than those that screened early. Of the nine shortlisted films, only one was screened for Academy voters in October, and one in November; three came from December screenings, and four from the seven days of screenings in early January.
As for the question of what will now make the cut with the phase-two committees, here's something to keep in mind: although one-third of the phase-two voters are randomly chosen from the general committees, as a whole the group is closer in composition to the executive committee, hand-picked as it is by Mark Johnson in consultation with Academy executive director Bruce Davis.
And in the two years that the new process has been employed, Johnson told me, the films that are added to the shortlist by the executive committee have been "very well represented" among the final nominees.
That means that "Dogtooth" may have a real shot at an Oscar nomination; if nothing else, it will stand out as being wildly different from anything else the phase-two committee will view this weekend.
I'd guess that "Biutiful," "Incendies" and "In a Better World" are the best bets to receive nominations, and the charming but slight "Simple Simon" probably the least likely.
And I'd also guess that unless you're a die-hard "Uncle Boonmee" fan, the final slate of nominees will probably be a strong and satisfying group of movies.
From my earlier roundup of reviews, here's my take on eight of the shortlisted films — all of which I've seen, except "Confessions."
Algeria: "Hors La Loi"
Director: Rachid Bouchareb

Following three Algerian brothers who leave their homeland following a massacre by French soldiers, Rachid Bouchareb's chronicle of the Algerian independence movement is a follow-up to his Oscar-nominated "Indigenes" ("Days of Glory"). "Indigenes" was a more succinct and more powerfulstatement of his anti-colonialist themes; this one, which stirred up considerable controversy when it screened at Cannes, is more sprawling and diffuse, and also more violent. It's serious and solid, but it may not stir the voters the way Bouchareb's last film did.
Canada: "Incendies"
Director: Denis Villeneuve
Denis Villeneuve's drama about a French-Canadian brother and sister who journey to an unspecified Middle Eastern country to unravel family secrets is one of the most stylish and powerful entries, delving into a nightmarish battleground of religious conflict and atrocities made routine. The upcoming Sony Classics release is devastating, but with an almost unfathomable touch of healing that hits home at the end. Based on an acclaimed play by Wajdi Mouawad, the 2011 Sundance entry one of the very best Oscar contenders I've seen. I think it's an almost sure nominee – and beyond that, I'd give it a real shot to win.
Denmark: "In a Better World"
Director: Susanne Bier
Bier was nominated four years ago for "After the Wedding," and she could easily be back at the Kodak for this dark tale of the havoc caused by endless cycles of revenge and retribution. Beautifully composed and shot, her story quietly focuses on two families, and particularly a pair of young boys drawn into a world of violence, where it takes an act of supreme will to reach for redemption before everything spirals downward into utter desolation. The Golden Globe winner, and one of the strongest movies in the field.
Greece: "Dogtooth"
Director: Yorgos Lanthimos
Confounding and wholly original, Yorgos Lanthimos' gloriously strange concoction is a deadpan look at a Greek family where the children are taught the wrong meanings of words and indoctrinated into a bizarre mindset where an unseen brother lives just outside the compound and cats are man-eating predators. Is it a barbed indictment of parental and societal brainwashing, tongue-in-cheek tomfoolery of epic proportions, or both? Whatever it is, it has great support among critics.
Japan: "Confessions" ("Kokuhaku")
Director: Tetsuya Nakashima
A middle-school teacher tells her students that two of them murdered her four-year-old daughter, and that she's going to be revenged in a film that's clearly not for the conservative or the faint-of-heart. Aaron Hillis: "Hopping between points of view at an unsettlingly drowsy pace, shot in depressed blue-grays and sustaining a low-lying tension through its soundtrack drone … this ethereal and sinister daydream explores (unleashes?) the psychological breaking points of the aggrieved, the groupthink of bullies, and the potentially toxic outcomes of untreated mommy issues."
Mexico: "Biutiful"
Director: Alejandro Gonzalez Inarritu
I've written plenty about this movie in the past; I find it to be the most powerful film of 2010, a haunted, crushing tone poem highlighted by a staggering performance from Javier Bardem as a world-weary Everyman grasping at life in the face of death. Even if it's too dark for the mainstream committee voters, I would be surprised if the second-round committee doesn't give it a nomination.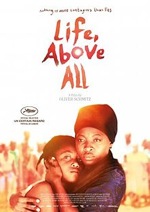 South Africa: "Life, Above All"
Director: Oliver Schmitz
Sony Pictures Classics' third entry on the shortlist is this heartbreaking South African story about a teenage girl fighting to overcome the stigma and superstition surrounding AIDS in her community. With a compelling lead performance by Khomotso Manyaka that could give Jennifer Lawrence and Hailee Steinfeld a run for their money in the resourceful, committed teen sweepstakes, its grim but eventually healing blend of emotional potency and social relevance could prove very attractive to voters.
Spain: "Tambien La Lluvia" ("Even the Rain")
Director: Iciar Bollain
A director (Gael Garcia Bernal) shoots a movie about Christopher Columbus, and his exploitation of the natives, in Bolivia; we see parts of the film, plus the way the movie company itself exploits the locals, plus drama over an outside company trying to control the water supply. The parallels between Columbus and the movie crew are way too obvious and heavy-handed, though when it abandons the political didacticism to focus on the human drama, the film becomes far more effective. And it's got a recognizable star in it, which could help with some voters.
Sweden: "Simple Simon"
Director: Andreas Ohman
The story of a young man with Asperger's Syndrome and the brother who knows how to deal with him, the Swedish entry is charming, playful and eventually moving – funny and friendly rather than big and important. After seeing it, I figured it was probably too slight to register with the voters – but after talking to some of them, I changed my mind. Being funny and touching when most of what's around you is dark and depressing can be a pretty good way to get noticed.