For Woody Allen, the math is simple: 37 down, three to go.
But the last three are going to be harder than the first three dozen.
This week, the veteran director's "Midnight in Paris" topped the $23.3 million mark to pass "Vicky Christina Barcelona" and "Match Point" and become the filmmaker's top-grossing movie in 25 years.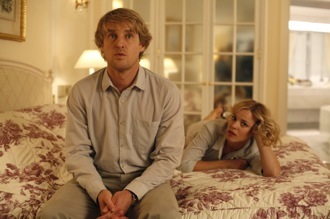 It has now outgrossed – in most cases, significantly outgrossed – all 25 of the movies Allen has made since "Hannah and Her Sisters" in 1986.
It has almost doubled Allen's average gross of about $13 million, and set records for him for the number of screens and the per-screen averages.
And it has earned more than all but three of Allen's 41 movies: "Hannah" ($40.1 million) 1979's "Manhattan" ($39.9 million) and his 1977 Oscar Best-Picture winner, "Annie Hall" ($38.3 million).
It has also become the third biggest-grossing film ever for Sony Pictures Classics, though it's far behind the $128 million racked up by "Crouching Tiger, Hidden Dragon" in 2000. (It should surpass SPC's second-place film, "Capote," within a week.)
The film enjoyed a high-profile launch as the opening-night attraction at the Cannes Film Festival (right); broadened to an unprecedented (for Allen) release on more than 1,000 screens; enjoyed the most positive reviews of any Allen film in years; and mixed a sly air of nostalgia with a young, attractive cast whose leading man, Owen Wilson, was not the obvious Allen stand-in that sometimes dragged down his films.
As the third consecutive Allen film for SPC, and the fourth overall, "Midnight" is a dramatic step up from 2010's "You Will Meet a Tall Dark Stranger" ($3.2 million), the previous year's "Whatever Works" ($5.3 million) and 1999's "Sweet and Lowdown" ($4.2 million).
For Allen, and for SPC, it is already a resounding success. But can it top "Hannah," "Manhattan" and "Annie Hall" to become Allen's biggest movie ever?
By one measurement, "Midnight" stands a pretty good shot to do so: after five weeks in theaters, according to figures from Box Office Mojo, it is almost $9 million ahead of "Hannah," which earned more than 60 percent of its money after its fifth week.
At that rate, "Midnight" is on track to make about $65 million.
But, of course, the box office is far more front-loaded now than it was in 1986 –dramatically so for big-studio, big-budget productions, but also to a lesser degree for indies.
"The most commercial film is front-loaded, but this is not that film," said Ted Mundorff, CEO of the Landmark Theatres chain. "The film transcends all age groups and is able to hold up weekend after weekend. Commercial film is distributed very wide, capturing the audience early. Specialized film is allowed to percolate, being careful not to dilute and dissipate the audience."
Although it is coming off two consecutive weekends that are better than any "Hannah" ever had, last weekend "Midnight" took its first drop over the previous weekend. It was only a slight drop of 16.2 percent, coupled with a slight increase in theaters from 944 to 1,038.
The film is likely on a slow, steady decline from now until the end of its run – but with a potential gross of around $28 million by the end of the weekend, it still has a shot at $40 million, if it sticks around long enough.
And Allen movies, even low-grossing ones, do stick around: "Vicky Christina Barcelona" and "Whatever Works" stayed in theaters for 20 weeks, while "You Will Meet a Tall Dark Stranger" lasted for 15.
Although a handful of smaller films are opening in the next few weeks, "Midnight" should remain attractive counter-programming to the usual summer behemoths – and SPC co-chief Michael Barker has said that a key part of the company's strategy is to keep it on screens for as long as possible.
Still, to pass "Hannah," "Midnight" would have to make about 42 percent of its total gross after week five. None of his recent movies have done that, though 2005's "Match Point" came close with about 37 percent.
Among recent indie hits, "The Kids Are All Right" made about 25 percent of its gross (which topped out just over $20 million) after week five.
But here's a model that Woody would love: "Little Miss Sunshine," which opened in the summer of 2006, was at $26.1 million after five weeks, and ended up at $59.9 million. Of course, it showed rather astonishing longevity: not only did it play all summer long, it played all fall and winter too, and all the way through the Oscars, where it was nominated for Best Picture.
Improbable? Sure. Just like everything else about "Midnight in Paris."