Movieclips.com, which has compiled the largest collection of licensed Hollywood film clips on the web, will partner with Google to bring more than 20,000 HD clips to YouTube.
Movieclips announced the partnership on Tuesday, and said the clips will be available through the Movie Extras on the YouTube VOD platform, and also through the Movieclips YouTube channel.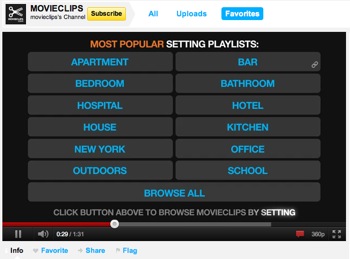 The clips are licensed from the libraries of six major Hollywood studios; each one is coded by Movieclips' content curators with hundreds of "data points," allowing Movieclips to direct viewers to related clips and permitting viewers to search for clips by actor, title, genre, and a variety of other categories.
"Our goal is to promote the discovery of movies," said MOVIECLIPS co-founder Richard Raddon in the press release announcing the partnership. "By making our clips accessible on the biggest video platform on the web, we unlock the power of movie clips to promote feature film purchase and rental."
Added Camille Hearst, YouTube's Product Marketing Manager for Music, Movies, and Shows, "There's a sea of content that can add to a YouTube user's movie experience thanks to Movieclips.com. We're excited to be working with MOVIECLIPS.com to provide users with exactly what they're looking for when they want to get more into movies on YouTube."
The Movieclips expansion has been supposed by a Series B funding round led by the venture capital firm MK Capital.
"Based on our relevant experience in [YouTube publisher] Machinima, we find MOVIECLIPS' business to be extremely promising," said Mark Terbeek, a partner at MK Capital. "We believe MOVIECLIPS has the chance to dominate the movie category on YouTube like Machinima leads the gaming category and VEVO leads the music video category."