"Things that we did before that made the company great…we want to bring those back," Spikes tells TheWrap
MoviePass is back, but not in the way you expect. The subscription-based movie ticketing company's co-founder Stacy Spikes bought back his old company out of bankruptcy just last week, and his team is moving quickly to relaunch the service as soon as summer movie season 2022.
But the company that you knew — the one that exploded to as many as 3 million users when the subscription fee was slashed from up to $50 to $10 per month, received an enormous number of sign-ups rapidly and then spectacularly flamed out with bugs and confusion when that low price proved financially unsustainable — will be a lot closer to the MoviePass from before all that happened.
Become a member to read more.
That was before 2017, when MoviePass was acquired by Helios and Matheson and before Spikes says he was let go over the disagreement on the price point he felt wasn't viable in the long run (he had a good instinct there). And his goal now is to build a reliable product with good customer service and lots of built-in flexibility. There's a lot Spikes still doesn't know about how a relaunched MoviePass will look, but there is one key detail.
"I can tell you it's not going to be $10. I know that with great certainty," Spikes told TheWrap in an interview. "The landscape has changed."
Spikes also sidestepped the question about MoviePass' tarnished brand after the struggling service changed subscription terms before abruptly shutting down in September 2019; parent company Helios and Matheson Analytics filed for Chapter 7 bankruptcy four months later. He hopes to restore the customer-first approach of its earlier days: "At the end of the day, the playbook is: great service, great product, reliability, transparency, meeting with consumers on a regular basis. All of those are things that we did before that made the company great and exciting and worthy of an acquisition before, that was radically changing the industry, we want to bring those back."
So here's what will still be the same: Spikes acquired MoviePass' old proprietary app, which allowed users to sync their phones with their red MoviePass credit cards so they could use their subscription at effectively any movie theater. And yes, Spikes expects that for the time being, you will still have to use that physical credit card at theaters. Though if the company's newly launched website is any indication, it may no longer be red.
What was not included in the acquisition was any personal information data or emails from the previous regime, so Spikes and his team will effectively be signing up customers from scratch. And that's not the only reason Spikes will have an uphill battle ahead of him.
Though MoviePass didn't ultimately stick around, it disrupted the industry to the point that exhibitors have all launched their own subscription services and premium-rewards programs, including AMC Theatres, Regal, Cinemark, Marcus, Alamo Drafthouse and Showcase Cinemas. What's more, the COVID-19 pandemic and the surge in streaming has completely changed consumers' appetite for going to the movies.
But Spikes, who founded the Urbanworld Film Festival and launched an app called PreShow that gives rewards to people who watch long-form content, hopes that providing an option to see movies at any theater will spur audiences back to theaters. He envisions that the new MoviePass will have options for those who want to attend a single theater and those who want the option to visit any theater. And in that sense, he hopes MoviePass will be able to co-exist and even operate alongside some of the exhibitors' own subscription offerings.
Here's more from TheWrap's interview with MoviePass co-founder Stacy Spikes (this interview has been lightly edited for clarity).
Why did you want to buy MoviePass back out of bankruptcy?
I still believe in the ability to drive traffic to theaters with the subscription model. I think that it works. Also the opportunity to help the industry emerge out of COVID and get back on its feet, I think having worked in it so long I have a passion for that. And the third reason was to see fans still bringing up MoviePass and talk about it with affection of what we were trying to accomplish. Those three things were really the drivers to do our part and do what we could to help things out.
You're essentially starting from scratch and build from the ground up.
There's a brand there, so that does some of the heavy lifting, but there's definitely people that you want to get back and bring them back. But you're starting from zero in that you don't have an existing subscriber base that you're just flipping a switch on.
When you first founded MoviePass, what was your goal and your dream, and how has that changed now that you're back in the fold?
The original vision was, we started the process all the way back in 2008 saying, Hey, we really think the industry could support a subscription model. Slowly we built that up and we launched the product in 2012 and carried it up until 2017 at the point of the sale. When the sale happened, the stock of the buying company (Helios and Mathison) shot up and was very highly valued because people really did believe in the concept. The big difference was the price point was just not a sustainable price point. It was too inexpensive. We were very symbiotic with the movie industry. If you remember, we even had a working relationship with AMC back in the day. That's how we operated, and that's how we want to operate again.
MoviePass did disrupt the industry and in some ways changed how people want to see a movie. Now other exhibitors all have their own subscription services. How do you hope to enter back into that marketplace that's radically changed and also hope to do business and cooperate with the studios and exhibitors?
At the end of the day, I see it as being very easy to help put butts in seats at not just one theater or one circuit but to all theaters, and our mission is still going to be the same. I think it's wonderful that there are more exhibitors that are doing this. We were the ones who created this marketplace and brought the idea, and I think now about 50% of theaters are covering some form of subscription. The difference will be, we'll offer the customer the freedom to go wherever they want. But it will also sit side by side with the person who only wants to go to one theater.
If you're like me, I go to AMC, I go to Regal, I go to Angelica, I go to Cinepolis, I go to the IFC. Something like MoviePass would work for me because I do want to see art-house, I do want to see blockbusters, and I like supporting those theaters that have that family-run feeling. We're there to support all of that, and I think those two things are not in competition with each other.
Are the AMCs and Regals going to play ball and want to take MoviePass people if they already have their own subscription offering? How do you make that case to the exhibitors?
Really, it's the consumer making the decision. At the end of the day, they'll want as much traffic, whether it's coming from Fandango, whether it's coming from Atom Tickets, whether it's coming from MovieTickets.com, whether it's a Costco voucher. There are so many people trying to drive traffic, we want to do our part to make that a smoother and easier process.
Are you still going to have to present a physical card?
I think you have to start there. We've done the research that so many theaters still have a magnetic strip that unless you're completely integrated with the theater, you need that magnetic strip as a way to gain entry. That has not changed in the last two to three years. Until the exhibitors completely update their systems, I think you're probably going to have the magnetic strip for a minute.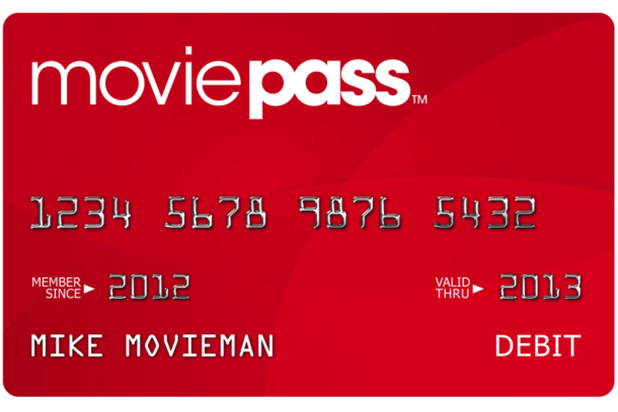 What was your reaction after your exit from MoviePass when the company started to blow up? Did you think it was all going to implode, and what was your reaction as you watched it all unfold?
There's three different points in time, when it started to take off, when the rocket started going sideways and when it looked like impending doom.
When it started to take off, one of the coolest moments for me was when I went to the Regal Union Square (in New York City)… I remember I went to the very first kiosk and I watched around me and I had to have seen eight or nine people take out their red MoviePass cards. That was mind-blowing to me to see that. We had updated the system where if you were a higher moviegoer, it had the proof of purchase where you would take a picture of your ticket. This kid in front of me turned around and said, "Are you Stacy Spikes, the founder of MoviePass?" And I was like, "Yeah," and that never happened to me before where someone realized it was me, and that was when I realized things were changing, when someone knew who I was, and I saw all of these people using the service at once, at that moment. That's when I felt something magical was really happening.
In terms of the disagreements about the price points, the $10 originally was supposed to be an entry point, but after you signed up, it would normalize. But the new buyers wanted to keep the foot on the gas. I raised my flags about it and then we parted ways. Then I sat on the sidelines and watched in horror, as everybody did, as things kept unfolding and kept getting worse and worse and worse. And it was unfortunate, because I think we were on to something huge, even enough that I'm back to continue that journey and trajectory of what MoviePass was on and trying to achieve.
Is the goal to still have unlimited access to films — including all new releases?
That's being talked about as well. We're doing a bit of a listening tour. We need to talk to constituents that we care about, the consumers, the theaters and the studios. And we want to make sure we have those conversations from everyone's side, and if MoviePass is not healthy and not a viable business, that doesn't work for anyone either. So we need to make sure that those four legs on the table are all there so that we can have a strong support system to support what I think could be a player in the industry that helps change everything.
I want to ask about the MoviePass brand. How do you bring people back into the fold who were burned by MoviePass before and disassociate from the company's crash and burn period?
At the end of the day, the playbook is: great service, great product, reliability, transparency, meeting with consumers on a regular basis. All of those are things that we did before that made the company great and exciting and worthy of an acquisition before, that was radically changing the industry, we want to bring those back.
I have always been an accessible CEO, I talk to customers, it was part of our responsibilities on the team. We all took shifts on customer service so that we could all hear the customers. There's no other way in this day and age to grow a business if you don't have happy customers. So our goal is to over-deliver and make these people happy and a great experience that they enjoy and they want to go to the theaters and see more movies, because I believe that if the moviegoing experience was on my iPad or it was in theaters, I know where I went. I know there's people like me. We want to make a product that works for those cinephiles and those people who really love that cinematic experience and watching those movies unfold on the big screen.
What happens to PreShow? Is there a way that gets rolled into MoviePass?
Part of the conversation I had with the PreShow board, I think the two technologies, FinTech and PreShow's AdTech can actually play together. We have to put some thoughts and ideas out there, let customers play with it and test it, but I do believe that PreShow will be complementary to the MoviePass business.
You said you believe theatrical subscription can play a role in raising movie attendance. So what is your overall goal in making sure MoviePass is done correctly this time?
No. 1 is you have to have a good product that works for all stakeholders. You have to have good customer service. You have to have a product that's reliable. You have to have a product that people can depend on, that's consistent, it works all the time. Fundamentally that comes first. And making sure you have something that keeps all stakeholders happy, that becomes a rising tide that raises all boats.
I still believe MoviePass is in its infancy in what it can do. You have a business that's operating on 30 or 40% attendance levels. That means you have a lot of room for growth. What if it had really hit its stride and gotten 10, 15, 20 million customers? Then you're talking about a very significant lift, which mean more people have jobs, and studios bet on cinema versus just having you stay home and watch it on a device.
I notice the website is black now instead of red. What's the reason for the rebranding? Why the change?
Part of it was the same team and a slightly different jersey and the concept and the things under the hood. But we wanted it to feel different. Original members of the team are back, and some new members are there that were around the industry. But we wanted that feeling of, OK, let's give it some visual difference, that there's a demarcation in time that this was different.