As the competition has already snatched up the major franchises, the No. 1 streamer still has an opportunity "to expand beyond its current base," one expert says
Live sports has been the one area that streaming king Netflix has avoided since streaming began. But the No. 1 streamer has lately softened on that stance, and there are certainly gains to be had if it did go into the live sports arena, say experts who talked to TheWrap.
"Nothing drives sustained loyalty to a media distribution platform like live sports. Sports are an incredibly effective way to target specific audiences and sustain and develop their interest for years," Daniel Kirschner, the co-founder and CEO of Greenfly, a digital media distribution software maker for sports leagues and teams, told TheWrap. "Netflix has the ability to create a feedback loop between live sports content and auxiliary content around live sports."
Become a member to read more.
The streaming behemoth recently announced it would make a push into live programming through deals with comedian Chris Rock in 2023 and the Screen Actors Guild Awards in 2024. And Co-CEO Ted Sarandos suggested that an entry into live sports in the future may not be off the table if Netflix can make the economics work.
"We're not anti-sports, we're pro profits. And we've not been able to figure out how to deliver profits in renting big-league sports in our subscription model," Sarandos said during Netflix's fourth-quarter earnings interview last week. "Not to say that that won't change. We'll be open to it, but that's where it's at today."
Also in November, the Wall Street Journal reported that Netflix explored streaming rights for the ATP tennis tour for some European countries, including France and the U.K., but ultimately dropped out. It also reportedly discussed bidding for other events, including U.K. rights to the Women's Tennis Association and cycling competitions. Additionally, the Journal noted that the company was in talks to acquire the World Surf League in 2021, but that negotiations fell apart.
A spokesperson for Netflix declined to comment on the Wall Street Journal's report.
Netflix has already dipped its toe into sports-related content with series like "Drive to Survive" and movies like "Hustle." It also recently launched "Break Point," a docuseries produced in collaboration with the Association of Tennis Professionals and Women's Tennis Association, and has two more docuseries on the 2022 World Cup and Six Nations Rugby in the pipeline.
In comparison, the company's Big Tech competitors have been far less hesitant about diving right into live sports, securing multibillion-dollar sports rights deals to bolster their subscriber growth. These include Amazon Prime Video's 11-year, $13.2 billion agreement for Thursday Night Football; Apple TV+'s seven-year, $595 million deal for Friday Night Baseball and 10-year, $2.5 billion Major League Soccer deal; and Alphabet-owned YouTube's seven-year agreement for the NFL Sunday package, which is reportedly valued at around $2 billion annually.
Creative Media founder and chairman and TheWrap columnist Peter Csathy points out that a move into live sports would fit into Netflix's focus on franchise content.
"What a franchise brings you is the certainty that you come in with a built-in audience rather than have to build an audience on day one," he explained. "So if they get into a live sports game, they're getting into where they need to go more and more, which is taking a big market segment that has a real passionate following that will follow that content wherever it goes."
But from a profit-and-loss standpoint, the costs for Netflix to license live sports are "too high" and the "return on investment isn't justified," streaming media analyst Dan Rayburn told TheWrap.
"Amazon, YouTube, Apple and others can afford to use sports content as a loss leader for the other products and services they sell, but Netflix gets 100% of their revenue from one product," Rayburn argued.
He also pointed out that nearly all of the big sporting rights have already been secured and that there "isn't much left in the market outside of some focused niche content."
Another risk of getting into live sports would be the possible negative reaction from investors.
"Wall Street wouldn't tolerate it right now because they want Netflix to make more money and live sports is money losing," Needham media and internet analyst Laura Martin told TheWrap. "I do think live drives viewership… but there's ways to do live that attracts viewers without paying sports fees."
Despite live sports being an expensive investment, Parks Associates president and chief marketing officer Elizabeth Parks told TheWrap that Netflix "has the money to invest and certainly the drive to expand beyond its current base."
According to a Morning Consult survey of 1,000 respondents between the ages of 13 and 25 conducted between Nov. 2 and 8, approximately 32% of Gen Zers said they watch live sports through authorized streaming services, compared with 28% who watch via broadcast or cable TV.
The survey noted that roughly two in five Gen Zers (38%) have watched a professional sporting event on TV in the past four months, while 53% said they had done the same at least once in 2022.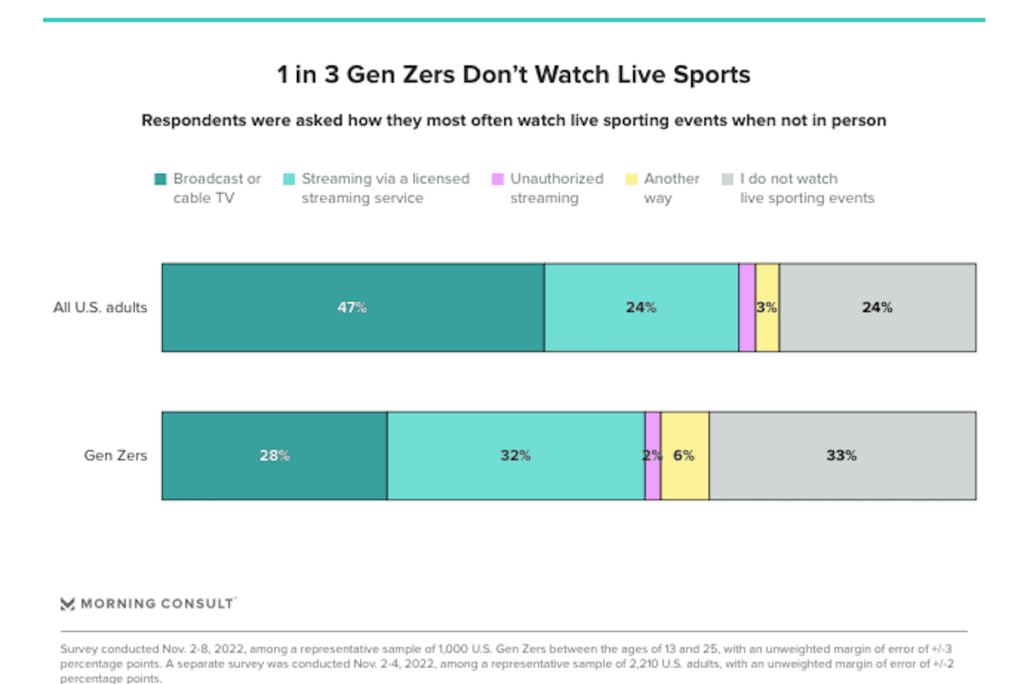 Parks pointed out that an entry into live sports could give Netflix "a stickier customer and a ton of 'shouldering' program possibilities." The firm estimates that 48% of households who watch live sports have participated in at least one interactive activity while doing so, such as betting or keeping track of stats related to their favorite players and teams.
When it comes to Netflix's potential entry into live sports, Samba TV senior vice president Dallas Lawrence believes that the best avenue would be for them to do so internationally.
"While we typically focus on U.S. audiences when we talk about sports, Netflix has about two-thirds of its users outside the U.S. This means they could decide to dabble in a sport or league that's popular in international markets where Amazon and Google may not be ready to compete just yet," Lawrence said.
He continued, "In this scenario, Netflix would have an advantage on pricing and scale and it would mirror their international content strategy of sourcing great local content relevant to their individual markets that have the potential to travel and reach bigger audiences when combined with Netflix's global scale."
Though Wedbush Securities analyst Michael Pachter agrees with Rayburn that sports are "too expensive" for Netflix, he predicted that if they ever do decide to wade in, it would likely be with "something small," such as non-exclusive rights to one of the European soccer leagues.
"I'd be surprised if they bid on a major sports broadcast," he said.
Netflix, which has seen its stock climb approximately 24% year to date, boasts a total of about 231 million subscribers globally. And while it's apparent their leadership has at least considered how live sports will or won't improve their numbers, they've been way more transparent about several other initiatives they're committed to following through on.
Sarandos and his new co-CEO Greg Peters said their focus is on growing Netflix's advertising business and launching paid sharing later this quarter to crack down on an estimated 100 million households sharing passwords. The company will also continue expanding its games offering in 2023, with a focus on Netflix-related IP.