"I am elated," Hawk Koch said to TheWrap the morning after he was elected president of the Academy. The son of past Academy president Howard W. Koch, the 66-year-old producer becomes the first second-generation president in the Academy's history.
Koch, who can only hold the job for a year because of term limits on the Board of Governors, spoke to TheWrap about his plans for the office, the state of the Oscars and his rock 'n' roll background.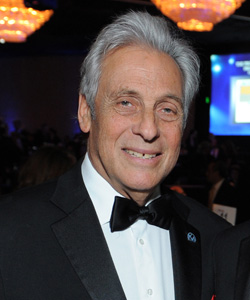 Most presidents take a little time to settle into office, but you can only serve one year. You have to hit the ground running.
Exactly. And fortunately, I've been at the Academy for many years and on many committees and on the board a long time. So I'm motivated to get everything going.
What are your priorities?
Number one, we've got to get the producer and the host of the Oscars.
Number one-and-a-half, I know the old cliché is, "it's great to be nominated." But by Sunday night, when they're sitting in the Dolby Theatre, I want this year's nominees to feel like, "Wow, it is great to be nominated."
Right up there — and there is no number two, this is still number one — is making sure that we have raised $100 million by October for the Academy museum. And I can say that we are well on our way.
Also read: New AMPAS President Hawk Koch Exits as PGA Co-President
And the other thing is really important to me is that the world understands that the Academy is not just the Oscars, that we do so many other things. We preserve this great art form, we educate, we inspire.
The next generation of AR Rahmans and Chris Nolans should want to join the Academy. Maybe there's a Walt Disney out there, an animator who's going to change things, or a visual effects person, or a cinematographer who's gonna be the next Gordon Willis or Owen Roizman. I want those people to know there's a place they should be, not just in America but internationally.
You said you want the nominees to feel honored by show night. How do you do that?
I've got some ideas. [pause] And once they come to fruition and I know they can happen, I will let you know.
I've heard suggestions that you want to move the Nominees Luncheon into Oscar week, and turn that week into a bigger week-long celebration. Is it accurate to say those things might be on the table?
Maybe.
In recent months, the board voted to keep the variable number of Best Picture nominees, and to keep the Oscar show in late February. Are you on board with both of those decisions?
Totally. Both of them, I think, are very smart moves by our board.
Do you have a shortlist for Oscar producers? Have you been thinking about that?
I have been. Yes, there are a few people that I hope might want to do this. And hopefully one or some of them might say yes.
What do you think of the last couple of Oscar shows? Is the show on the right track? Are there things you'd like to change?
I think over the last few yeasrs we've had some pretty good shows, and we've had a few hiccups. I think last year's show was really good.
I want to make sure and have fun on the show. I think comedy is important, and I think that legacy is important. I don't know if you watched the opening of the Olympics coverage on opening night, but I thought NBC did a good job in their opening montage of showing both the old and the new. I hope we can do something that shows both where we come from and where we're going.
Also read: Hawk Koch Elected Academy's 1st 2nd-Generation President
Do you feel a special connection to the "where we come from" part, considering that your father was also Academy president and produced a number of Oscar shows?
I sure hope so. I was backstage for 10 Academy Awards shows that my dad produced. I certainly have experience with the pitfalls, and the good and the bad that can happen.
Listen, I have a love of the Academy and what it stands for in the business where I've been able to have a very fortunate life. So I hope I can achieve a lot of the goals I have this year, and that in future years people will want to continue some of the things that I meant to do.
You talk about your history in the movie business — but didn't you start in the music business?
Yes. When JFK was assassinated, I left the U.S. and got a job in England working for a booking agent who booked U.S. acts into England. This was 1964. I was 18, and he believed in me enough that he let me be a roadie for the American acts that came over. And I remember the first one that came over was Lesley Gore and her young music producer, Quincy Jones. I got to take them around England to the shows and the concerts and the television appearances.
The man that I was working for was also involved with the Dave Clark 5, and so I was a roadie for the Dave Clark 5 when they came to America in the fall of '64. We did 48 cities in 52 days. I got to work with Roy Orbison in Alabama and Chuck Berry in St. Louis and the Supremes in Detroit. That was a great time in my life, and I learned a lot about organizing, and having to deal with the guys putting up the amps and the guys in the front office.