The Emmys have bad news for actors in TV movies and miniseries, but good news for folks who specialize in primetime pratfalls.
The Academy of Television Arts and Sciences, which presents the annual Primetime Emmy Awards, has posted its 2012-2013 rules on its website, detailing a few changes in the Emmy landscape that affect the supporting categories in the movie or miniseries genre, stunt coordinators and interactive content.
The biggest change is one that was announced last May: The Emmys are downsizing the miniseries-or-movie acting categories, combining the lead and supporting actor and actress awards.
The move, the Television Academy's senior vice president of awards, John Leverence, told TheWrap this week, is part of an overall tightening caused by the decline in the miniseries genre.
"This follows a consolidation we had two years ago," Leverence (right) said. "We used to give out separate awards to longform minis and to longform movies, and they got consolidated. This is kind of a continuation of that."
Rather than competing in four distinct categories, performers will now compete in two: Outstanding Actor in a Miniseries or a Movie and Outstanding Actress in a Miniseries or a Movie. The categories are open to any actor or actress onscreen for more than 5 percent of a program's running time.
The practical effect will likely be a sharp reduction in Emmy nominations for supporting performers, as the new categories — which will be expanded from five to six nominees — figure to be dominated by lead performances.
(In the drama-series and comedy-series categories, separate awards for lead and supporting performances will remain.)
In recent years, winners in the mini/movie supporting categories have included Jessica Lange ("American Horror Story," left), Tom Berenger ("Hatfields & McCoys"), Maggie Smith ("Downton Abbey," which was classified as a miniseries in its first season) and Guy Pearce ("Mildred Pierce").
This year, the consolidation means that Jeffrey Tambor, Chiwetel Ejiofor or any other actor hoping for a nomination for HBO's "Phil Spector," for instance, will have to go head-to-head with Al Pacino's starring performance, and that "Behind the Candelabra" co-stars Michael Douglas and Matt Damon will compete against each other rather than one of them (presumably Damon) being able to shift to supporting.
But the elimination of two acting categories doesn't mean the Emmys are getting any leaner. The ATAS Board of Governors also voted to add two new categories, keeping the total number of awards at a robust 99.
One addition is in the stunt category. The change, Leverence said, came about after stunt coordinators approached the board with a concern.
"The stunt people came to us and said, 'You know, the stunts that you do on drama series are different from the stunts you do on comedy series. And we really haven't had a lot of participation from the comedy-series people, because they've felt that their pratfalls won't get noticed versus exploding cars."
The Stunt Coordinators peer group, he said, supplied the academy with a list of comedy shows that would qualify if a separate category was created. ATAS has a "rule of 14" that allows new categories to be created and old ones to be eliminated if participation falls above or below 14 — and the stunt request, Leverence said, qualified.
In place of a single award for stunt coordination, Emmys will now be handed out in two categories: Outstanding Stunt Coordination for a Comedy Series or Variety Program and Outstanding Stunt Coordination for a Drama Series, Miniseries or Movie.
The interactive field also grew from one category to two, in what Leverence said was "a general expansion of the embrace for interactive."
The new category, Outstanding Interactive Program, will be added to the existing Creative Achievement in Interactive Media category.
The latter category is a juried one in which a panel from the Interactive Media peer group can opt to give out no Emmys, one Emmy or multiple Emmys — and the official rules now highlight four separate areas that can be recognized with a winner: Multiplatform Storytelling, Original Interactive Program, Social TV Experience and User Experience and Visual Design.
Last year, Conan O'Brien's Team Coco Sync App (right) and "Dirty Work" both won.
As a juried award, winners will be announced prior to the Creative Arts ceremony — a ceremony that could conceivably lose a bit of star power as a result of the rule changes.
That's because while the Primetime Emmys are presented in 99 categories, only about two dozen are handed out on the televised Emmys broadcast; the others are relegated to the marathon Creative Arts show, which takes place a week earlier and is televised in an edited, delayed version.
The mini/movie supporting categories were among those showcased on the primetime telecast, and their nominees often included respected actors and high-profile stars. In recent years, the category has included Susan Sarandon, Judy Davis, John Goodman, Patrick Stewart, Paul Giamatti and Ed Harris.
The loss of those two televised categories could allow the academy to add additional categories to the Primetime Emmys broadcast. In the past, the televised categories have been the subject of careful negotiation between the academy, the networks and the guilds, with most acting categories and program categories (Outstanding Drama Series, Outstanding Comedy Series …) making the cut but most other categories landing on the Creative Arts show.
Leverence said the decision on whether to add categories to the show is the province of a separate committee that oversees the Primetime Emmys presentation.
"In the subdivided areas of responsibility within the academy, the Awards Committee deals with eligibility and voting," he said. "But the actual TV production tends to be the bailiwick of the Primetime Show Committee, which represents the Board of Governors in conjunction with the broadcast networks.
"From an Awards Committee and awards business perspective, there's only silence about how the consolidation will affect the show. But on the other side, between the show committee and the networks, there might well be some discussions."
A spokesman for the academy said any decision about adding categories to the primetime show would not be made for some time. But if the committee and the networks do opt to bring in additional categories, Leverence figures they'll zero in on the Outstanding Guest Actor and Actress categories in both drama and comedy.
"Those four guest-performer categories are sitting over on the Creative Arts show, and they might well be logical choices to bring over, in part or whole," he said.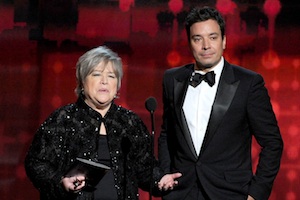 Jimmy Fallon and Kathy Bates (left), Jeremy Davies and Martha Plimpton won those awards last year, with Justin Timberlake, Gwyneth Paltrow, Ann-Margret, John Lithgow, Betty White and Neil Patrick Harris taking home the honors in previous years.
As an added bonus for the broadcast networks, which rotate televising the Emmy show, the guest categories — particularly in the comedy genre — are usually filled with performers from broadcast shows like "Saturday Night Live," "30 Rock" and "The Good Wife," a marked difference from the miniseries/movie categories typically dominated by pay cable networks like HBO and Showtime.
"You have a lot of [broadcast] network product in those guest categories," said Leverence. "And since our broadcast partners are the networks, it might very well seem to them to be a blessing to remove two categories that are essentially cable-centric, and move in a couple of categories that are broadcast-centric.
"It's something for the committee and the networks to talk about, but I think it definitely could be a factor."