If 2023 has an Oscar Week party theme, it has to be "We're BACK!"
This week's run-up to Sunday's 95th Academy Awards is truly jam-packed with parties, from big blowouts to medium-sized soirees and right down to intimate (and hot-ticket) bashes. It's the year that everything is finally back to normal after the pandemic, although some are still choosing to wear masks while out and about (to not an iota of judgment from anyone in this town). And that means more parties than time to criss-cross Los Angeles, even in a chauffeur-driven vehicle. So choose judiciously and know that all events listed here are by invitation only, except for the Academy Screening/Discussion series held at the new Academy Museumof Motion Pictures, which are open to the public.
---
Academy Oscar Week Film Screening and Discussion Series
Academy Museum of Motion Pictures, 6067 Wilshire Blvd.
All Oscar Week events take place in the David Geffen Theater.
Wednesday-Saturday, March 8-11, various times
From Wednesday to Saturday, the Academy presents its annual film screening and discussion series from a number of the disciplines, exploring animated short and feature films, documentary short and feature films, live action short and international feature films, and makeup & hairstyling. Times range from morning to evening. Access to all Oscar Week programs are first come, first served. The purchase of a museum general admission ticket does not guarantee entry to programs if theater capacity is reached. Tickets to the Academy Museum are available only through advance online reservations via the Academy Museum's website and mobile app.
---
EMILY's List 6th Annual Pre-Oscars Breakfast: How Women Change the World
The Beverly Hilton, 9876 Wilshire Blvd.
Tuesday, March 7, 9 a.m. to 11 a.m.
EMILYs List is the nation's largest resource for women in politics, and every year women gather for its annual breakfast and panel ahead of the 95th Academy Awards. Expected panelists and guests include Sophia Bush, Lisa Ann Walter, Garcelle Beauvais, Amber Riley, Indya Moore, California Lieutenant Governor Eleni Koulanakis and Los Angeles Mayor Karen Bass.
---
TIME's 2nd Annual Women of the Year Gala
Four Seasons Hotel, 300 South Doheny Drive
Wednesday, March 8, 6 p.m.
Celebrating International Women's Day as well as everyone being in L.A. for Oscar Week, TIME Magazine honors a dozen extraordinary women working towards a more just and equal world. The Hollywood quotient is filled with Cate Blanchett, Quinta Brunson, Angela Bassett and Phoebe Bridgers, along with other women from around the world who are making a difference to our global society.
---
Vanity Fair and TikTok Celebrate Vanities: A Night for Young Hollywood
Mes Amis Restaurant, 1541 Wilcox Avenue
Wednesday, March 8, evening
Vanity Fair magazine tapped a committee of rising stars who have been featured in VF's "Vanities" column to do the inviting to this exclusive bash "that spotlights the actors, musicians, artists and #filmtok community that make up the new creative class." Tequila Don Julio and Johnnie Walker sponsor this cocktail party that's sure to feature Stephanie Hsu, Thuso Mbedu, Danielle Deadwyler and more of young Hollywood's top thespians. The event will be hosted by Halle Bailey, Paul Mescal and Julia Garner.
---
Essence Black Women in Hollywood 16th Annual Awards Luncheon
Fairmont Century Plaza Hotel, 2025 Avenue of the Stars
Thursday, March 9, 11:00 a.m.
Essence magazine returns with their annual luncheon that focuses on Black women in Hollywood. This year once again celebrates the "Black Cinematic Universe," with honorees including Gina Prince-Bythewood, Tara Duncan, Danielle Deadwyler, Dominique Thorne and Sheryl Lee Ralph.
---
Oscar Wilde Annual Awards
Bad Robot, 1221 Olympic Blvd.
Thursday, March 9, 6:30 p.m. to 11 p.m.
The U.S.-Ireland Alliance's annual Oscar Wilde Awards is back at J. J. Abrams' Bad Robot Santa Monica headquarters to once again celebrate the ongoing relationship between the USA and Ireland. Always a hot ticket in a sometimes chilly outdoot-indoor space, veterans of this bash know to dress warmly. Jesse Buckley, Kerry Condon and Eve Hewson are this year's honorees and we'll be shocked if Colin Farrell, Brendan Gleeson and Martin McDonagh are not in the convivial crowd.
---
The 5th Annual MACRO Pre-Oscars Party, Presented by Chase Sapphire
Private location
Thursday, March 9, 9 p.m.
MACRO producer Charles D. King is back to host his company's annual party. His wife Stacey Walker King co-hosts the party, again presented by Chase Sapphire.
---
RCGD Global Pre-Oscars Annual Celebration
The Eveleigh, 8752 Sunset Blvd.
Thursday, March 9, 7 p.m.
Suzy Amis Cameron's annual pre-Oscars celebration of sustainable fashion returns to shine a spotlight on what people wear on the red carpet. She's joined by actress Tati Gabrielle, Miss Universe R'Bonney Gabriel, "Avatar" star Bailey Bass, Nikki Reed and RCGD Global CEO Samata Pattinson. The evening, sponsored by TENCEL™ and new partners Sustainable Apparel Coalition and VeriSwype, will include a very special tribute to the legacy of Dame Vivienne Westwood. James Cameron usually joins his wife Suzy, especially in this banner year for his film "Avatar: The Way of Water," which is nominated for the Best Picture Oscar.
---
The DriveH2 Pre-Oscar Green Gala
Petersen Automotive Museum, 6060 Wilshire Blvd., Los Angeles
Thursday, March 9, 6 p.m. to 10 p.m.
Energy Independence Now returns with their Green Gala, designed to remind everyone in Hollywood and beyond that zero emissions and ecological protection ought to be the subject of all our attention. This one's back on the rooftop of the Petersen Museum, where the chill set in heavily last year, so expected guests like Tia Carrere, Ismael Cruz Cordova, Jordin Sparks and Mario Van Peebles are advised to dress very warmly for this one.
---
Green Dress Carpet Fashion Awards (GCFA)
Neuehouse Hollywood, 6121 Sunset Blvd.
Thursday, March 9, 6:30 p.m.
Joining in the sustainability movement in fashion is this new awards event, with the goal to "bring together a new generation of leaders drawn from political, social and environmental hotspots across the planet and the concept of global feminism center stage." On board looking toward this brave new world are founder Livia Firth, Co-Chairs Cate Blanchett, Quannah Chasinghorse, Viola Davis, Tom Ford, Simu Liu and Simone Ashley, and GCFA Board Members Amber Valletta, Bethann Hardison, Christopher Bevans and Tonne Goodman.
---
38th Annual Artios Awards
The Beverly Hilton, 9876 Wilshire Blvd.
Thursday, March 9, 4 p.m.
The Artios Awards honors casting professionals in more than 20 different categories encompassing film, television and theater, along with special honorees selected for their contributions to the craft. From Host Yvette Nicole Brown to honorees Rita Moreno, Leslee Feldman and Jessica Sherman to CSA President Destiny Lilly and actors Utkarsh Ambudkar, Anna Camp, Melanie Lynskey and Sam Richardson, this one's got some juice.
---
Australian Oscars Nominees Reception
Chateau Marmont, 8221 Sunset Blvd.
Thursday, March 9, 5 p.m. to 8 p.m.
The Australian Oscars Nominees Reception happily honors 2023 Oscar nominees Cate Blanchett, Baz Luhrmann and Catherine Martin; and of course, American Austin Butler will be along for the fun, too, capping off the "Elvis" team's run for Academy Award recognition. Filmmaker Lachlan Pendragon will also be on hand; he's up for Best Animated Short.
---
South Asian Excellence at the Oscars
Paramount Pictures Lot, 5353 Melrose Avenue
Thursday, March 9, 6:30 p.m. to 10:30 p.m.
A celebration of South Asian excellence in film with the 2023 South Asian Oscar nominees and shortlisted filmmakers, hosted by Priyanka Chopra and Anjula Acharia, and co-hosted by Bela Bajaria, Radhika Jones, Joseph Patel, Shruti Ganguly and Anita Chatterjee.
---
W Magazine and YSL Pre-Oscar Dinner
Private Residence, Los Feliz
Thursday, March 9, evening
Sara Moonves, the editor-in-chief of W Magazine and Saint Laurent artistic director Anthony Vaccarello host this private dinner to celebrate W Magazine's 5th Annual Directors Issue, featuring cover stars Jennifer Coolidge (photographed by directors Daniel Kwan and Daniel Scheinert), Danielle Deadwyler (photographed by Todd Field) and Michelle Williams and Paul Dano (photographed and directed by Steven Spielberg). All are expected to join in the repast.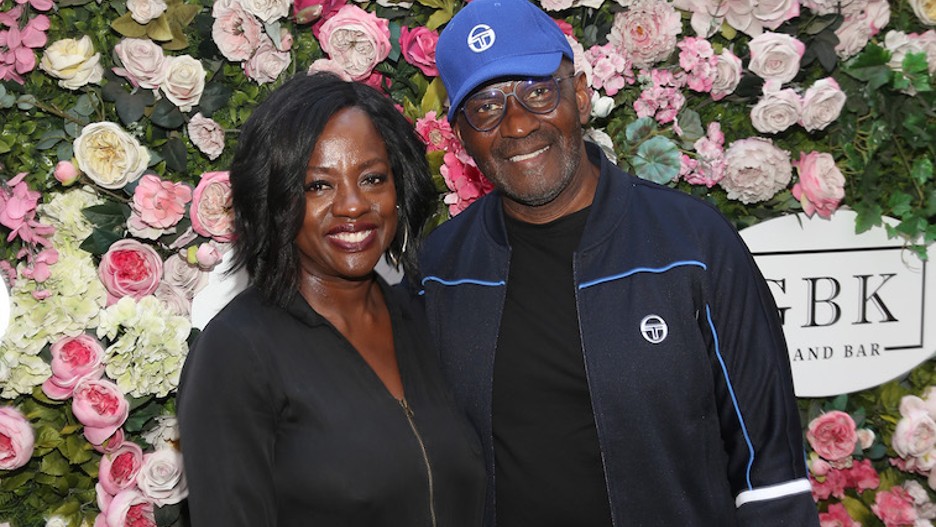 GBK Productions Annual Pre Oscars-Celebrity Gift Lounge Celebrating the 2023 Academy Awards
Kimpton La Peer Hotel, 627 N La Peer Dr.
Friday and Saturday, March 10-11, 11 a.m. to 5 p.m.
GBK's famed luxury lounge is the place where Oscar presenters and nominees come to have a little pampering, collect a lot of swag and just have a lovely afternoon. So expect to see people like Viola Davis and many others as Gavin Keilly's annual lounge sends them home with $75,000 in gifts and trips to beautiful resorts like Sail Rock in Turks and Caicos and Baha Mar Rosewood in the Bahamas. Keilly always gives back to various charities at his two-day parties, too.
---
EcoLuxe 17th Annual Celebrity Luncheon and & Luxury Lounge
The Beverly Hilton, 9876 Wilshire Blvd.
Friday March 10, 11 a.m. to 5 p.m.
Celebrating the Oscars for the 17th year, Debbie Durkin returns with her EcoLuxe Lounge that starts with the Hilton Hotel's Champagne brunch, then gifts items including Dream Body Sculpting Devices, as they mark their West Coast launch of the device that will "Make Your Dream Body a Reality." And who doesn't want that? The lounge also benefits Marley's Mutts Dog Rescue, so expect puppies to cuddle and pet products to take home, too.
---
DPA Luxe Gift Suite 2023
Luxe Hotel Sunset Boulevard, 11461 Sunset Blvd.
Friday and Saturday, March 10-11, 10 a.m. to 6 p.m.
Nathalie Dubois returns with her annual DPA Luxe Gift Suite bringing an array of luxury beauty, fashion, travel, food and spirits products and pampering to delight nominees, presenters and other celebs who make the trip up the 405 to the Luxe Hotel. Past visitors like 2023 nominee Diane Warren will encounter trip gifting to Le Taha'a by Pearl Resorts in French Polynesia, The Greenhouse in Iceland and Pimalai Resort and Spa in Thailand, along with high-end Japanese beauty products, bespoke handbags and much more here.
---
16th Annual WIF Oscar Party
NeueHouse Hollywood, 6121 Sunset Blvd,
Friday March 11, 5:30 p.m. to 8 p.m.
The Women in Film 16th annual party is the place to be on Friday night as Johnnie Walker, Max Mara and Mercedes-Benz sponsor this celebration of all the female Oscar nominees of 2023. WIF Board president emerita Cathy Shulman co-hosts along with Marlee Matlin and Sian Heder at this fashion-forward bash that's always chockablock with talented female nominees. The annual group photo is always a highlight – and an Instagram winner, too!
---
British Consulate's Reception in Honour of British Nominees
British Consul private residence
Friday, March 10, 4 p.m. to 7 p.m.
Famed cinematographer Sir Roger Deakins is the honoree this year at the British Consulate's annual pre-Oscar bash. Held at the British consul's home, lots of British Hollywood ex-pats and their American pals love to attend this garden party that always features classic gin and tonics, this year concocted with Isle of Harris Gin and Fever Tree.
---
Vanity Fair Party Honoring A24's "Everything Everywhere All at Once"
Mandarin Oriental Residences, 9200 Wilshire Blvd.
Friday, March 10, 6 p.m.
Vanity Fair continues its "Campaign Hollywood" week of parties with what they call an "intimate soirée that invites the cast, filmmakers and industry friends together" in order to celebrate the overwhelming awards season success of A24's "Everything Everywhere All at Once." All the usual suspects are sure to be together once again, as the Daniels, Michelle Yeoh, Jamie Lee Curtis, Ke Huy Quan, Stephanie Hsu and James Hong keep their months-long ride going for one last weekend at this evening that partners with The Asian American Foundation's (TAAF).
---
The MPTF 21st Annual Night Before Party
Undisclosed location
Saturday, March 11, 7 p.m.
The 21st Annual Night Before Party will once more be filled with the world's most famous faces, as this casual, no-media-allowed party always benefits the Motion Picture & Television Fund, which helps members of the entertainment community in need or with later-in-life aging needs. This easygoing A-list celebration brings out the top names in Tinseltown every year; this year the host committee is co-chaired by Angela Bassett, Cate Blanchett, George Clooney, Emma Thomas and Christopher Nolan, with nominees and other big stars gathering for the exclusive event.
---
OSCAR SUNDAY PARTIES
31st Annual Elton John AIDS Foundation Academy Awards Viewing Party
West Hollywood Park, West Hollywood
Sunday, March 12, 3 p.m. until late
Elton John returns in person to host his namesake Oscar viewing party this year, along with his husband David Furnish, with support from Eric McCormack and Michaela Jaé Rodriguez as their special guests. Of course everyone hopes that Elton will play a few piano tunes, but singer-songwriter and actress Rina Sawayama is the headliner who is set to perform at this party created to support the EJ AIDS Foundation's work to eradicate that insidious disease.
---
Byron Allen's 5th Annual Oscar Gala 2023 Benefiting Children's Hospital Los Angeles
Beverly Wilshire Hotel, 9500 Wilshire Blvd.
Sunday, March 12, 3:30 p.m. to 9 p.m.
Byron Allen brings his annual black-tie viewing party back to Beverly Hills with a very special guest, as Diana Ross is set to perform. Howie Mandel joins the fun as the night's host and lots of Allen's BFF are likely to turn up, including pal Jamie Foxx and many more.
---
Academy Museum 2nd Annual Night at the Museum Viewing Party
Academy Museum of Motion Pictures, 6067 Wilshire Blvd.
Sunday, March 12, 3 p.m. to 10 p.m.
Movie fans can experience the glamor of the Oscars at the Academy Museum's annual viweing party, held right in the heart of the spectacular home of film history. Tickets are $250, which includes access to the David Geffen Theater to watch the Oscars live stream on ABC, gallery admission, food by Wolfgang Puck Catering, hosted bar, a commemorative gift, red-carpet photography and more.
---
Yi Zhou and Into the Sun Entertainment Oscar Viewing Party
Skybar in the Mondrian Hotel, 8440 Sunset Blvd.
Sunday, March 12, 4 p.m. to 2 a.m.
Asian actress and filmmaker Yi Zhou hosts this Oscar viewing party that is designed to celebrate the increases in inclusion and diverse representation in Hollywood. Proceeds from the event go to the United Nations Human Rights Office of the High Commission; Folake Olowofoyeku, Bai Ling and other Hollywood stars are expected at this viewing party that starts early and goes late.
---
Oscar Viewing Party Presented by Jonathan Baker
Baker Manor, 12431 Mulholland Drive
Sunday, March 12, 4 p.m.
Director/producer Jonathan Baker, in collaboration with French Riviera Film Festival founders Nicole Goesseringer Muj and Gotham Chandna, host this Oscar viewing party. Oscar-winner George Chakiris, Jon Lovitz, Eric Roberts, Gilles Marini, Dee Dee Sorvino, Grammy winners Paulina and Pable Aguirre, Vincent de Paul, Sue Wong and others are expected. Dee Dee Sorvino to accept the special FRFF ICON Award, presented to the late Paul Sorvino.
---
Governors Ball After Party
Ray Dolby Ballroom, Hollywood & Highland
Sunday, March 12, immediately following the Oscar telecast
Expected guests include all the Oscar winners, lining up at the engraving station to get their trophies permanently branded at this first stop on the post-party circuit. Wolfgang Puck returns once again to cater the luxurious meal served to the starving crowd, with two new dishes: a tamarind-glazed, Asian-style fried chicken and waffles, and a Ma Maison chicken salad served on an endive leaf. Brad Pitt's Champagne Fleur de Miraval will flow freely, and a sip of that beautiful Rosé Champagne is as good a reason as any to stop in.
---
Vanity Fair Oscars After Party
Wallis Annenberg Center for Performing Arts, Beverly Hills
Sunday, March 12, 9 p.m.
Expected guests include Vanity Fair EIC Radhika Jones and every single one of her A-list Hollywood pals, with live streaming of the red-carpet arrivals on Vanity Fair's TikTok channel. The festivities begin with an exclusive dinner/viewing party and then the big bash ramps up once the show concludes.
---
A24 Viewing and After Party
Soho House, 9200 Sunset Blvd.
Sunday, March 12, 4 p.m.
A24 is likely to have a lot to celebrate on Oscar Sunday, with "Everything Everywhere All at Once" leading the pack. This viewing party is bound to morph into a winners circle fete as the night progresses.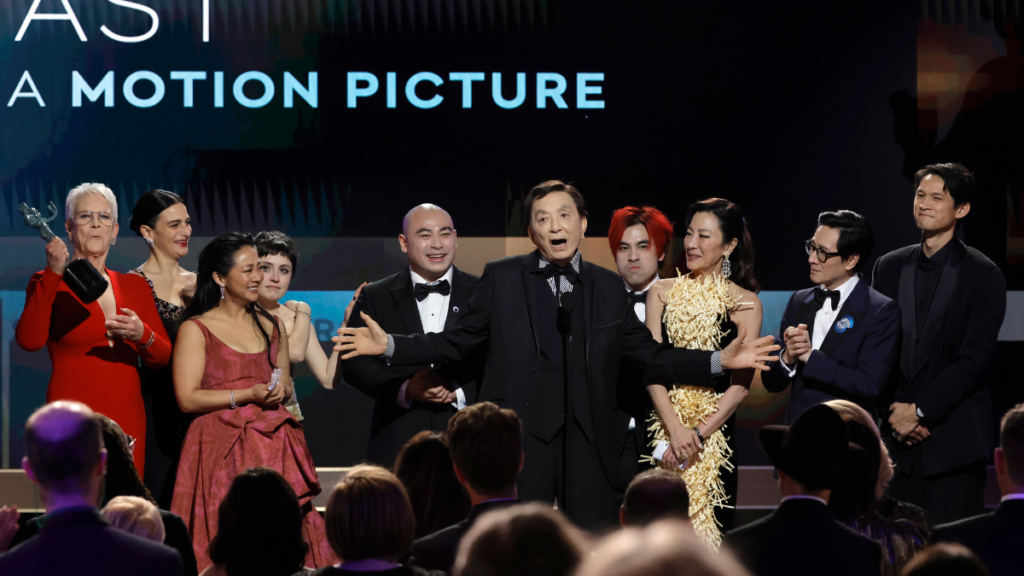 ---
Paramount Pictures After Party
Motherwolf, 1545 Wilcox Avenue
Sunday, March 12, 9 p.m.
With "Top Gun: Maverick" bound to win some of the technical awards (at least), Paramount is planning an after-show bash for its biggest hit in years. Jerry Bruckheimer and Tom Cruise are likely to turn up at this one, especially if they pull off an upset in the Best Picture category.
---
Warner Bros. After Party
Ysabel, 945 N. Fairfax Avenue
Sunday, March 12, 9 p.m.
This, finally, will be the last bash that Baz Luhrmann and Austin Butler attend in support of "Elvis." Those two, along with Catherine Martin, have been the biggest partiers during this year's very long awards season run-up to the big night.