The fall of Harvey Weinstein and the rise of #MeToo and #TimesUp had already made this the most unsettled Oscars season in years.
The movies have done the rest.
Even with all the major guilds handing out awards in January and February and the British Academy (BAFTA) following suit on Sunday and providing the biggest clues about how the Oscar race may turn out, we approach the February 20 start of voting with at least five conceivable Best Picture winners. That's by far the largest group of potential winners at this point in decades, maybe ever.
(Remember, between 1944 and 2008 there were only five nominees each year, and never a year in which all five of them had a legitimate chance of winning.)
And we can't rely on the usual statistics to tell us what's going to happen, because whatever does win is going to go against at least one stat that Oscar watchers consider an ironclad disqualifier.
Also Read: Academy to Eliminate Paper Balloting at Next Year's Oscars
This is an unusually turbulent awards season, both for films that have won guild awards and for a couple of contenders that have been shut out.
And with three splits between Best Picture and Best Director over the last four years, it's becoming increasingly clear that the preferential system used to pick a winner in the best-pic category — and only in that category — does have an enormous effect.
In that system, voters are asked to rank the nominees in order of preference rather than just selecting a single favorite. Each ballot goes to the voter's No. 1 choice in the first round of counting — but as the lowest-scoring films are eliminated in subsequent rounds, those ballots are redistributed to go to whichever of the remaining contenders is ranked highest on each of the ballots.
When one film has more than 50 percent of the vote, the count ends — after rewarding the movie that's a consensus favorite over the ones whose appeal might be more divisive.
With all of that in mind, here's our rundown of the pluses and minuses for each of the Best Picture nominees — arranged in what I would say is the current order of likelihood, although that changes daily.
Also Read: Oscars 2018: Host Jimmy Kimmel Seeks Therapy for a Year of 'Moonlight' Trauma in New Promo (Video)
"The Shape of Water"
Good news: The film won two of the top four guild awards, the Producers Guild Award and the Directors Guild Award. Those two are the most reliable guild indicators of Oscars success: 15 of the 22 DGA winners and 14 of the 22 PGA winners since 1995 have also won Best Picture, which is higher than the success rates for WGA (12 of 22) and SAG ensemble (11 of 22) winners. This could help Guillermo del Toro's fantasy, frontrunner at the Oscars by most reckonings, follow in the footsteps of "The English Patient," "Titanic" and "The Artist" as best-pic winners whose only major guild wins were with the directors and producers.
Bad news: But remember, "Saving Private Ryan" won those two guilds and then lost to "Shakespeare in Love," and "Gravity" won both of them (the PGA in a tie with "12 Years a Slave") and then lost to "12 Years."
Also, "The Shape of Water" didn't get a Screen Actors Guild nomination for ensemble cast; the last time a film won Best Picture without that SAG nomination was "Braveheart" way back in 1996, the first year SAG ensemble was handed out. (We thought "La La Land" would break the streak last year, but it didn't.)
In addition, the film was nominated for the Writers Guild Award for original screenplay, but lost to "Get Out." While "The King's Speech," "The Artist," "12 Years a Slave" and "Birdman" all won PGA, DGA or both and then won the Oscar without a Writers Guild win, none of them were eligible for the WGA. It's been 13 years since a film won Best Picture after being eligible for but losing at the Writers Guild.
Path to victory: It's clearly the front runner, but the big question mark for "The Shape of Water" is whether it can avoid the fate of last year's "La La Land" and 2016's "The Revenant," impressive filmmaking feats that lost to more universally acceptable movies ("Moonlight" and "Spotlight). To win, it will likely need a significant lead after the No. 1 votes are counted, so that it can stave off a rally by more universally palatable movies as the counting goes on. And it will need a split between its main challengers, so that no one film picks up enough votes to unseat it.
Also Read: Guillermo del Toro Wins Directors Guild Award for 'The Shape of Water'
"Get Out"
Good news: Jordan Peele won the Writers Guild Award for Best Original Screenplay — triumphing in a category that was a real showdown between three serious Best Picture contenders, "Get Out," "Lady Bird" and "The Shape of Water." (A fourth, "Three Billboards Outside Ebbing, Missouri," was ineligible under guild rules.)
Bad news: It didn't get an Oscar nomination for film editing — or, for that matter, a nom in any below-the-line category. Since 1981, the only film to win Best Picture without an editing nomination is "Birdman," which was designed to look like one continuous shot. Even intimate films like "Spotlight" and "Moonlight" proved they were contenders with editing nods. Plus, "Get Out" only got four nominations in total, which would be the fewest for any Best Picture winner since "Cavalcade" in 1933.
Path to victory: A commercial hit that turned into a surprise critical hit and then, slowly, into a real awards contender, Peele's horror thriller has been confounding expectations all year. It probably won't get the most No. 1 votes, but it could strike voters as an important movie — using genre elements to deal in a fresh way with the serious issue of race relations – that deserves to be near the top of enough ballots to pull out a win.
Also Read: 'Get Out' and 'Call Me by Your Name' Win 2018 Writers Guild Awards
"Dunkirk"
Good news: Almost everybody admires it. And they particularly admire Christopher Nolan, who most likely will lose Best Director to Guillermo del Toro but who is an iconic filmmaker who deserves more Oscar success than he's had. His film is such an enormous technical accomplishment that it could get massive support from the craft branches, and it's the type of film that could well end up near the top of the ballot even from voters who won't put it at No. 1. Plus, it seems to be picking up momentum in the homestretch.
Bad news: It didn't win a single major guild award, and it didn't get Oscar nominations for writing or acting. Films have won without a writing nomination ("Titanic") or without an acting nomination ("Slumdog Millionaire," "The Lord of the Rings: The Return of the King"), but the last film to do it without either of those was "Grand Hotel" in 1932. And "Grand Hotel" is the ultimate outlier, winning Best Picture despite the fact that it wasn't even nominated in any other category. "Dunkirk" also lost at the BAFTAs to "Three Billboards," suggesting that Nolan doesn't quite have enough support even among the Brits who you'd expect to be among his film's biggest fans.
Path to victory: If "Dunkirk" is in the top half of most voters' ballots while more divisive films jump between the top and the bottom, it could be the consensus pick that pulls off a surprise win.
"Three Billboards Outside Ebbing, Missouri"
Good news: It won the Screen Actors Guild Award for Best Ensemble Cast, which presaged victory for "Spotlight," "Argo," "The King's Speech" and "Crash" in recent years. It has two likely acting winners in Frances McDormand and Sam Rockwell and a key Best Film Editing nomination. And it beat "The Shape of Water" and "Dunkirk" at BAFTA, which only matches the Oscars about half the time but is seen as an indicator of the leanings of the Academy's large British contingent.
Bad news: Martin McDonagh didn't get a Best Director nomination. A film without a directing nod has won only four times in 89 years, and the first two of those — 1928's "Wings" and 1932's "Grand Hotel" — are hardly relevant to today's voting. And toughest of all for its chances, it is one of the most dramatically love-it-or-hate-it films in the mix, which could really hurt its ability to secure additional votes as the preferential count goes on.
Path to victory: Film Twitter and anecdotal evidence has to be misleading us all about how divisive this movie is. If they're wrong and there are far fewer haters in the Academy than on Twitter, it could cobble together a winning coalition based around the Academy's largest branch, the actors — but to win under preferential, it would need strong support from far more than just this one branch.
Also Read: 'Three Billboards Outside Ebbing, Missouri' Dominates BAFTA Awards (Complete List of Winners)
"Lady Bird"
Good news: It has picture, director, writing and acting nominations. Greta Gerwig made history as only the fifth woman ever nominated for Best Director, and she did so in a year in which the focus in Hollywood is on the treatment of women and the dearth of women in positions of power.
Bad news: It didn't win anything from the four major guilds. In the time that the DGA, PGA, WGA and SAG have been handing out awards, no film has ever won Best Picture without winning the top prize from at least one of them. Like "Get Out," it also has no editing nomination or other craft nominations, something that the last 37 Best Picture winners have had.
Path to victory: In the year of the woman, a film written and directed by a woman and telling the story of a teenage girl could become a statement, not just a coming-of-age story. Like "Get Out," it would need to become this year's "Spotlight" or "Moonlight," the little film that seems to speak for the moment in a way the flashier frontrunner doesn't – and to win it'd need to capture lots of No. 2 and No. 3 votes from films that are eliminated from contention.
Also Read: Saoirse Ronan Weighs Oscar Date Pros, Cons: 'Do They Do the Loser Face With You?' (Video)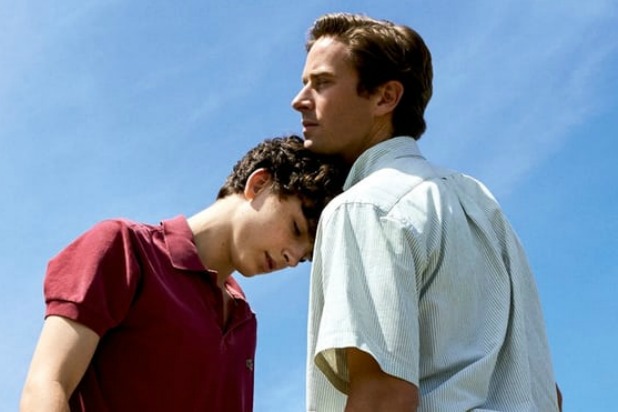 "Call Me by Your Name"
Good news: James Ivory won the Writers Guild of America Award and the BAFTA for Best Adapted Screenplay.
Bad news: It didn't get a Best Director nomination, or an editing nomination, or any other craft nomination, and it only has four nominations in total.
Path to victory: Despite its status as one of the year's clear critical favorites, Luca Guadagnino's romance if one of the four Best Picture nominees without a clear way to win.
"The Post"
Good news: Between its message about the importance of the press in holding government accountable and it's depiction of a world in which men hold all the power and women are at best condescended to, the journalism drama set in 1971 is incredibly timely.
Bad news: No major guild wins. No Best Director nomination. For all his success, Steven Spielberg has only won Best Picture once, for the unassailable "Schindler's List."
Path to victory: Maybe Donald Trump could launch an all-out attack on the press and the film could surge to a win as a protest vote.
Also Read: 'The Post' Movie Review: Steven Spielberg Spins a Lean and Mean Fourth Estate Yarn
"Darkest Hour"
Good news: Star Gary Oldman has won every acting award you can win, keeping the film in front of voters. Its six nominations include four craft categories, indicating below-the-line support in the Academy.
Bad news: No major guild wins (for the film — Oldman won an individual prize from SAG). No Best Director nomination. No Best Film Editing nomination.
Path to victory: A sudden return to the days when well-crafted, old-fashioned films like "The King's Speech" won. Other than that, the film will likely have to settle for Oldman's all-but-assured Best Actor win.
"Phantom Thread"
Good news: It surprised most observers by landing six nominations, including Best Picture and Best Director. Those were a credit to the way the preferential system works in the nomination round, where it rewards small but passionate support. It won the Village Voice's nationwide critics' poll over "Lady Bird" and "Get Out" and has a growing reputation as one of the year's most masterful pieces of filmmaking.
Bad news: But critics are not Oscar voters. It has no major guild wins. And in the final round of voting, preferential looks for consensus, not passion. For all the devotion it inspires, "Phantom Thread" isn't likeable enough to pull off a victory.
Path to victory: Sometimes, it really is an honor just to be nominated.