The Academy launched its new "Oscars Outdoors" open-air theater on Saturday night in Hollywood with a screening of "Field of Dreams" – a choice, AMPAS president Tom Sherak told TheWrap, that was a complete no-brainer.
"There were a lot of movies that we could have shown, but we liked the idea of 'If you build it, he will come,'" he said, quoting a line from Phil Alden Robinson's much-beloved baseball fantasy from 1989.
"We built this, and we hope they will come."
By this, Sherak meant Oscars Outdoors, a space nestled off Vine Street between the Academy's Pickford Center for Motion Picture Study and the huge parking structure for the Arclight Cinemas.
The project, which has cost about $2 million so far, used landscaping and site design to put a 40-foot screen in front of a gentle grass slope, which will accommodate about 350 patrons for Friday and Saturday night screenings that will begin on June 15 and run throughout the summer.
(Photo by Matt Brown/AMPAS)
Also read: Academy to Host Summer Screening Series at New Open-Air Theater
Sherak also told TheWrap that he's working on one addition to the lineup: a Wednesday, July 4 screening of "Mr. Smith Goes to Washington" followed by a fireworks display from the roof of the Arclight parking structure.
Typically, the screenings of such films as "Casablanca," "Stagecoach," "Snow White and the Seven Dwarfs," "Ferris Bueller's Day Off" and "The Wizard of Oz" will cost $5 – but Saturday was an invitation-only kickoff for the series, following a staff-only test a few weeks ago.
The private nature of the event meant that instead of the food trucks promised for future shows, the Academy provided catering courtesy of Wolfgang Puck – and it also meant that Sherak and past Academy president Bob Rehme even manned the popcorn machine briefly, dishing up and passing out bags to anyone who wanted them.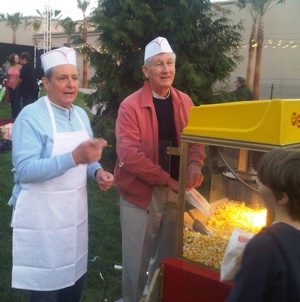 "How many Academy presidents does it take to serve popcorn?" Sherak asked as Rehme scooped and he distributed – beginning with a bag for Los Angeles councilman Eric Garcetti, who was instrumental in helping the Hollywood project.
"We got our starts this way for real," said Rehme of the two men, both of whom had worked on the distribution and exhibition sides of the business.
Before the screening began, "Field of Dreams" writer-director Robinson eyed the big screen and the gently sloping lawn. "It's crazy that a city like Los Angeles has not had a great outdoor space to see a movie before this," he said to TheWrap. "What took us so long?"
For the Academy, what took them so long was uncertainty surrounding the proposed Academy Museum of Motion Pictures, which was originally slated to be built on the land that now holds Oscars Outdoors. It wasn't until financing for that project dried up, and a deal was made to locate the museum in an existing building at the Los Angeles County Museum of Art, that AMPAS began work on the outdoor site, which falls under the purview of recently promoted managing director of programming, education and preservation, Randy Haberkamp.
"Field of Dreams" was preceded by Friz Freleng-directed, baseball-themed Bugs Bunny cartoon and a number of old-time refreshment ads – and before that, by a ribbon-cutting ceremony, as well as speeches in which Sherak described the site as "a sign of the Academy's commitment to Hollywood, and to the community."
Robinson told a funny story about attending the opening night of "Field of Dreams" in Westwood, excited by the audience response until a man behind him began grumbling to his wife about the long line of cars that appears at the end of the film.
"Where are they all going to park?" he said. "Where are those people going to go to the bathroom?"
"Shut up," his wife retorted. "This film's gonna win the Grammy."
It didn't win the Grammy – or the Oscar for that matter, though it did receive three nominations, including Best Picture.
And 23 years later, "Field of Dreams" remains touching and magical – the perfect film for a chilly summer night in the heart of Hollywood, where the occasional helicopter and car noises and the lights from nearby buildings are mildly annoying but no more than that.
The choice of film may well have provided a particular treat for the diehard baseball fans in attendance – a number that included Sherak (a Brooklyn native who zipped up a Dodgers jacket when things cooled down) and Academy CEO Dawn Hudson, a fanatic Dodgers fan who spent the night beaming both about the new venue and about the inspired play of her team this season.
That team even added a bonus to the evening, beating the St. Louis Cardinals 6-0 in Chavez Ravine, while across town and onscreen Kevin Costner played ball with Shoeless Joe Jackson.
Tickets for the June screenings at Oscars Outdoors will be available at oscars.org beginning on June 1.