The 95th Academy Awards are in the books, with "Everything Everywhere All at Once" making history for lots of reasons. There were celebrations everywhere, in fact, plus gifting lounges, viewing parties and everyone eventually ended up at the Vanity Fair party. "Shazam! Fury of the Gods" premiered, too, and two charity events raised lots of cash for very good causes in this busy week that was.
16th Annual WIF (Women in Film) Oscar Party
NeueHouse Hollywood, Hollywood
Hollywood's women joined hands in solidarity by kicking off Oscar weekend at the 16th Annual WIF (Women in Film) Oscar party, celebrating the 65 women nominated for Academy Awards for their work in 2002.
Solidarity is still needed, as the dismal recent studies that show women received only 27% of the possible non-acting nominations, despite being nearly 50% of the worldwide population. That fact was part of the night's conversation, including last year's Oscar-winning screenwriter Sian Heder ("Coda"), who told the collected crowd that, "There's a kind of camaraderie with women filmmakers right now. I feel like the louder we are for each other, the more we can amplify each other's voices, support each other's stories, shout about each other's movies – that's how we move this forward."
Joining the crowded bash were women like Ruth E. Carter, who later at Sunday's Academy Awards made history by winning her second Oscar for Costume Design. That makes her the only Black woman to own two Oscars.
Many other women, from actresses Marlee Matlin, Dakota Johnson, Garcelle Beauvais, Li Jun Li and Jordana Brewster to producers, directors and other creatives including Chloe Zhao, Gail Berman, Diane Warren and a legion of others added their presence to supporting the cause of making women a bigger part of the filmmaking process. For as we all know, if our stories aren't being told, the status quo will remain the same.
GBK Brand Bar Pre-Oscar Celebrity Gift Lounge
Kimpton LaPeer Hotel, West Hollywood
While luxury gifting lounges happened all weekend long, the big kahuna was the two-day GBK Brand Bar Pre-Oscar Celebrity Gift Lounge, which was actually room after room of gifting possibilities set up at the luxurious Kimpton LaPeer Hotel in WeHo.
In keeping with that kahuna status, there was actually a state-of-the-art Kahuna Massage Chair that sucked in people like Viola Davis, Harry Shum Jr., and nominees Tom Berkeley and Ross White and made them swoon. It was a lucky chair for Berkeley and White, who took home the Best Short Film Oscar on Sunday!
The luck at the GBK Lounge also meant taking home plenty of great swag, ranging from the $1000 gift certificate from Ike's Love and Sandwiches (which should happily feed the celebrities until the Emmys roll around) to vacation trips to Sailrock Resort in Turks and Caicos, Rosewood Bahia Mar in the Bahamas and Lush African Safaris to East Africa. That's why Harry Shum Jr. turned up, while others enjoyed the incredible paper art sculptures by Jeff Nishinaka, gorgeous jewels by Stephen Silver Fine Jewelry and the excellent libations poured by AXR Napa Valley Wine, Cardinal du Four Armagnac and El Cristiano Tequila.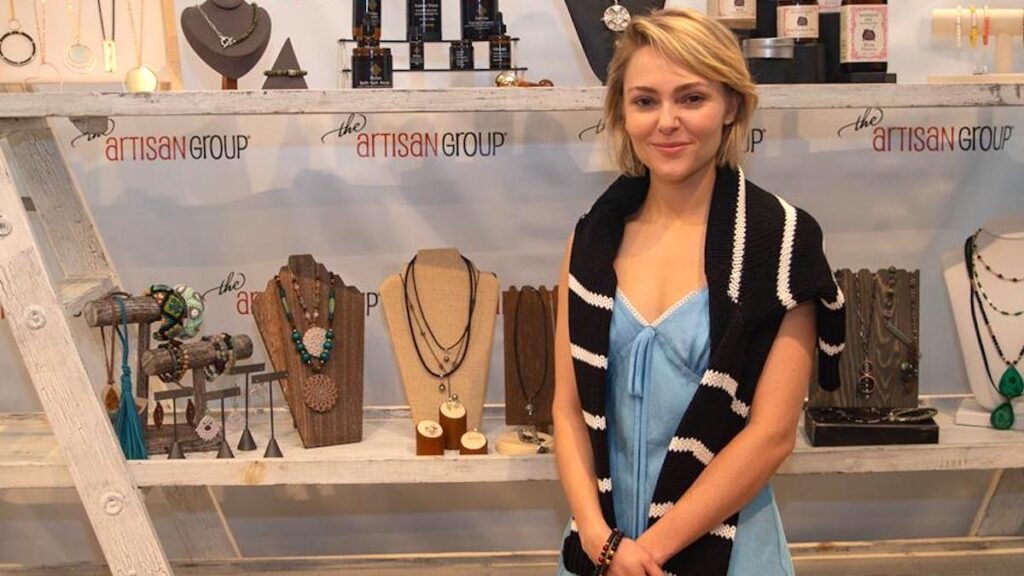 We ran into Ruben Ostlund, whose wonderfully subversive film "Triangle of Sadness" brought him two personal nominations (for screenplay and directing) as well as a Best Picture nod; he seemed a bit shell-shocked by the whole awards season ride, telling us with a laugh that, "this gifting lounge is wild!"
Other familiar faces who left GBK with so much swag they needed sherpas to help carry the loot included Anna Sophia Robb, Jesse Metcalfe, Nika King, Adina Porter, Steven Root and Kevin Pollak.
The Governors Ball
Dolby Theatre, Hollywood
The Governors Ball is always the first stop for winners after the Oscar show concludes, because that's the stop where the engraving stations are. Daniel Kwan, Daniel Scheinert and Jonathan Wang (three of the nicest guys we've met in Hollywood in a very long time) held things up as they had seven statues to be engraved, and were enjoying every minute of it.
Michelle Yeoh, Jamie Lee Curtis and Ke Huy Quan got in on the fun, too, along with Brendan Fraser and a gaggle of the other winners of the night; everyone enjoyed the always delicious Wolfgang Puck tasty treats served every year at the bash, designed to get everyone fueled up for all the other parties happening around town. Everyone looked amazing, you can pick your favorite Oscar look here. And even Harrison Ford cracked a smile for the cameras, which was enough to set off a media alert for an almost-never-seen occurrence!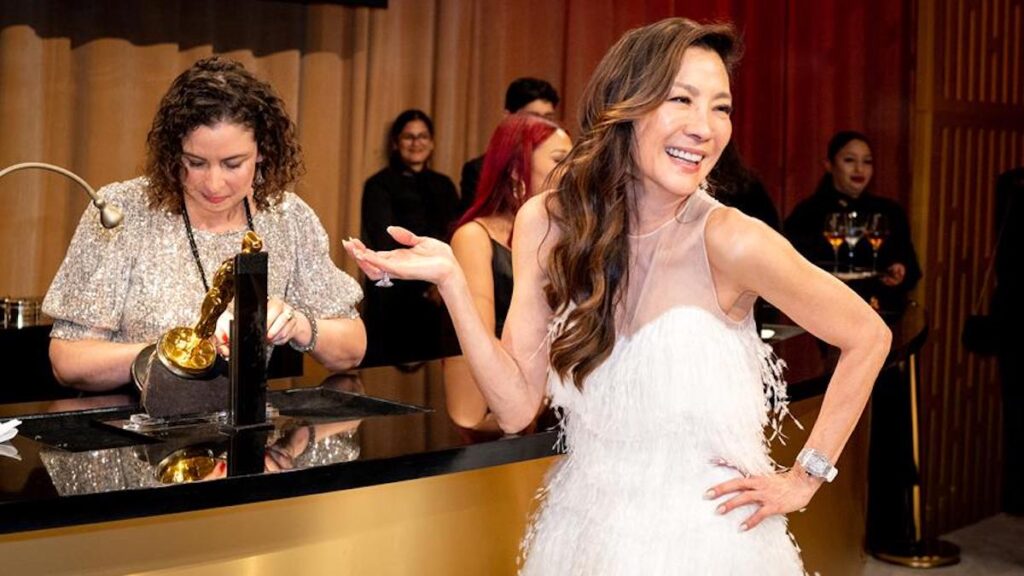 Elton John AIDS Foundation Oscar Viewing and After Party
West Hollywood Park, WeHo
Hollywood's biggest night was packed with Hollywood's biggest parties, and the annual Elton John AIDS Foundation Oscar Viewing and After Party was (as usual) a really hot ticket. Everyone looked fabulous as they showed up to West Hollywood Park for the glamorous event, where the fun started early (4 p.m.) and went late. From a 360-degree photo booth promoting Elton John's new eyewear line to a musical set from up-and-coming pop star Rina Sawayama, the night was jam-packed with entertainment.
Sawayama, who stars along side Keanu Reeves in the upcoming "John Wick: Chapter 4," sang a variety of her songs and was even joined by Elton John himself for a musical number. The crowd went wild to witness Elton perform, as he recently completed his final live tour. One person in the crowd exclaimed, "This is a dream come true!" while another called Elton "one of the last of the living musical icons."
The place was filled with bold-face names like Tiffany Haddish, Rege Jean-Page, Emma Watson and Heidi Klum, who all mingled and danced the night away. The crowd really formed at the dessert table, where stars like Kesha enjoyed some sweet cupcakes (she told us it was "good as hell!")
We chatted more with Kesha by that groaning dessert table and asked the pop star when she'll be dropping some new music. "Soon, and I cannot wait for everyone to hear the full record," she revealed, much to the delight of those eavesdropping on us.
Also spotted in the crowd were Lisa Anne Walter, Kyle Richards, Lisa Rinna, Michaela Jaé Rodriguez, Eric McCormack, Donatella Versace, Maren Morris, Fan Bingbing, Wiz Khalifa, Dove Cameron, Hilary Duff, Lucien Laviscount, Noah Schnapp, Saweetie, Stella Maxwell, Tyga, Sharon Osbourne and more, with most running on to the Vanity Fair bash once the awards show ended. The foundation raised over $9 million that evening towards the global effort to help end AIDS. — Elijah Gil
Byron Allen's Oscar Gala Supporting Children's Hospital of Los Angeles
Beverly Wilshire, A Four Seasons Hotel, Beverly Hills
Byron Allen filled the cozy ballroom of the Beverly Wilshire Hotel with a happy crowd of his good pals, who arrived by mid-afternoon to get the Oscar viewing party started. Everyone was black-tie ready and excited for all the things the night had in store, from raising money for Children's Hospital Los Angeles to watching Diana Ross bring down the house with a musical set that meant no one left for another post-Oscar party until she belted out her last notes.
Along with Allen, funnymen Howie Mandel and Jeff Ross hosted the post-Oscar show fundraising segment of the evening which went into roast mode as people paid $1000 to be skewered by Ross. People gave freely to the cause as celebrities like Billy Gardell, Adam Carolla, Vivica A. Fox, Rodney and Holly Robinson Peete and Candy Spelling were all in the mix.
Then it was Diana Ross' turn to shine and she turned it up to 11, beginning with a medley of Supremes hits and rolling on, with the help of her incredibly tight band, into her classics like "Upside Down," "Love Hangover" and more, as people were dancing in the aisles, on their chairs and up on the tables, for a more raucous and happy time than that ballroom has seen since before Covid-19 shut down all our fun. She finished off the night telling the crowd to "Follow your dreams!" and our only disappointment of the night was that her fellow Motown alumni Smokey Robinson was in the room but didn't sing. We caught up to him and asked why not, to which he gracefully replied, "It's her night to shine." And shine she did, reminding us all of why she was once an Oscar nominee herself — the lady can really sing the blues.
Vanity Fair Oscar Party
Wallis Annenberg Center, Beverly Hills
Always the hottest party of Oscar season, the Vanity Fair bash brought it so hard that it caused a traffic jam on the blue carpet! Word is that so many really well-known people turned up at just about the same time (think 10 p.m. or so) that they were stacked like cordwood in a "awaiting my red carpet moment" line that snaked around the block. After waiting for more than 30 minutes, once they got to the coveted circular spots in front of the phalanx of photographers, the stars had to smile fast, pose prettily and move on down the road. Here are our favorite fashion choices from the party.
The list of people that came through runs the gamut of stars from all kinds of places, from film, TV and music to sports, politics (the mayor of L.A., Karen Bass, turned up) and beyond. Angela Bassett, Lily James, Simone Ashley and Florence Pugh were just a few of the lovelies that made the scene. Check out our first annual TheWrap Style Awards here for our top fashion picks of Oscar Sunday 2023.
"Shazam! Fury of the Gods" Los Angeles World Premiere
Regency Theater, Westwood
DC Studios brought out the tents at the premiere of "Shazam! Fury of the Gods" to avoid the rain that's been wreaking havoc on events in normally sunny SoCal for the last few months. The kind of damp pre-party took place before the screening of the film, centering around "A Lair" activation from the Rock of Eternity that's seen in the movie and was re-created inside the tents.
It was a very fun activation, as the Lair had food stations and classic coin-op arcade games ready to be conquered. After a brief failure at trying to remember the finishing moves to Mortal Kombat, Helen Mirren gave up. She plays the villainous Hespera in the superhero sequel, but couldn't use her powers to beat that classic arcade game. So instead, she made her way to the red carpet, joining headliner Zachary Levi, as well as Lucy Liu, "West Side Story" star Rachel Zegler and the rest of the film's cast.
In the VIP area, we spotted DC Chief Creative Officer Jim Lee holding court and chatting with legendary comic-book creator Marv Wolfman. Also seen in that Lair was New Yorker and movie tough guy Frank Grillo, along with Ron Perlman, sparking rumors that the duo have joined DC Studios Chief James Gunn's "Creature Commandos." — Umberto Gonzalez
"Boston Strangler" Special Screening
Museum of Modern Art, New York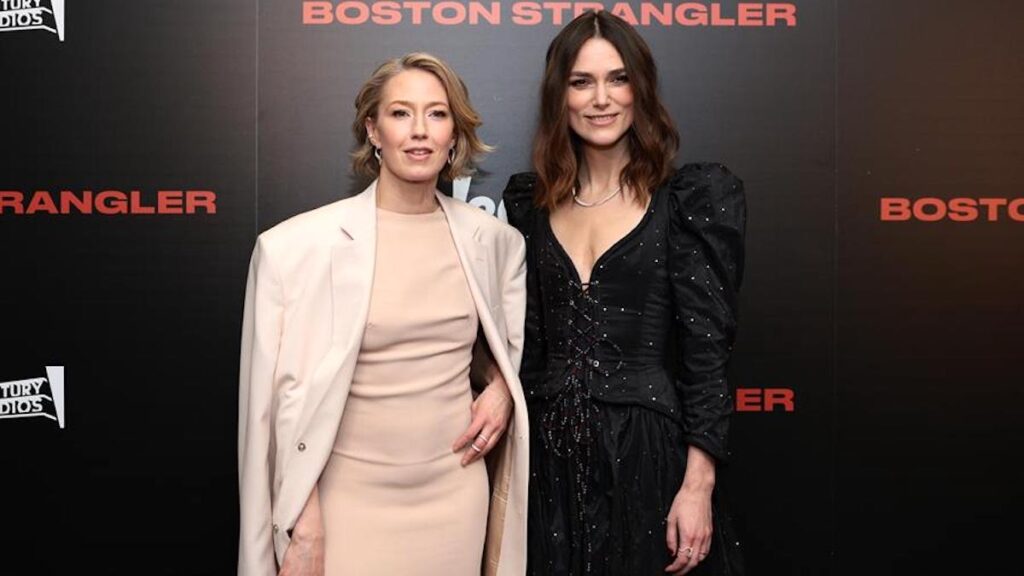 The only thing more chilling than a strangler on the loose in Boston was the 30-degree temperature and snow that celebrities weathered to attend a special screening of the "Boston Strangler" this week at the Museum of Modern Art (MOMA) in New York City. Star Keira Knightley took her seat in the theater 15 minutes prior to showtime as producers and guests mingled right up to showtime. David Dastmalchian, who plays Albert DeSalvo in the 20th Century Studios/Hulu film, even got to meet his icon Richard Kind before the theater lights went down.
After the screening, guests made their way to Le Rock at Rockefeller Plaza for the official after party. Knightley, one of the first to arrive, sat in a corner booth chatting with her posse and sipping on a cappuccino and white wine, while actor Robert John Burke introduced his son to fellow co-star Carrie Coon as the two hugged and caught up with other stars, including Jon Lindstrom.
Meanwhile, TheWrap caught up with actress Celia Weston, who like Kind is not in the film but just came to watch and express their love for great storytelling. Weston remembered living during the times of the Boston Strangler in the 1960s and seeing the 1968 film "The Boston Strangler" with Henry Fonda and Tony Curtis. "I had no idea they still hadn't caught the killer until seeing the film tonight! The version with Tony Curtis always had me believe the killer was Albert DeSalvo," she exclaimed.
"I'll definitely be sleeping with one eye open tonight," whispered one of the slightly spooked guests on her way out. — Emily Vogel
An Unforgettable Evening
Beverly Wilshire, A Four Seasons Hotel, Beverly Hills
Fighting women's cancers is the goal of the Women's Cancer Research Fund, a battle they have helped wage for more than 20 years. "An Unforgettable Evening" is their annual fundraising gala and this year brought out honoree Sharon Stone, who received the org's 2023 Courage Award.
But before she took to the stage to give a fiery, emotional speech, Nia Vardalos helped lead the fundraising push (something Stone is famous for doing at charity events), warning the well-heeled crowd that "they're not going to serve dinner until we are done!" She did something right, for the evening raised over $2 million towards funding more research in the battle to end breast (and other female) cancer.
There were plenty of deep-pocketed supporters on hand, from Rachel Zoe and Kathy Hilton to Harry Hamlin, Lisa Rinna, Rebel Wilson, Maria Bello and more.
As Stone took to the stage, she reminded everyone that they have an obligation to give back.
"I am standing here telling you that what you gave tonight is not enough! You know your shoes cost more than you gave," she exhorted, breaking into tears as she recalled her brother's recent death and the friends she has lost to cancer.
"It takes courage to stand up and say what you are worth. Stand up, stand up and say what you are worth and give back."
Adam Levine and part of his band Maroon 5 (it was Maroon 3, actually) followed her advice and gave back, donating their performance to the cause. As they took the stage, as stampede of young women from all parts of the ballroom descended toward center stage, where Levine sat and crooned out acoustic versions of "Moves Like Jagger," "This Love" and more, helping to create an unforgettable night for the room filled with warriors fighting to eradicate cancer.
2nd Annual Sonoma Epicurean Weekend Supporting The V Foundation for Cancer Research
Various Venues, Sonoma Valley, California
Meanwhile, up in wine country, there were more warriors determined to help fund research to stop cancer once and for all. It was a four-day long weekend extravaganza of events, all part of the 2nd Annual Sonoma Epicurean Weekend, created to support the V Foundation for Cancer Research.
Winery dinners prepared by world-class chefs like Charlie Palmer, Dustin Vallette and Thomas Bellac kicked things off, drawing people like Teri Hatcher, Ciara, Russell Wilson and Jeff Gordon to lend their celebrity to the mix. The partying for the cause went on with The Artisan Series and the Epic Party, held at Mayacama, where top Sonoma vintners shared special bottles from their cellars.
Finally, the fundraising extravaganza culminated with the Epic Feast & Gala, held at the gorgeous new Montage Healdsburg Hotel, hosted by Wilson and Ciara and featuring Grammy and Tony winner Christian Hoff. It was quite the rager, as countless bottles of fine wine went down easy; and the result of the long weekend was over $4.2 million raised for more cancer research. We'd say that's a truly fine way to enjoy a weekend away in wine country.
Please send party/event invitations to Jenny.Peters@thewrap.com.