This story appeared in OscarWrap: Director/Best Picture/Screenplay/Animation.
Frozen
A magical queen uses her powers 
to coat her kingdom in ice and snow
 in "Frozen," but creating the wintery backdrop to the fantasy tale required the Disney team to build new technology. In order to realistically depict the way that characters sink into snow while walking, or the manner in which the wind whips up drifts of white powder, Disney crafted a digital tool set that it christened, with a
trace of alpine wit, Matterhorn.
In this sequence, the Snow Queen learns the fate of her sister, a revelation that sets loose a great gust of snow and releases scores of tiny snowflakes. The effect on Walt Disney Animation Studios Chief Creative Officer John Lasseter during story artist John Ripa's pitch was galvanic. "John led everyone in a standing ovation," producer Peter Del Vecho told TheWrap. "I've never seen him do that before."
Also read: How Disney's 'Frozen' Turned Into a $500 Million Box-Office Avalanche (Video)
The Croods
To capture the pre-historic world of "The Croods," co-directors Chris Sanders and Kirk De Micco took a pre-production excursion to Zion National Park. The rock formations they saw are reflected in the harsh landscape that surrounds the cave family at the heart of the story, and the wide vistas of westerns like "Stagecoach" also served as an important inspiration.
The images here required not just a digital wizard but also artists to paint on details in the character's skin and the rugged juts of the rocks.
The scene serves as a key moment for Eep, the young cave girl voiced
by Emma Stone, who loves to climb the rock walls to gaze at the sun outside, against her father's advice. "We needed to make this world a little scary and dark, to give it credence that her father wouldn't want her to leave the cave," De Micco told TheWrap.
See photos: 2014 Movie Preview: 60 Upcoming Winter & Spring Films – From 'Paranormal' Sequel to 'Transcendence'
Despicable Me 2
Off-beat Sunday comic strips like "The Far Side," the macabre creatures that populate Charles Addams' "The Addams Family" and the slapstick humor of Blake Edwards' Pink Panther movies combine in the story of reformed super-villain Gru.
But in this scene, the perfect line was improvised by actor Steve Carell. It comes as Gru is tucking his adopted daughter into bed and sighs that he never wants her to grow up. That provided an essential dose of realism to the fantastical surroundings. "If you believe in a character, it helps you get the bigger laughs," co-director Chris Renaud told TheWrap.
Also read: Annie Awards Nominate 'Frozen,' 'The Wind Rises,' 'Croods,' 'Despicable Me' and More
Monsters University
Director Dan Scanlon and his Pixar team visited schools like Princeton and Harvard to help them create a lush campus backdrop to the story of how 2001's "Monsters, Inc." characters Mike and Sulley became best friends.
Then they "monsterized" the setting by adding fangs and scales into the architecture. Scanlon said this pivotal scene, where the two meet for the first time, needed to be especially memorable.
Also read: 'The Wind Rises' Director Hayao Miyazaki Goes Out in a Blaze of Controversy – and Beauty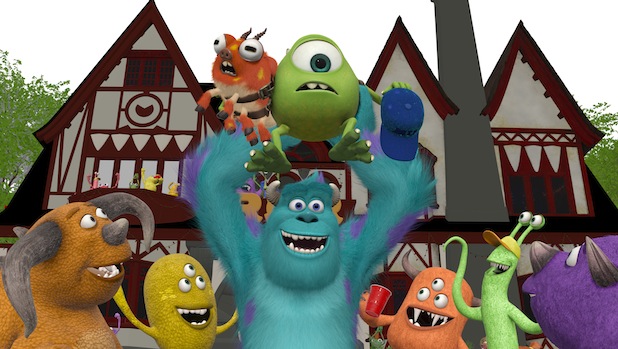 A typical Pixar movie, he said, is a three-year process that begins with storyboarding an entire version of the movie, then editing that into a story reel complete with music, sound effects and
 the voices of animators speaking the dialogue. "It allows us to see a sketch of the movie — and that's a lot different than just looking at words on a page," he told TheWrap.
Epic
"Epic" is an elaborate fantasy adventure that director Chris Wedge wanted to unfold with the propulsion and excitement of movies like "Gladiator."
"I wanted the quick cuts, the kinetic pacing of a live-action movie," he told TheWrap. "I wanted it to seem more like that than animation."
Also read: How 'Epic' Digital Sales Are Bolstering the Sagging Home Entertainment Biz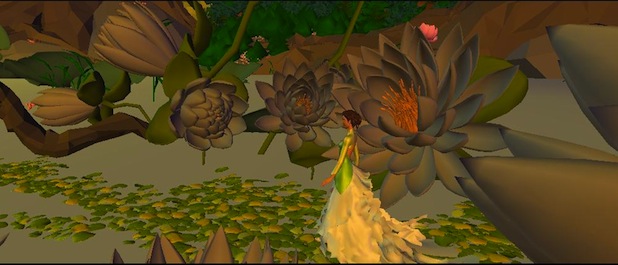 For this sequence, one in which the queen of the forest, Tara (Beyoncé Knowles), ventures into a field of lily pads to choose an heir to her throne, Wedge wanted to create an ecological paradise. "We see the power of nature as Tara rides in on this unusual barge. The pond is so out of the ordinary that it creates a sense of magic."