Dorothea Hurley, Jon Bon Jovi and Harvey Weinstein at BAFTA's Awards Season Tea Party at the Four Seasons on Saturday. Bon Jovi is a Golden Globe nominee for a song from "Stand Up Guys," the upcoming Al Pacino, Christopher Walken Alan Arkin movie.
The Beverly Hilton may play host to Sunday night's Golden Globes and a rash of parties afterward, but the Four Seasons was the center of the film universe this weekend.
One guest said that "over 70 celebrities" were staying there, and to whatever degree a celebrity status is quantifiable or the headcount verifiable, the constant buzz of celebration permeated from Friday's AFI Awards lunch to BAFTA's Awards Season Tea Party 24 hours later.
Daniel Day-Lewis, Hugh Jackman, Ben Affleck, Jacki Weaver, Julian Fellowes, Ang Lee, Anne Hathaway, Jennifer Lawrence and Bradley Cooper were among the headliners at BAFTA, one of the superlative social gatherings of the year.
Sienna Miller and Danny Huston at BAFTA.
On the second floor, HBO was slinging Motorola phones in one of series of swag suites. Under a tent tucked away behind the valet, InStyle magazine had a pop-up beauty lounge that would have made Burke Williams jealous.
In the main bar, a "Real Housewife of Beverly Hills" (Brandi Glanville) was having non-alcoholic happy-hour drinks with a former cast member of "Celebrity Rehab." A scattering of gossip reporters from weekly magazines, whose bosses dispatched them to sit, observe and report, pecked away on phones, chronicling the comings and goings of names like Jennifer Lawrence, Christina Hendricks, Michelle Dockery and Oscar nominees who flowed through the grounds.
Always in the thick of a scene, Jason Binn, an original purveyor of 1-percenter lifestyle with his glossy magazines, floated in to Culina late Saturday with Nicole Vechiarelli, the editor-in-chief of his new quarterly, DuJour.
But for the actual film community that wrote, shot, financed, greenlit or starred in the year's big films, Saturday's BAFTA L.A. Awards Season Tea and the earlier Film Independent Brunch in West Hollywood were the hobnobbing headquarters.
Left: "Downton Abbey's" Lady Mary, Michelle Dockery, with Sally Field, who got into the spirit with a mug of tea at BAFTA.
"I spend most of my time in a dark room, so to be out with all these people is great," "Argo" and "Zero Dark Thirty" editor William Goldenberg quipped. He's a double Academy Award nominee.
On editing with director Ben Affleck on "Argo," Goldenberg told TheWrap, "Ben sits next to me, not behind me."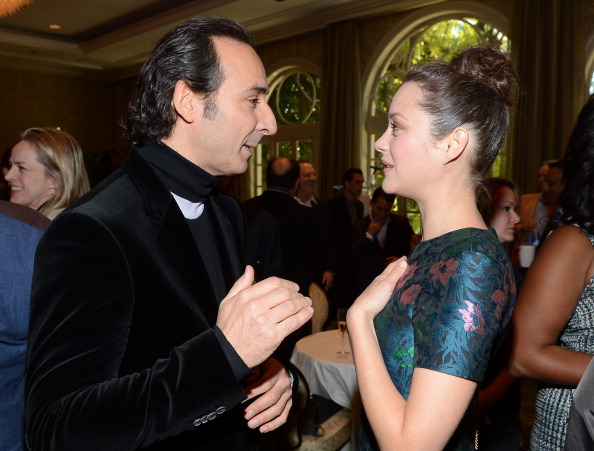 A French Invasion: "Zero Dark Thirty" Composer Alexander Desplat chats with "Rust and Bone's" Marion Cotillard. Cotillard is a BAFTA nominee for Best Actress, but the U.S. Academy didn't give the actress, who won an Oscar in 2008 for "La Vie En Rose," a second nomination.
"Les Miserable" lead Eddie Redmayne and "Zero Dark Thirty" director Kathryn Bigelow.
For both Eddie Redmayne and Kathryn Bigelow, it was back-to-back afternoons in the Four Seasons Ballroom, following Friday's winners-only AFI Awards Lunch. Audi partnered with both events, as well as Saturday night's Art of Elysium black tie gala in a tunnel downtown, cornering the market on the elite lists of the weekend. It was good timing. The compact nature of the actual Golden Globes night experience makes it the one night of the year when you need a car service the least.
"Life of Pi" director Ang Lee with "Silver Linings Playbook" star Chris Tucker.
On missing the NFL playoffs with parties all weekend long, Chris Tucker put things in perspective: "I'm from Atlanta, so I hope the Falcons win, but this is a little more exciting."
A crossover between David O. Russell's last two films was exciting too. Christian Bale won an Oscar portraying Dicky Ecklund Jr. two years ago in "The Fighter." At BAFTA, Russell exclusively confirmed to TheWrap that, indeed, the real Dicky Ecklund's son, Dicky III, landed a job, and a fist, in Russell's current film.
"I am friends with all those people in Lowell," Russell said. "Dicky III very much wanted to act — which I would never encourage anyone to do, including my own son who wants to do that. I said 'Let's see. Maybe he can throw a punch. He can start the fight at the Eagles game.' He was very good at it."
"Moonrise Kingdowm" star Kara Hayward with BAFTA LA co-chairwoman Julia Verdin. Verdin revealed her successful talent wrangling strategy on this busy weekend: "This one is fun," she said.
On irritating the NFL by featuring two rampant byproducts that the conservative and litigious league tries to bury — gambling and fan violence — Russell admits he respects the league's muscle. "You're not going to get game footage from the NFL if you have bookmaking and fighting."
"They've left us alone, and we just want to leave it that way," Russell continued. "They're a behemoth, and we don't want to wake a sleeping giant."
Nigel Daly (BAFTA LA's Deputy Chairman) and Tim Burton, who came with his wife, Helena Bonham Carter.
Over scones and cucumber finger sandwiches, guests had the chance to connect with past, present and future collaborators.
While BAFTA's outdoor events throughout year encourage crazy hats and sometimes cartoonish fashion, the biggest statement on Saturday came from Chris Butler, writer and director of "ParaNorman." Wearing a sweater with a fox on it, he remarked that he once worked for Tim Burton on "Corpse Bride," and now they're facing off as Academy Award nominees for Best Animated Feature.
Jonathan Gordon, a producer on "Silver Linings Playbook" was an executive producer on Ben Affleck's career-making "Good Will Hunting." Now Affleck's "Argo" is a Best Picture rival.
"Ben and I were in the same cycle 15 years ago," Gordon told TheWrap. "We were together (for the 1997 campaign season for "Good Will Hunting"). We're still together now. Just celebrating good movies, that's what it's all about."
Freida Pinto and Dev Patel, who is back in the awards race with the British comedy "The Best Exotic Marigold Hotel." It's been four years since Pinto and Patel's dance to the Best Picture win in "Slumdog Millionaire."
Gordon's partner, producer Bruce Cohen, is just happy he'll be a seated producer nominee on Oscar Sunday, and not a producer seated in the control room. Cohen produced the 2011 Oscar telecast, where James Franco and Anne Hathaway hosted what became "The King's Speech" and apathetic-James-Franco year.
"I remember the frenzy that happened yesterday and today when you have the nominees (announced) and you're full speed ahead," Cohen said. "These next six weeks for them are just complete insanity."
Cooper, Jennifer Lopez, and Casper Smart at CAA's Friday party. The preparations forced the beloved Soho House to close early on Friday, but on the upside, the party "featured" Ketel One vodka presentations. Even vodkas have an agent to negotiate their billing.
At the event on Saturday afternoon, many were attending their second or even third event of the day.
Just hours after CAA's Friday night party wound down at Soho House, Jeremy Renner and Salma Hayek hosted Film Independent's brunch on the ground floor of 9200 Sunset at Boa Steakhouse beginning at 11 a.m.
Why was this morning different from all others?
On normal Saturday mornings, Boa doesn't even open for breakfast. On this day, they doled out fried chicken and waffles, the recently-invented "morning penne" and ginger champagne cocktails to the likes of Jack Black of "Bernie," Quvenzhane Wallis of "Beasts of the Southern Wild," Rashida Jones of "Parks and Recreation," former Motion Picture Academy president Sid Ganis, and a few hundred film loyalists, all of whom wore nametag lanyards like conventioneers.
Yes, even Rashida Jones wore her nametag.
Jones is a Spirit nominee for Best First Screenplay for the comedy "Celeste and Jesse Forever." She co-starred with Andy Samberg, who will host this year's Spirit awards. Thus, don't count her out from making an appearance on stage with her buddy, win or lose.
The official business at the brunch was handing out four filmmaker grants. These preceded the ritzy tented show on the beach in Santa Monica six weeks from now, on the afternoon before the Oscars.
Also read: Adam Leon, Mynette Louie, Peter Nicks, Laura Colella Earn Film Independent Grants
After making it through a well-behaved paparazzi scrum outside, Renner and Hayek led a short presentation ceremony — and it included cash. Producer Mynette Louie (center) won a $25,000 grant free and clear (unrestricted) from jeweler Piaget.
The event found Renner continuing his trend of wearing sunglasses at indoor events.
Nouveau riche: Director Laura Colella, producer Adam Leon, Film Independent Co-President Josh Welsh, Louie, director Peter Nicks, and Film Independent Co-President Sean McManus.
Piggybacking on the festive spirit across town, the same Boa that served the brunch and will cater the Spirit Awards, was piloting its new Italian venture this weekend, Riva Bella. They invited a stream of "influencers" to come through on Friday and Saturday nights for "friends and family" tastings in the old Hamburger Hamlet space before its official opening on Monday.
In its former incarnation, "Entourage" memorably mocked the space as Ari Gold's emergency "tsetse fly" meeting spot, because nobody in the industry would ever catch you in there.
Mothballed no more, its an addition to the increasingly hot West Hollywood/Beverly Hills border area, with the David Arquette-owned "Bootsy Bellows" adding sizzle to the hot block.
While all will be quiet there for a few hours on Sunday night, Golden Globes host Amy Poehler won't keep it that way for long. She's having a late-night party back at Soho House after the show to cap off the long weekend.
BAFTA photos by Larry Busacca and Charley Gallay for BAFTA. All Film Independent Photos by Michael Kovac/Getty Images, except for Quvenzhane Wallis, by Michael Tullberg.