Wim Wenders' marvelous dance documentary "Pina," which had a remarkable $88,399 opening this weekend in only three theaters, has been defying the odds for a couple of years now.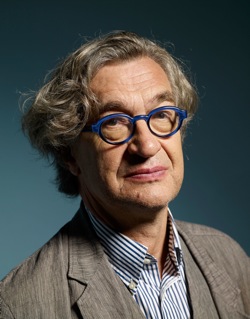 Its director (left), best known for the likes of "Paris, Texas," "Wings of Desire" and "The Buena Vista Social Club," struggled for decades to figure out how to document the work of German choreographer Pina Bausch and her Tanztheater Wuppertal.
He canceled the whole thing when Bausch died unexpectedly on the eve of a key shoot in the summer of 2009. And he restarted later that year with a film reconceived as a tribute rather than a collaboration.
"Pina" wound up in this year's Oscar race in the documentary category – where the film, which makes rich use of 3D, appeared to be crippled by the fact that doc branch voters screen submissions on 2D screener DVDs.
And yet it made the 15-film shortlist.
It also became a rare documentary entry in the Oscar Foreign-Language Film category, where voters often seem prejudiced against films that aren't conventional narratives. And sure enough, I heard reports that its official screening for the general committee met with walkouts, and grumbling over the fact that it was "double-dipping" in the foreign and doc categories.
But no sooner had I written an annoyed item about that screening than I began to hear from other voters who were there, and at subsequent screenings – and the consensus from those viewers is that the film played extremely well and does have a real shot of advancing.
For my money, it certainly deserves it. I think "Pina" — which begins its official L.A. run on Jan. 13 — not only stands alongside "Hugo" as the year's best use of 3D, but it does a bold, brilliant job of capturing the work of a choreographer whose mesmerizing and challenging work has been enthralling me for a couple of decades.
The soft-spoken Wenders, it turns out, has been a Bausch fan almost as long.
You're in an unprecedented position, competing to be the first film ever nominated in both the Oscar documentary and foreign-language categories.
That was a big surprise. It's so hard to say what category of a film this is. I mean, choreography as such is fiction, so what we have in front of our cameras is mostly fiction. But we clearly made it with a documentary approach, and even more so after Pina's death.
For me, one of the wonderful things about the film is that it begins with an excerpt from the first Pina Bausch piece I ever saw, which knocked me out when I saw it at the Olympic Arts Festival in Los Angeles in 1984.
That was from the piece "Carnations." We used it as leitmotif throughout the film, because it seemed to show the passing of time so nicely. My own beginning was "Café Muller," in '85, in Venice, Italy. I stumbled in without knowing what to expect, and like you was completely blown away, like nothing else ever before in my life. And because that was the beginning of a retrospective in Venice, I saw six in a row. Which was quite a heavy dose. From then on I was an unconditional fan.
When did you first meet her?
Actually, the morning after my first encounter with her work, I met her in a coffee shop in Venice. We got to talk for 10 minutes or so – just the length of an espresso and a couple of cigarettes, because she smoked fast.
And even in that very first encounter, where Pina didn't say much and I had to do all the talking, I mentioned in my juvenile enthusiasm that one day we should make a movie. Pina didn't say much, but the next time we met, in Wuppertal, she said, "You spoke of a film, and that would be a great idea." It was on the table for 20 years.
How did vague talk turn into something more concrete?
It was Pina who pushed for it. We became good friends over the years, and eventually I started to figure out what sort of a film we could do together. But whenever I sat in front of any of her pieces and tried to imagine how I would film that glory and beauty and that contagious quality, I was at a loss.
Finally I had to tell Pina, "As much as I want to do the film, I don't know how to film your kind of dance appropriately." She was patient and said, "Think harder. One day you'll find it."
And I did think harder. But I didn't want to disappoint Pina, and there was always an invisible wall between the stage and what I could put on the screen. Something was missing badly, and I couldn't put my finger on it. And that ended 20 years later with my discovery of 3D. That was the immediate answer.
But at that point, a few years ago, I can't imagine that 3D was at the stage you needed.
You're right. It was wishful thinking. The first thing I saw was "U2 in 3D," the concert film. Pretty rudimentary, if you look at it now. It was the very infancy of digital 3D. But I was convinced that eventually 3D would be up for it.
We started to prepare in 2008, way before "Avatar" came out. We had to invent a different kind of 3D – one that would not be effect-driven, but would be very natural, elegant.
I'd imagine it wasn't easy to do that.
The first results were pretty sobering, I must say. The first stuff we shot in Paris, I had my assistant run around in front of the camera and do some arm movements. And then we went back and rendered everything, saw it on a screen, and it was a disaster.
The space was there, and the depth was beautiful, but my poor assistant looked like a four-armed Indian goddess, and he had multiple legs. I could not have possibly shown it to Pina.
What were the keys to getting movement to work?
A combination of lots of things. First of all, you had to shoot with cameras that didn't exist then, that would run in perfect sync. Not just approximately, like film cameras would, but synced to the pixel.
Second, you had to learn to avoid certain movements. Lateral movement was bad, because it instantly led to stroboscoping. We tested shutter speeds and lenses, and learned which movements we had to avoid, and that stark contrast together with fast movement was bad. We learned and learned and learned. And in the end, we got a handle on it.
But Pina's death almost caused you to abandon the film.
Pina passed away immediately before we were going to do our last, conclusive test in her own theater with her dancers. That had been her wish, that I would show her her own people. She said, "Then I will understand what this 3D is all about."
We were ready to shoot for five days in early July 2009. And two days before, when the trucks were already loaded and everything was ready to go, Pina passed away on June 30. There was nobody who had foreseen it, neither family nor friends nor her dancers, let alone us on the film crew.
We were totally taken by surprise, and we not only canceled those tests, we also canceled the film. Because it seemed pointless to make the movie. It took two months for me to understand that it was the wrong decision.
What led you to that realization?
It was basically the dancers who made me understand we should do it after all. They were starting to rehearse the four pieces that Pina had put on the agenda for us to film at the Tanztheater. And I started to realize, Pina's eyes were still on these pieces, and maybe it was the last time they would be performed. So we jumped back on and jump-started the film on very short notice.
We filmed those four pieces for a month, and then we took a long break until the next spring, until we had a better idea of how we could turn that into a movie.
That process came to involve shooting other, shorter pieces in different locations. Why?
The four pieces we shot in her theater were not a film in themselves, and Pina and I had written a long concept together that was not doable. So we had to come up with something else to complete the film. And we finally came up with maybe the only obvious thing, which was to adapt Pina's own method to our shoot.
Pina developed all her pieces by a quite unique method. She asked her dancers questions centered around the subject of her new piece, and the dancers had to answer not with words but with movement and gesture and dance. And Pina would work on these answers. She'd ask the same question the next day and say, "Let's be a little bit more precise here," or "You have to be more honest, your answer yesterday was a cliché."
She really dug deep, and then in the end she'd create the piece from these rich materials they had developed together.
So I asked the dancers questions about Pina, and they answered, but not with improvisation. I asked them to answer with something that they had worked on with Pina. And I took these answers and started to think how and where we could shoot this.
You ended up doing it all around the city of Wuppertal, which has some amazing locations.
I love Wuppertal. It's quite a remarkable, strange little town with a gorgeous history. And the city really single-handedly supported Pina's art for 40 years, and also allowed her to work with continuity.
I always thought Pina could never have worked with such consistency in New York or London or Paris or any big city. She developed 40 huge pieces. That's a big part of the 20th-century art of dance being developed in this little city. She worked unobserved there. The people of Wuppertal always saw the premieres, and Pina played in her own city every year for two weeks. But the rest of the time she was either developing a piece or touring the world.
What is the future for the company now?
The dancers performed the night that they heard of Pina's death. They were touring in Poland, and they performed in tears. And very soon afterwards they decided to go on as a company, and to fulfill all the obligations and the contracts that Pina had signed for the next three years. And next year, in 2012, the company is doing the biggest event in the history of the Tanztheater since Pina founded it in '74. They are going to do 10 pieces during the London Olympics next summer.
Pina has signed that contract when she was still alive, and after her death it seemed completely unthinkable that it could be done. But by now the dancers in the company are doing their work with such confidence that they decided to do it.
So they're well, they have her 40 pieces, and they're touring all over the place. But they're not developing new pieces, because they couldn't do that without Pina, and no other choreographer would dare to step into her footsteps.