Even before the Brett Ratner fiasco, I was planning to write a story about how this feels like the end of an era at the Academy Awards.
Even before Brian Grazer stepped in to clean up the mess that Ratner left behind, I was wondering if the Academy was really thinking clearly about what its big show ought to be.
Even before Eddie Murphy hit the road and left the host's position vacant, I had a sense that the times they were a-changin', and not necessarily for the better.
And now I'd like to know: Is the end of this era coming at too high a price for the Oscars?
The signs that the Oscars have moved to a potentially troubling new chapter began well before Ratner self-destructed:
Gil Cates (left), the man who produced more Oscar shows than anyone else, and the producer largely responsible for shaping the Academy Awards over the past two decades, died Oct. 31.
Danette Herman, the show's talent executive and one of the indispensable pieces of every Oscar team for more than 30 years, is moving into a consultant's role this year.
Bruce Vilanch, for better or worse the chief comic voice of the Oscars since 1989, was not on the list of writers that Ratner had hired for the upcoming show.
Also read: Brian Grazer to Produce Oscar Telecast, Eddie Murphy Out (Update 2)
And on Sunday, just after Ratner (right) used a homophobic slur at a Q&A and just before he detailed his sex life on Howard Stern, writer-director Hal Kanter died. His resume may be more notable for the likes of "Loving You" and "Blue Hawaii," which he directed, but Kanter was a writer on 14 different Oscar shows over 38 years.
Costume designer Ray Aghayan, meanwhile, died in early October after working on dozens of Oscar shows from the '70s on.
Throw in the fact that in recent years the Oscars have been doggedly (and often awkwardly) chasing a younger audience by bringing in different producers and younger hosts and trumpeting bookings like Kristen Stewart, Taylor Lautner and Miley Cyrus, and you've got a show that already felt as if it were struggling through a changing of the guard.
Then came the Ratner disaster — and now it really feels that way.
Also read: Oscar Shocker! Brett Ratner Resigns as Producer of Telecast
With Ratner's resignation from the job of Oscar producer in the wake of his gay slur and crude comments, Murphy's quick exit on the heels of his pal, and Grazer's entry as the appointed savior, the story isn't just that we've seen the passing of many of the old guard from the Oscar landscape.
Rather, it's this: Who's going to replace the old guard? And at what cost?
It's silly to pretend that the Academy hasn't been facing those questions for a while: Even Cates tried to bring in fresher hosts (Chris Rock, Jon Stewart) and shake up the presentation in his last few Oscar shows, with mixed results.
Since Cates' final Oscar show in 2008, we've had one extremely successful overhaul of the show, the one produced by Bill Condon and Laurence Mark in 2009. Ratings for that Hugh Jackman-hosted show, though, were weak.
And it was followed by two notably bad Oscar telecasts: the lackluster Steve Martin/Alec Baldwin pairing of 2010 and the Anne Hathaway/James Franco boondoggle from earlier this year.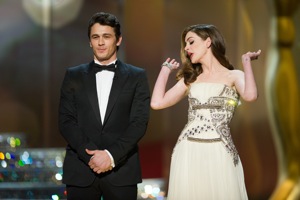 The Academy is getting more internet-savvy and more aggressive in promoting its show via social media, but the changes to the show itself haven't really worked.
Hathaway and Franco (left) may have been the youngest Oscar hosts ever, but their complete lack of chemistry doomed that show.
Producer Adam Shankman's choreography in 2010 may have been energetic and "youthful," but it also made for production numbers just as silly as the ones that had been staged one or two decades previously.
And Ratner, who clearly had the potential to shake up the Oscars in certain ways, even more clearly had the potential to embarrass the whole enterprise, which he did in one weekend's worth of spectacularly ill-considered comments.
Also read: Gil Cates: The Man Who Saved the Oscars
In the aftermath, more than a few observers were left to wonder why the Academy chose to ignore a pretty obvious fact: Climbing into bed with a guy like Ratner might be a reasonable move for a starlet or a Victoria's Secret model (assuming she's been checked for STDs, of course), but it probably isn't a good idea if you're an 80-year-old institution with a reputation for propriety.
So now the Academy is the one with the ugly rash, looking to a reliable vet like Grazer to make a more presentable partner for Don Mischer.
Of course, you know that they're probably hoping as well that their new producer's spiky hair will prove appealing to that younger demographic.
The Ratner imbroglio, in which an Oscar producer was essentially driven out of his job by a near-unanimous chorus of insiders and outsiders saying his behavior was inappropriate for the gig, clearly illustrates the danger of going for a flashy new Oscars instead of respecting some of the old verities.
I say this not knowing what kind of show Ratner had planned. It might have been inventive and fresh, and maybe it would have worked; it might also have been a little crass, since the guy clearly has tendencies in that direction.
But is it worth it for the Academy? Is a little tarnish on the brand a suitable tradeoff for a few more eyes on the screen?
And, more to the point, would that tarnish really have drawn more viewers?
Oscar viewership, after all, is historically driven mostly by the films that are in contention, not the person in the producer's chair.
And since the Academy has quite sensibly shown no willingness to go all the way — for instance, to move awards in 10 categories off the air, and to stage a countdown throughout the show in which one Best Picture nominee is eliminated from contention every 20 minutes until only the winner remains — it needs to face the fact that ratings for shows like theirs will never again reach the numbers they once did, and that it's more important to remain the gold standard for awards shows than to be the freshest and hottest.
Because, let's face it, that's not going to happen no matter what they do.
I'm reminded of a moment that happened backstage in 1995, the year that David Letterman came on board to give the Academy a funnier, hipper Oscar show. (As you might have heard, he didn't really succeed.)
The day before that show, I was standing in the green room talking to Bruce Vilanch during rehearsals. Keanu Reeves had just arrived to run through his lines, and he came into the room carrying a motorcycle helmet under his arm.
"What's Dave been like?" Reeves asked Vilanch.
"Oh, you should see it," said Vilanch with a laugh.
Something in Vilanch's tone caught Reeves' attention. "He's not doing stuff like he does on his show, is he?" he asked, frowning.
"Well," Vilanch admitted, "there will be a Top Ten list."
"No."
"And he's got some of those film clips he does. There's one with taxi drivers."
"No!"
"And there is a Stupid Pet Trick."
"NO! He can't!" said Reeves, genuinely upset. "Whatever happened to restraint and decorum?"
As Brian Grazer enters the Oscar landscape mop in hand, and Brett Ratner heads home to rehearse for his comeback, I'd suggest that the Academy might want to ask, and try to answer, that same question.