It's a bitter human irony that we can be at our ugliest when we're fighting for our most passionate verities, including democracy, freedom and the American dream. And it seems to happen most often in the politics of immigration.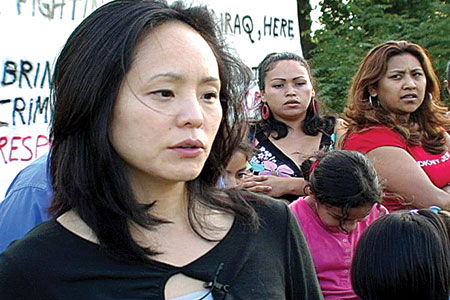 Most of us are good people when we're sitting around the dinner table. What happens to us as soon as we step up to the public podium?
If there's one movie that shows the worst — but also the best — in that regard, it's a documentary you've probably never heard of. As of now, it's unreleased.
Like many other independently made documentaries, "9500 Liberty" doesn't have a distributor. That ought to change.
So far, it has been on the festival circuit with forthcoming stops at the San Diego Asian Festival (Oct. 27), the San Francisco's Sundance Kabuki Theater (Oct. 29), and festivals in Virginia, Austin and St. Louis in November. And it lit up the virtual nation of Youtubia when filmmakers Annabel Park and Eric Byler posted their movie in progress.
In the summer of 2007, Park and Byler took their cameras to Prince William County, Virginia, where an explosive debate was taking place.
In response to the burgeoning influx of Hispanics, the local board of supervisors was considering legislation that would require police officers to stop and question anyone who gave them "probable cause" to suspect was an illegal alien.
The film follows the interaction within the board, out in the community and over the Internet, as the issue attracts increasingly inflamed and widespread debate. And as we watch events unfold, we can't help noticing this is all taking place in Manassas, the hallowed battleground site where another racially charged matter divided the political nation.
This postmodern version of civil war may not have the musketry and the spectacular loss of life of its predecessor. But it doesn't lack for absorbing drama. And a memorable cast of characters.
There's Corey A. Stewart, chairman of the Prince William Board of County, who is spearheading the legislation. A family man with an easy smile, his forthcoming campaign slogan later that year would be "Fighting Illegal Immigration." And there's Stewart's staunchest supporter, Greg Letiecq, a local activist-blogger and president of Help Save Manassas, who (at one point in the movie) advocates sending illegal aliens back to their countries of origin "with love."
Their political opponents include Gaudencio Fernandez, whose graffiti-style protest on a standing wall on his centrally located property (its street address is the movie's title) becomes a controversial focal point for the community.
But the most crucial drama takes place in the political middle ground, where we meet characters such as Chief Charlie T. Deane, the longest serving police chief in the region. Obliged to carry out the law, he attempts to do so with neutrality and honor.
But even a servant of the law can become a political player where he tries to reach out to the Spanish speaking community.
There is also Elena Schlossberg, a former fundraiser for Stewart and a self described Independent. As the forces of contention become starker and uglier, she begins to have her own personal change of opinion.
And finally, there is Republican supervisor Marty Nohe, who finds himself in a crucial position when it comes to voting for or against the Probable Cause mandate.
Even though the filmmakers' political sentiments aren't too hard to identify, there's something to watch for viewers of any political stripe. "9500 Liberty" is local, yet powerfully American. And not unlike Marshall Curry's excellent 2002 documentary "Street Fight," which chronicled the stunning rise to power of Newark Mayor Cory Booker, it shows us politics where the rubber meets the road.
With an uplifting turn of events and some extraordinary acts of conscience, "9500 Liberty" is as dramatically charged as any fiction movie. And ultimately, it's as powerful a booster of the democratic process as anything Frank Capra ever imprinted into our collective memory.