The Academy's member screenings in the Best Foreign-Language Film category are now underway, with four color-coded groups of volunteers viewing the 63 eligible films in a series of double features that began in mid-October and stretch into mid-January.
So far, members have seen almost 20 of the entries, including such presumed favorites as Iran's "A Separation," Finland's "Le Havre," Israel's "Footnote" and Poland's "In Darkness."
When each country was announcing its submission, TheWrap kept a running list of the submissions with information and links to trailers, which I tried to update weekly. I'm now starting a list of the contenders I've seen, with mini reviews and speculation about the films' chances of making the shortlist and landing a nomination.
A brief reminder on the process: the volunteer general committee members watch the films over a period of four months, and score each one on a scale of seven-to-10. The six highest-scoring films make the shortlist, joined by three additional choices added by a hand-picked executive committee that generally opts for more daring films that the general committee has overlooked. Then two second-round committees, also hand-picked, see the nine shortlisted films and vote for the five nominees.
I've seen eight of the entries so far – three of them, perhaps tellingly, at screenings where nobody showed up except for me and my guest or guests. ("A Separation" and "Footnote" were otherwise-empty press screenings, and "Pina" was a deserted public screening during a qualifying run in Covina.) Trying to track down these films shouldn't be such a lonely pursuit – at least so far, they're good.
Brazil: "Elite Squad: The Enemy Within"
Director: Jose Padilha
The top-grossing movie ever in Brazil, "Elite Squad" is the sequel to an earlier film by Padilha; in fact, its original title was "Elite Squad 2," with the numeral no doubt removed to persuade prospective U.S. viewers that they needn't have seen the original (they needn't) and to help Oscar voters accept it as its own film.
It is that, though the style of film it is – a brutal crime drama with nonstop violence and bloodshed, both at the hands of criminals and corrupt policemen – is not generally well-liked by Oscar foreign-language committee voters.
In many ways "Elite Squad" is a persuasive piece of action filmmaking, though the incessant narration from its lead character forces a single point of view on everything we see. That approach is problematic for much of the film and simply overbearing at the end, when Padilha stops delivering thrills and demands that we recognize that we've been watching a political statement. (We'd have been able to figure that out even if he hadn't been so overbearing about it.)
The Czech Republic: "Alois Nebel"
Director: Tomas Lunak
One of two animated entries in this year's field (the other being Singapore's "Tatsumi"), "Alois Nebel" is based on a graphic novel that tells the story of an attendant in a lonely railway station to trace the political and social currents in post World War II Czechoslovokia. Made over the course of three years using the rotoscoping technique, the film is richly atmospheric, conjuring up a foggy, desolate milieu perfect for a lead character whose actions are informed by the ghosts of the past, when Germans were expelled from the country at the end of the war.
Viewers with a passing knowledge of the last half-century of Czech history with have an easier time following the narrative twists, but the film summons up a haunted landscape that is bold, ambitious and beautifully drawn. Still, it's not an obvious choice for a committee that tends to appreciate more conventional fare.
Finland: "Le Havre"
Director: Aki Kaurismaki
The story of an unlikely friendship between an elderly shoeshiner in a French port city and a young illegal immigrant from Africa, "Le Havre" is a wry and stylized blend of comedy and drama for veteran Finnish filmmaker Kaurismaki, who fills his story with nods to French films from the 1960s and '70s.
Kaurismaki deliberately flirts with melodrama, names many of his characters after figures from French film and includes an odd concert sequence for French rocker Little Bob (Roberto Piazza). The themes are serious but the treatment is light, as a virtuoso director pleasurably riffs on a setting and a style, and asks viewers to overlook any of a number of narrative implausibilities.
The film's most ardent devotees will likely be those familiar with Kaurismaki's past work, which includes his home country's only previous Oscar nominee, 2002's "The Man Without a Past." (He refused to attend the ceremony because of the U.S. war in Iraq; later that year, he boycotted the New York Film Festival as well.)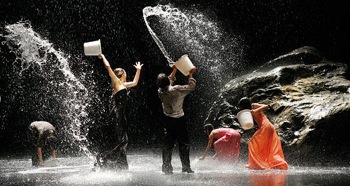 Germany: "Pina"
Director: Wim Wenders
Veteran German director Wim Wenders ("Paris, Texas," "Wings of Desire") has made a brilliant and beautiful dance documentary about the visionary work of his longtime friend, the late choreographer Pina Bausch, and her Tanztheater Wuppertal.
Bausch's daring, startling and gorgeous work stakes out a bracing territory between modern dance and performance art, and Wenders makes remarkable use of 3D to vividly create the spaces in which the Bausch's work takes place; it's the most effective 3D film I've ever seen, and one that marvelously captures the experience of a Bausch performance.
Crucially, I say this as an aficionado who's seen Bausch's company every time they've come to Los Angeles since 1984. Those who haven't been won over and aren't familiar with her company – and let's face it, most Oscar voters fall into that camp – may find her repetitive, slow-paced choreography infuriating (or maybe just boring) rather than mesmerizing.
To the foreign-language committee's credit, they're screening the film for voters in 3D (as opposed to the documentary branch, whose members will view it on 2D screeners). The tricky part will be persuading those voters, who generally expect and respond to serious narrative dramas, that it's okay to recognize a documentary about art in this category. That rarely happens, but I'd like to think "Pina" is arresting enough to turn the trick (or to sway the executive committee).
Iran: "A Separation"
Director: Asghar Farhadi
With a lead character who loses the audience's sympathy in the first scene, "A Separation" is a tough but compelling drama that touches on tradition, justice and male-female relationships in modern Iran. When a family court refuses a woman's petition for divorce so that she can leave the country (and her husband's Alzheimer's-stricken father) with her 11-year-old daughter, she leaves her husband to hire a caretaker; things go awry with the new caretaker, and the husband ends up back in court, where a web of lies on both sides is gradually stripped away to its uneasy conclusion.
At a time when Iran's repression of its filmmakers is coming to the forefront, "A Separation" – filmed without government support by a director who was briefly banned from making it after a speech that offended the state – deals with contradictions and conflicts in Iranian society without openly criticizing the ruling regime.
Voters' desire to support Iranian filmmaking may help the film's chances, though "A Separation" is challenging and complex enough to earn a berth on its own. Still, this is one of the films that I suspect may need the help of the executive committee to make the shortlist.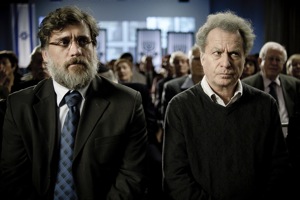 Israel: "Footnote"
Director: Joseph Cedar
Eliezer Shkolnik is a cranky, vaguely misanthropic academic who's spent his entire career exploring a narrow study of alternative versions of the Talmud from his post at Hebrew University in Jerusalem. His son Uriel is a professor of the same discipline at the same university, with a career that threatens to eclipse his father's. This fact does not please Eliezer, but it gives Joseph Cedar ample fodder for both dramatic and comic angst.
The winner of the Palme d'Or for screenplay at last May's Cannes Film Festival, "Footnote" is polished, funny and very Jewish, which puts it in good stead with the category's general committee. ("You can't be too Jewish for the Academy," said one member in assessing the chances of the Coen brothers' "A Serious Man," which scored a Best Picture nomination two years ago.) The film doesn't feel as weighty as other recent Israeli submissions – which include "Ajami," "Waltz With Bashir" and "The Band's Visit" – but its tale of spats between unyielding, esoteric scholars is an unlikely crowd-pleaser of sorts.
Mexico: "Miss Bala"
Director: Gerardo Naranjo
If the lesson of "Elite Squad" is that the gangs and police of Rio de Janeiro have created a hopeless morass of crime and corruption, "Miss Bala" takes the same stance on the fight against drug gangs in Northern Mexico. But Gerardo Naranjo's film, while marginally less bloody, is significantly less heavy-handed and preachy. It's a taut, virtuosic action thriller about an aspiring beauty queen who finds herself caught in a tight spot where it's hard to find the good guys because there aren't any.
Nobody survives unscathed in "Miss Bala," and nobody goes out in a blaze of glory; the film is grim and resolutely unglamorous in its depiction of all sides of the drug trade (and beauty pageants, too). Naranjo's insistence that "every gunshot [is] pathetic" and every side is complicit gives the film a dark, unforgiving stance, and its ending is certainly not calculated to let its characters (or its viewers) off the hook.
That could make it a tough sell for the general committee, but Naranjo hardly seems interested in making friends or campaigning for votes here.
Poland: "In Darkness"
Director: Agnieszka Holland
Being about World War II and the Holocaust is no longer a free pass to a nomination (and maybe it never was), but it can't hurt. And Holland, an Oscar nominee for her screenplay to "Europa Europa" 21 years ago, finds a novel way to approach that conflict: her film, which will receive a stateside release via Sony Classics, tells the true story of a small-time thief who against his better judgment winds up hiding more than a dozen Jews in the sewers of the Nazi-occupied Polish city of Lvov during the war.
The film is somber, large in scale and slowly paced, with a distinctly reluctant hero. Holland takes her time telling the story, which helps build the palpable sense of claustrophobia and oppression as months go by for those trapped just below enemies who would ship them to the camps if they knew of their existence.
There's a pretty good chance that four of the films I've seen so far will make the shortlist, and a couple of them will receive nominations. But of them all, I would say that this is the surest bet. I'd be astonished if it doesn't make the shortlist, and surprised if it doesn't get a nomination.
TheWrap will continue to run reactions to other foreign-language contenders as I catch up with the films at festivals and screenings.