The Cannes Film Festival has been talking to Robert De Niro — and the veteran actor will serve as the chairman of the festival's competition jury, Cannes organizers announced on Thursday.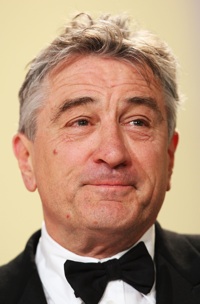 De Niro's jury will select the winner of the Palme d'Or and other awards at the conclusion of a festival expected to feature new work from Pedro Almodovar ("The Skin That I Inhabit") and Lars Von Trier ("Melancholia"), as well as Terrence Malick's long-awaited "Tree of Life." (No official film selections have been announced.)
De Niro is the third American chosen to head the Cannes jury in the last four years, following Sean Penn in 2008 and Tim Burton in 2010. Quentin Tarantino and David Lynch have also chaired the jury in the past decade.
The year that Penn chaired the jury, De Niro attended the awards ceremony and presented the Palme d'Or to Laurent Cantet's "The Class."
Two films in which De Niro appeared, "Taxi Driver" in 1976 and "The Mission" in 1986, were themselves Palme d'Or winners. It's also the third time De Niro has served in the prestigious role.
Not known for his verbosity, De Niro said more in the Cannes press release announcing his appointment than in his entire recent David Letterman appearance with Dustin Hoffman:
"The Cannes Film Festival is a rare opportunity for me as it is one of the oldest and one of the best in the world. As co-founder of the Tribeca Film Festival and the Doha Tribeca Film Festival I have an increased appreciation for the jury, who serve, undertaking an important role in choosing films that are represented in the world of film at its highest level, and these types of festivals help connect the international film community and have a lasting cultural impact. Having served as President of the Jury in the eighties twice, I know this isn't an easy task for me or my fellow jury members, but I'm very honored and happy to head the jury for this year's Cannes Film Festival."
(Photo by Sean Gallup/Getty Images)