By the time "Spring Breakers" writer and director Harmony Korine got to the massive Arclight premiere on Thursday night, he barely had a voice left.
The same couldn't be said for the screeching fans on both sides of Sunset Boulevard who came hoping to glimpse Selena Gomez, Ashley Benson, Vanessa Hudgens, and James Franco — an unusually puffy turnout for an Arclight premiere.
(Above: Rachel Korine, Benson, Harmony Korine and Hudgens. Below: One female fan in the black shirt nabs face time with both of the big names.)
Referring to the paparazzi and fans who made non-stop set-visits during location filming in Florida last March, Korine told TheWrap, "It was one of the most difficult shoots I ever had. There is so much chaos and fanaticism that follows them, it's like you're always being chased in a way."
This promotional week leading up to Friday's L.A. and New York openings started with a SXSW premiere in Austin on Sunday night, the first Texas visit for Benson. "Selena took me to Cracker Barrel. That was fun," she told TheWrap of her fried chicken, biscuits, gravy, and diet-be-damned fuel-up for the week ahead
Less casual for Gomez was her initial two-hour audition with Korine in Nashville. "He was nervous to meet me, so he put all of his R-rated artwork down for my audition."
At the finish line on Thursday night, A24's David Zander introduced the film in the dome.
Industry support came from "Like Crazy" director Drake Doremus, Alex Karpovsky (Coffee Shop manager Ray on "Girls"), Ashley Benson's "Pretty Little Liars" co-star Keegan Allen and Marilyn Manson (who posed with two clownish rapper twins from the film only slightly more enthusiastically than President Clinton's photo-op with Kim Jong-Il.)
At the Emerson, James Franco hung with Edward James Olmos in plain sight, missed by everyone trolling through the split level club looking for him. Gomez (who changed dresses from the premiere) fanned herself as her friends danced, and on-screen villain Gucci Mane planted at a dance floor table.
Earlier in the night, "Gucci" arrived against an impossibly perfect sunset (no filter) at a huge, wrap-around-the-corner-carpet.
Supra (bright sneakers), Fatburger and Sabra hummus sponsored the night. The A24, Annapurna and Muse Productions film opens in L.A. and New York Friday, and nationally on March 22.
Television Hall of Fame Class of 2013
The Academy of Television Arts & Sciences inducted Dick Wolf, CBS' Bob Schieffer Les Moonves, Al Michaels, Ron Howard, and the late Philo T. Farnsworth (inventor of modern television transmission) into the 22nd Hall of Fame on Tuesday night.
Kaley Cuoco hosted the always-festive, always-industry-insider- joke-heavy ceremony at the Beverly Hilton.
Teammates in the broadcast booth, John Madden presented to Al Michaels. This duo's more used to calling plays by football Hall of Famers in trophy-contingent games than winning themselves.
"(Ron's) one of the few people who was able to transition from one phase into the next," Howard's "Arrested Development" colleague Will Arnett said. "And of course I'm referring to transitioning from "Ron Howard, Hair" to "Ron Howard, Hat." Above: Howard and George Lucas at the Beverly Hilton.
(Above: Bruce Rosenblum with Aaron Sorkin, who presented in honor of the late Philo Farnsworth. Sidefact: Sorkin once wrote, and sold, a script about Farnsworth's invention of television.)
Big Bang at Paley
Chuck Lorre earned his way in to the Academy's Television Hall of Fame last spring. On Wednesday, Lorre, Peter Roth, cast and producers of Thursday night's ratings champ and "Idol" de-throner "The Big Bang Theory" headlined Paleyfest.
Do Not Pass Go
Michelle Rodriguez joined her friend, "that-guy-who-wears-a-banadana-over-his-face"/street artist Alec Monopoly, at the opening of his street art exhibit on Wednesday night.
Monopoly who paints — you guessed it — stylized "Monopoly-themed" pieces brings his street art indoors to the Lab Art gallery on La Brea for the next 30 days, including a painted Rolls Royce. Jeremy Piven and Samantha Ronson also stopped in on opening night.
From Spring Breakers to Bank Breakers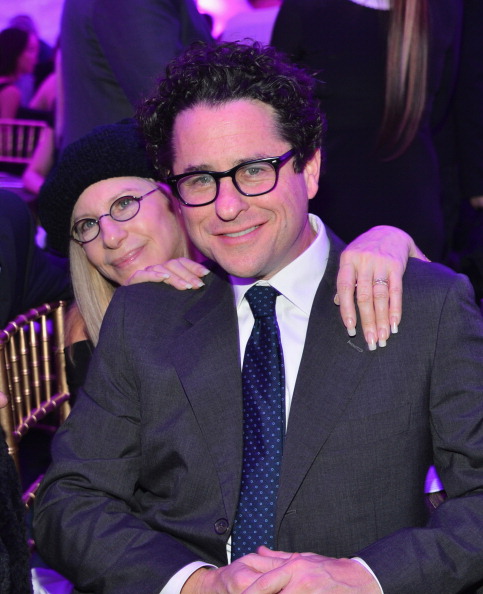 UCLA's Bel-Air neighbors to their north shell out green for green.
Sarah Silverman performed for the apex of the philanthropy circuit, including Barbra Streisand and J.J. Abrams (above) at a fundraiser for the UCLA Institute of the Environment and Sustainability on March 5.
Lawrence Bender (below, top left) chaired the night that raised $1million, held at the Angelo Drive home of Tony Pritzker (who chairs the Institute) and wife Jeanne. The honoree was Vice President Al Gore (bottom left, seated with Annette Bening and Warren Beatty.
Also in the crowd: Sumner Redstone, Cindy and Alan Horn, Norman Lear, Courteney Cox, former California Gov. Gray Davis and entrepreneur/Participant Media principal Jeff Skoll.