As day two of Sundance passed, plenty of films have picked up good buzz, but nothing has hit with the force that "Beasts of the Southern Wild" did on the second day last year.
Instead, festival-goers were left talking about the pleasures of the narrative films like the mountain-climbing adventure "The Summit" and documentaries like "After Tiller" and "The World According to Dick Cheney."
"Austenland," a comedy from Jerusha Hess (making her directorial debut after writing "Napoleon Dynamite"), certainly proved to be a crowd-pleaser at the Eccles Theatre in the early afternoon, with Keri Russell as a single woman so obsessed with the world of Jane Austen that she books an immersive vacation experience in the English resort that gives the film its title.
Jennifer Coolidge drew the biggest laughs as a blowsy American exploring the world with Russell, and the consensus among buyers seemed to be that the film will sell, but nobody's in a rush to wrap it up. "We liked it," one buyer for an indie-film company told TheWrap. "But I'm not going to buy it."
Also read: Sex, Murder and Daniel Radcliffe in 'Kill Your Darlings' at Sundance
James Ponsoldt's "The Spectacular Now," another film in the U.S. Dramatic Competition, attracted plenty of potential buyers to the screening – and enough who followed to the after-party to suggest that a deal will come.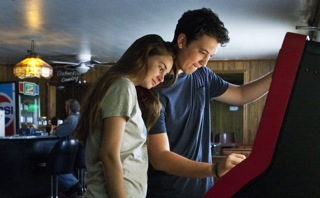 Financed by Andrew Lauren and written by Scott Neustadter and Michael H. Weber, the team responsible for "(500) Days of Summer," the film itself is a high school movie with big issues on its mind, including alcoholism and substance abuse; co-star Mary Elizabeth Winstead isn't the only thing it shares with Ponsoldt's previous film, "Smashed."
It is also, like "Smashed," a character piece with marvelous central performances by Miles Teller and Shailene Woodley. Both use the smallest of quirks and unexpected line readings to summon up the feeling of real teenagers, not characters.
To borrow and distort a phrase from Nirvana (whose surviving members played with all-star guests on Friday night to support Dave Grohl's documentary "Sound City"), Ponsoldt's movie feels like teen spirit.
Woodley may be best known in some circles for the TV series "The Secret Life of the American Teenager," but she burst on the indie-film scene impressively last year in "The Descendants." (A week ago, Jessica Chastain was telling me how Woodley was robbed of the Oscar nomination she deserved.)
In "The Spectacular Now," Woodley is relentlessly understated, never showy and utterly real. An auto accident involving her character is one of the film's only missteps – its aftermath isn't explored fully enough to justify the jolt – but she creates a character whose sunniness and concern for those around her clearly comes from a place of hurt
Teller hasn't really had a showcase role like hers; he's gone from "Rabbit Hole" to "Footloose" without really making a huge impression, but he had more than a few audience members talking about a young John Cusak with his performance as the usually-buzzed teen who only gradually realizes that "living for the moment" may be an unworkable, fear-based philosophy.
"This is a very humid, sweaty films, so it's great to premiere it in the dead of winter at Sundance," said Ponsoldt when he introduced his film a year after doing similar Sundance duties for "Smashed." (That film got a deal with Sony Pictures Classics and raves for Winstead, but never moved beyond limited release and made less than $500,000.)
"Afterwards, Ponsoldt praised his cast, who in most cases had no more than two or three takes to do scenes that were often shot in single long takes. After Teller praised Woodley for being so easy to act with, she returned the compliment.
"I've never worked with an actor who's so emotionally available," she said.
With that, Ponsoldt leaned toward the microphone and grinned. "George Clooney?" he said.
"… under the age of 45," she added.
At the Main Street party that followed the premiere, Woodley told TheWrap that after a year in which she cheerfully worked the awards circuit, doing nonstop interviews and awards-show appearances on behalf of "The Descendants," she didn't know what to think about watching this season from the sidelines.
"It feels really weird to see it all going on and not be a part of it," she said, and then grinned. "But it also feels like a big relief."