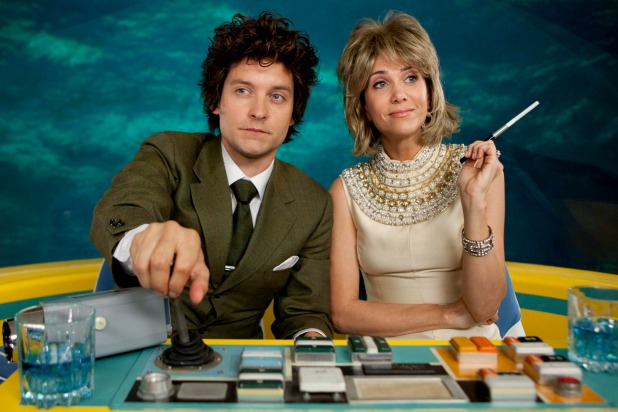 "The Spoils of Babylon" would have a strong cast for an awards-season film — but it's a parody of three-decades old schlocky miniseries, airing on basic cable.
Did writers-executive producers Matt Piedmont and Andrew Steele feel overwhelmed when they realized their cast would include Will Ferrell, Tim Robbins, Tobey Maguire, Kristen Wiig and Haley Joel Osment?
Also read: 'Spoils of Babylon' Review: Will Ferrell and Friends Get Real Stupid
"That's what you do with a cast like this," said Steele.
"You waste them," added Piedemont.
"You take a great cast with amazing actors and you give them some crap."
Also read: 'Spoils of Babylon' Clip: Tobey Maguire and Kristen Wiig Share a Hot Sibling Moment (Video)
Steele, Piedmont, Maguire, Wiig and Osment spoke about the IFC miniseries Thursday at the Television Critics Association winter press tour. Maguire joked that working on the comedy was very similar to appearing in "The Great Gatsby."
"It was so similar at times I didn't know which production I was in," he said. "And generally for those who will watch this, I would like to say, I'm sorry and you're welcome."
Wiig, meanwhile, promised that "Babylon" features "the funniest heroin scene."
See video: 5 TV Shows You Should Watch in Early 2014 
So how did they assemble their cast? Steele and Piedmont worked on "Saturday Night Live," on which Wiig performed for seven years. Maguire once hosted. "I was great," he noted.
During the closing credits of Ferrell's final "SNL" performance, he held up a sign reading, "Matt Piedmont is the best in the biz."
Funny or Die, which Ferrell started with "SNL" vet and his longtime creative partner Adam McKay, is producing the miniseries. Maguire said he was a longtime fan of Wiig's and resolved that if she signed on, he would, too.
Also read: 2014 TV Preview: 26 Upcoming Shows to Watch This Winter & Spring (Photos)
For the miniseries, the actors play bad actors playing ridiculous characters. All of them used their fake actor names on set.
"I would talk to Matt and say, 'I have no idea what we're doing in this scene,'" Maguire said. "And we just kept going."
"The Spoils of Babylon" premieres Thursday on IFC at 10/9c.