Super Bowl LVII, which featured a last-minute win for the Kansas City Chiefs over the Philadelphia Eagles, drew an average 113 million viewers, up slightly from the 112.3 million figure in 2022. Per Nielsen fast national numbers, it's the game's largest audience since 2017, which saw the New England Patriots dominate over the Atlanta Falcons.
Fox's Sunday night telecast took into account viewership across Fox, Fox Deportes and digital Fox and NFL properties. The tally for last year's watchers stemmed from NBC, Telemundo, Peacock, NBC Sports Digital, NFL Digital platforms and Yahoo Sports mobile properties.
Notably, during the Apple Music Halftime Show — which saw a triumphant return to the stage for Rihanna (suspended dozens of feet into the air via an illuminated platform) – the telecast jumped up to 118.7 million viewers, the most-watched performance since Katy Perry's in 2015 (still the most-watched gridiron match-up in history) and second most-viewed in history. During the 13-minute-long set, Rihanna revealed her second pregnancy.
This year's Super Bowl saw a 38-35 victory of the Chiefs over the Eagles, with the former team rallying in the final quarter to claim victory of the Lombardi trophy. Kickoff took place at State Farm Stadium in Glendale, Ariz. at 3:30 p.m. PT.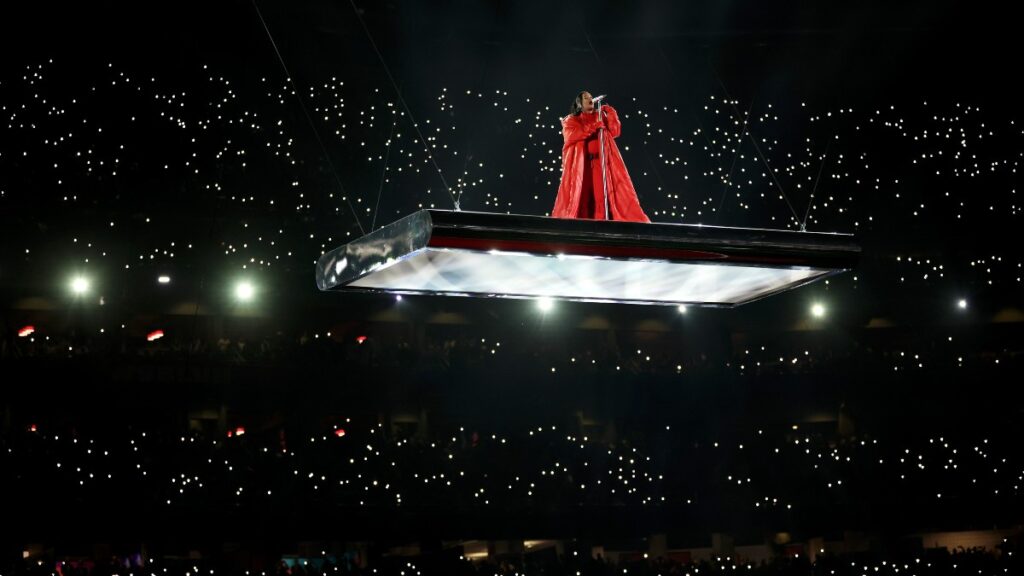 Last year, Super Bowl LVI reached 112.3 million total viewers across multiple platforms, up almost 13% from 2021. The big game, which saw a win for the Los Angeles Rams, got 99.2 million total viewers on NBC alone, according to Nielsen. That year marked the Super Bowl's largest audience in five years.
For the Pepsi Halftime Show last year, which featured Dr. Dre, Snoop Dogg, Mary J. Blige, Eminem, Kendrick Lamar and surprise guest 50 Cent, 103.4 million total viewers tuned in, up 7% from 2021, when the stage was taken by The Weeknd.
On digital, Super Bowl LVII was the most-streamed Super Bowl in history, with roughly 7 million streams, according to Fox. The figure is up 18% over 2022 and 103% over Fox's last Super Bowl stream in 2020, which drew approximately 3.4 million viewers. Fox Deportes also set a record Sunday for the most-watched Super Bowl game in Spanish-language cable television history with nearly 1 million watchers. At 951,000 people, viewership is up a quarter from the 2020 telecast, which is now the most-viewed non-soccer event in Spanish-language cable history.
After the game, the Season 2 premiere of Gordon Ramsay's "Next Level Chef" delivered 15.5 million total viewers, becoming the most-watched cooking series telecast in television history. The game lead-in also did wonders for the 18-49 demo, with the Studio Ramsay Global and Fox Alternative Entertainment series averaging 4.9 in live plus same-day ratings, marking broadcast TV's highest-rated and most-watched unscripted Season 2 debut in more than a decade (since NBC's "The Voice" on Feb. 5, 2012, following the Super Bowl), as well as the highest-rated entertainment telecast in two years (since CBS' post-Super Bowl premiere of "The Equalizer," on Feb. 7, 2021).