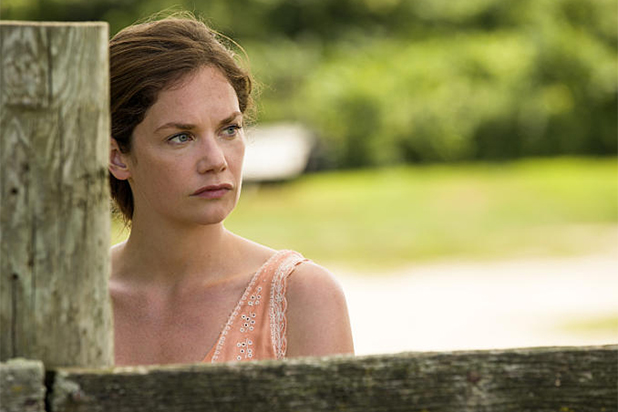 Showtime's "The Affair" is not just about the ramifications of an extramarital affair between two people, even as the ramifications of a relationship tear families apart and leave one guy dead.
The unique draw of the show is that it's told from two different perspectives: the man, Noah (Dominic West), and the woman, Allison (Ruth Wilson).
"Like everything in life, it's about how we tell our own stories and how they're influenced by our experiences," Wilson told TheWrap. "And how there isn't really an objective truth. Everything is subjective. It's a love story in that context, which makes it totally unique, exhilarating and kind of addictive."
Also Read: 9 Outtakes From 'American Crime's' Emmy Wrap Magazine Cover Shoot (Photos)
Wilson's role as Allison makes her a strong contender for an Emmy nomination in the Best Actress, Drama category, particularly after she won the Golden Globe in the same category earlier this year.
Now in production on Season 2, Wilson discussed the toughest thing she had to do in Season 1, how she approached playing very different versions of the same character and her dreams of for the series finale.
TheWrap: What was the toughest thing you had to do this season?
Ruth Wilson: It was difficult in many ways. I was on set a lot. I had to go through loss, a huge journey for this character and I had to learn a lot about grief, which was hard. I think that it was five months, it was so long, that was my toughest thing — stamina. Five months of quiet, emotionally draining material. That was the hardest thing I had to deal with. The cast and crew really helped me through that, but it was quite relentles. And the character kept going deeper and darker into despair. That's what I found quite hard. I felt like I was running out of energy towards the end of shooting, my character was going deeper into her emotions, and that was pretty brutal on me.
Also Read: Golden Globe Awards: Showtime's 'The Affair' Wins Best TV Series Drama (Video)
What was the most fun thing you got to do this season?
Being in Montauk, I love it. Hanging out with the cast, meeting all these brilliant actors, that for me really lightened my load a lot. Spending time in New York City. But mainly Montauk. It's beautiful out there. Every time we were based out there, which wasn't actually that much — we did about six or seven weeks of filming out there. But it was beautiful, and instantly the atmosphere… it's by the sea and you're instantly kind of transformed. Rather than being in a studio space in the city, you're out in the fresh air. That was the best part, filming out there and working with all these brilliant actors.
Let's assume that somebody has never seen your show. What would you say to persuade them to watch it?
I would say it's a love affair, but its unique appeal is that it's from two different perspectives. Like everything in life, it's about how we tell our own stories and how they're influenced by our experiences. And how there isn't really an objective truth. Everything is subjective. It's a love story in that context, which makes it totally unique, exhilarating and kind of addictive.
Also Read: Showtime's 'The Affair' Ratings Swell Since Premiere
Who else on your show really deserves an Emmy, and why?
Everyone. Of course all the actors. Certainly the main four. It was a real collaborative process and we had to support each other a lot and I think you're seeing sides of certain actors you haven't seen before, in Josh [Jackson] and Maura [Tierney] and Dom. And we have to all play different versions of ourselves. The supporting actors — as in Josh and Maura — it was a lot harder in some ways because they didn't have their own point of view. To play three-dimensional characters, they were constantly being pulled in Noah's version or my version. It can be quite limiting sometimes, but they made them feel real and genuine and gave them a journey.
Are you a binge-watcher, or a once-a-weeker?
I don't really watch much TV. It's awful, I hate to admit it, but I just never get around to it. If I do, it's usually on a plane. I'll watch five episodes of something on a plane. I binge-watched "The Wire" years ago. I can't get into that routine, I can't have every Sunday or every Monday off, I live in chaos [laughs]. So yeah, I'd have to say binge-watch. I last binged "The Jinx" — I watched them all at once. I binged a bit of "Empire" as well, on holiday. I probably did three hours.
Also Read: 'The Affair's' Dominic West and Ruth Wilson Give Into Temptation in New Teaser (Exclusive Video)
You mentioned playing different versions of your character. Was that very clear in your head that there was an Allison version and Noah version?
I decided that. Reading the script, I was trying to figure out, "How am I going to do this?" I had fun with it as well. I knew that I had to serve the grief with honesty, and I wanted to do that, because I've known quite a few people who've gone through that kind of grief. But I didn't want that to be overwhelming for the character, and I felt like he didn't see that side of her. I felt like that was the key into those two different versions. One solely through the fog of grief, and the other through how he sees her, which is without grief, without that knowledge that she lost a child. So you could play with that and have fun with that. They were quite distinctly different but as the episodes went on they grew closer together. The versions kind of melded as he understood her more and got to know her more. That was how I approached it, and it gave me an easy access to view different scenes, or these two scenes next to each other, the different versions.
What can you tell us about Season 2? You guys are filming now…
A lot of is up in the Hudson [Valley], we're in the future but we're also upstate this season. It's split perspectives again, but it's four-way. We see a lot of Cole and Helen's point of views as well, which is fascinating. It's really about the consequences and reactions to season 1. Those consequences are felt far and wide among the family so you see Helen and Cole's journeys within that, which is really great.
It's fun for us because we get to play their versions of us as well, and it also gives us more time off. Me and Dom, we get a bit of a break. I think it's perfect, the story needed it, the actors needed it, and it gives those actors as well a chance to really showcase themselves in those characters.
Also Read: Ruth Wilson Will Not Reprise Her Role on 'Luther' (Exclusive)
Have you gotten to work with Maura Tierney more?
Not yet. I hope so. I'm desperate to. I love Maura and we don't have many chances — we have a few scenes here and there where we sort of hate each other. I think Season 3 should be Maura and I going off into the sunset and just leave the kids with the dads. Maybe we'll do Thelma and Louise and drive over a cliff. Well I don't know if that's a good idea. [Laughs] But all ideas are welcome!