At this stage in the Oscar race, we're supposed to have a pretty good idea of what's going to win Best Picture. Last year by late November, the race was narrowing to "Birdman" or "Boyhood," the year before to "12 Years a Slave" or "Gravity."
But 2015 feels different. Three potentially huge awards movies have yet to be released, along with one guaranteed blockbuster — and the fact that Alejandro G. Inarritu's "The Revenant," David O. Russell's "Joy," Quentin Tarantino's "The Hateful Eight" and J.J. Abrams "Star Wars: The Force Awakens" are still largely under wraps was enough to persuade the American Film Institute to postpone voting for the year's 10 best films until its members had time to see all the major players.
But Oscar pundits don't have the liberty of putting everything on hold until we've seen it all. So our take on this year's race is an uneasy one, with "The Revenant" and "Joy" in particular casting huge shadows over any and all proclamations that "Spotlight" is the film to beat or "The Martian" has the inside track.
Also Read: Matt Damon's Top 10 Movie Quotes: From 'Good Will Hunting' to 'The Martian' (Video)
Given the uncertainty, I don't feel comfortable designating a frontrunner with any degree of authority. I think "Spotlight" is a terrific film that might win, but it's certainly not a slam-dunk Oscar champ; I found "The Martian" to be enormous fun, but I'm way more comfortable with Ridley Scott as the Best Director favorite than with his film as the Best Picture leader.
So in that uncertain climate, and with the knowledge that what I'm saying about "The Revenant" and "Joy" comes without having seen either of them, here are seven films that I think have some kind of chance to win it all and the reasons why they could all fall short.
They're arranged more or less in order of likelihood, at least for now. Check back in a couple of weeks and everything may have changed.
"Spotlight"
Why it could win: Tom McCarthy's drama about the Boston Globe's landmark investigation into clergy sexual abuse and coverup in the Catholic Church has thematic heft, along with the kind of top-notch ensemble cast that'll make it formidable at the SAG Awards. It's an exemplary piece of solid filmmaking that has picked up some of the year's best reviews, and it's even drawn flattering comparisons to the classic that set a high bar for movies about journalism, "All the President's Men." Nobody dislikes it, which means it has the kind of consensus appeal it takes to win in the final round of Oscar voting.
On the other hand: Most of the people who've made it the frontrunner are journalists, and of course they love it. The film played well in its official Academy screening, but not as well as several other contenders this year – and Oscar and guild voters frequently disagree with journalists and critics, as "Boyhood" and "The Social Network" can tell you. Being an exemplary piece of solid filmmaking doesn't exactly give it the pizzazz that voters like in their Best Picture winner, and a decade-old investigative newspaper report doesn't have the topical potency of winners like "12 Years a Slave" or "The Hurt Locker." Besides, "All the President's Men" might be a classic, but it didn't win.
Also Read: Open Road's Tom Ortenberg Touts 'Spotlight's' Oscar Odds, Defends Ashton Kutcher's 'Jobs'
"The Martian"
Why it could win: Ridley Scott is overdue and has never won Best Director – and if he wins that award, as he seems likely to do at this point, his film should be the frontrunner for Best Picture. "The Martian" appeals to all the below-the-line craftspeople in the Academy, but it also has lots of great roles for actors. It's the most enjoyable and entertaining of the nominees, which can be enough in a year without another dominant contender. (That certainly helped "Gladiator," the one Scott movie to win Best Picture.)
On the other hand: Ridley Scott or not, it's a popcorn movie. What was the last popcorn movie to win? "The Lord of the Rings: The Return of the King" in 2003 seems a little solemn for that designation, so maybe you have to go all the way back to Scott's "Gladiator" in 2000.
"Room"
Why it could win: It was a little movie that came out of nowhere to bowl people over, which worked for "Slumdog Millionaire" in 2008. It has proven to be an unlikely crowd-pleaser: witness its Toronto Film Festival audience award, an honor that has previously been won by best-pic champs "12 Years a Slave," "The King's Speech" and "Slumdog Millionaire." It will have the support of the Actors Branch, because it showcased a remarkable newcomer in Jacob Tremblay and gave one of the meatiest female roles in years to Brie Larson.
On the other hand: It's too small, too indie, too dark, from a little-known director who hasn't paid his Hollywood dues. Its central character is a woman; you could only say that about a Best Picture winner four times in the last 25 years ("Million Dollar Baby," "Chicago," "Shakespeare in Love" and "The Silence of the Lambs"), and never in the last decade. It's the kind of indie for which the nomination often seems to be award enough.
See video: 'Room' Director Lenny Abrahamson Reveals Initial Doubts About Child Star Jacob Tremblay (Video)
"The Revenant"
Why it could win: Based on a true story about an explorer left for dead in the Canadian wilderness who crawls for miles seeking revenge, this is a massive epic from Alejandro G. Inarritu, the reigning Best Picture and Best Director champ for "Birdman." It looks spectacular, and early buzz suggests that it could give Leonardo DiCaprio his first Oscar. In a year of solid, strong movies, it might be the most ambitious, the biggest and boldest gamble – and as such, it could ignite passions in a way its competition doesn't. Of course, all of this hinges on it being great when it finally starts screening.
On the other hand: Sight unseen, it seems awfully dark and cold. And since Inarritu won last year, nobody will vote for him because he's due. The last time a director had back-to-back Best Picture winners was … well, never. Plus, the last December release to win the top Oscar was "Million Dollar Baby" 11 years ago.
"Joy"
Why it could win: The Actors Branch, by far the Academy's largest, loves David O. Russell, whose last three movies have landed 11 acting nominations. He's never gone all the way, though, so "he's due" could be a useful narrative. The film stars Jennifer Lawrence, Bradley Cooper and Robert De Niro, Academy favorites all.
On the other hand: Russell's last film, "American Hustle," was not as unanimously embraced as "The Fighter" or "Silver Linings Playbook," so naysayers could be ready to pounce if the delicate drama-comedy balance isn't flawless. It's being released by the same company and on the same day as "The Revenant," which might get a bigger push because it's a more expensive movie. And like "The Revenant," it's a December release.
See video: Jennifer Lawrence Is 'More Than Just an Unemployed Housewife' in New 'Joy' Trailer (Video)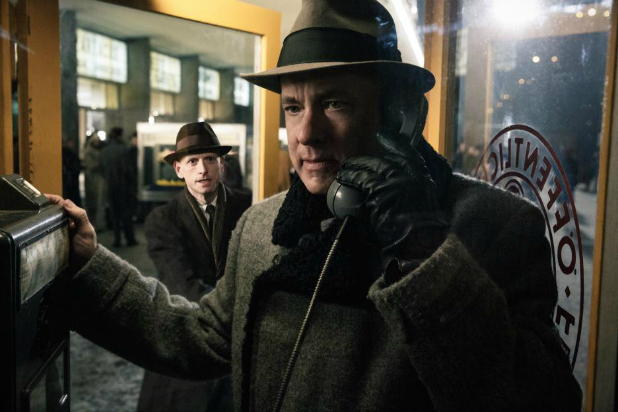 "Bridge of Spies"
Why it could win: The days when Steven Spielberg could make a case that he'd been snubbed by the Academy are twenty years in the past, and now he's an honored elder statesman in the eyes of many voters. His new movie is vintage Spielberg, which is to say that it's exactly the kind of thing many Academy members respond to.
On the other hand: It may be vintage Spielberg, but it doesn't have the extra oomph of his winners, "Schindler's List" (director and picture) and "Saving Private Ryan" (director). As "Lincoln" showed two years ago, voters like Spielberg enough to nominate him, but it's been a long time since he's won.
"Brooklyn"
Why it could win: It's not a criticism to say that John Crowley's period drama is old-fashioned, because the Academy likes old-fashioned and because the film isn't just that. It manages to be genuinely moving and emotional in a way that will win over the older voters without alienating the younger ones. And while it's a personal story of a young Irish girl in the 1950s, the larger issue of immigration and assimilation could not be timelier, which could lead to a groundswell of support once it's more widely seen. It could be a favorite screener for voters to pick up and watch with their families around the holidays.
On the other hand: It still feels like a little movie, and its main character is female. (See: "Room.") It might not command the passion to rack up enough nominations, particularly in below-the-line categories, to position itself as a top contender for the stretch run.