He's back. Or more to the point, he never left.
George Clooney, who was the center of attention at the Toronto International Film Festival on Friday with his film "The Ides of March," was once again front and center on Saturday night, when Alexander Payne's "The Descendants" had its official world premiere at the VISA Screening Room (an awfully prosaic modern name for the ornate old Elgin Theatre).
You couldn't drive or take a taxi within a block of the theater, and if you tried you got bogged down in impossible traffic. But on foot, it was even worse, with barricades that made making your way to the theater entrance a claustrophobic fight through nearly impassable crowds.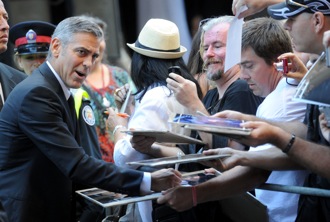 Why all the fuss? One filmgoer summed it up, but not in these exact words, when he muttered, "freakin' Clooney."
Payne also admitted the obvious when he came to the stage to introduce his film before its premiere: "Welcome," he said, "to the George Clooney Film Festival."
Oh, and when freakin' Clooney showed up at the Fox Searchlight party later in the evening and spent a time huddled near the front entrance with Bono, the room pretty much tilted off its axis as everyone was sucked in by the gravitational force of double superstardom.
Of course, Toronto is supposed to be more about movies than stardom, so there is "The Descendants" to consider (particularly since I picked it sight-unseen to win Best Picture).
Also read: And the Next Oscar for Best Picture Will Go to …
The film will take some time to settle, but for now I'll say that I found it understated and lovely. It's not as funny as Payne's last film, "Sideways," or as cutting as his "Election," but it is emotional and richly satisfying.
The story of a part-time father coping with his two girls after his wife is seriously injured in a boating accident, the film isn't exactly an acting showcase for Clooney; he's mostly laid-back and obviously charming, and he only has a couple of scenes that really allow him to seize the screen.
(Making a stronger impression, in a way, is Shailene Woodley as Clooney's oldest daughter.)
Though it's strong and supple and moving, the pleasures of "The Descendants" are not the kind usually recognized by voters in the Best Picture race; it's hard to think of a precedent in recent years for a film like this winning, though precedent hasn't been a particularly good guide lately.
What might be tricky is that after only two days, Clooney's endless charm shows signs of being a bit threadbare, or at least overly familiar. At a brief Q&A that followed the screening, he turned most of his answers into jokes, which was amusing but not terribly satisfying.
Also read: 'Descendants' George Clooney, Alexander Payne Say There's Hope for Adult Dramas
And his director is clearly a pricklier sort: asked by TIFF co-director Cameron Bailey about the fact that he tends to make movies about flawed characters facing tough times, Alexander Payne bristled, and snapped, "I don't mean to pick on you, but what movie doesn't have characters who are flawed and are facing tough times in their lives?
"I'm sorry, but I was asked the same question at the press conference this afternoon, and I don't get it. Flawed characters as opposed to what? Perfect ones?"
"Well, your movies don't have heroes," said Bailey.
"If that's what people expect, it says more about American movies than it says about what I'm doing," said Payne dismissively.
Bailey gave up. "I think we'd better take a question from the audience now," he said.
Also read: Clooney Talks Politics, Charms Crowd at Toronto Fest
Other Saturday premieres included David Cronenberg's "A Dangerous Method," his smart and restrained look at Sigmund Freud, Carl Jung and their patient and pupil Sabina Spielrein. For my money Viggo Mortensen's sly Freud (right) is the standout, though his is clearly a supporting role to Michael Fassbender's tortured Jung and Keira Knightley's wildly mercurial Spielrein (a performance already proving to be thoroughly divisive).
Oren Moverman's followup to the Oscar-nominated "The Messenger" and his second film with Woody Harrelson, the L.A.-based police drama "Rampart," also premiered, as did Canadian actress-turned-director Sarah Polley's first film in five years, "Take This Waltz," with Michelle Williams and Seth Rogen, and the action thriller "Killer Elite," in which a heavyweight cast (Robert De Niro, Clive Owen and, um, Jason Statham) does yeoman's work with shoot-'em-up fare that's slightly smarter than the usual.
Finally, while I was otherwise occupied with Pearl Jam when "Barrymore" screened in the afternoon, it's worth noting these remarks from Jeff Wells, who was at a screening of the film version of the stage play in which Christopher Plummer plays John Barrymore:
"[A]fter seeing Plummer charm and electrify and ham it up and speechify in gloriously boozy Shakespearean fashion in 'Barrymore' … I'm all but convinced he has the Oscar in the bag. As long as the Academy sees this low-budgeted Canadian film, that is. Once they all see it, the game will be pretty much over."
First, though, "Barrymore" needs a distributor and a release date; for now, it's looking for both.