In a Broadway season bursting with shows borrowed from Hollywood, "Once" is in many ways the strangest and unlikeliest of all.
And yet the musical, adapted from the 2007 film by John Carney, is not only flourishing on the Great White Way, it's the leading nominee going into Sunday night's Tony Awards. Its 11 nominations far outpace the showing of current Broadway adaptations of "Ghost," "Leap of Faith" and "Spider-Man: Turn Off the Dark," and the musical promises to give Disney's "Newsies" a serious challenge when the envelopes are opened on Sunday.
Also read: 'Once' Leads Nominees for 2012 Tony Awards
It also did better in nominations than past screen-to-stage adaptations of "Mary Poppins," Sister Act" and "Priscilla Queen of the Desert," and equaled the Tony total of a true landmark, Julie Taymor's 1998 Broadway version of "The Lion King."
Most of those other movies made sense as Broadway productions: They had scale, ambition, glitz, showbiz pedigree.
"Once" was something else entirely: a low-budget, low-key musical romance that beguiled viewers and critics and somehow made Oscar winners out of a onetime Irish street busker and a teenaged Czech girl.
The story was simple: "Guy" (Glen Hansard, Irish, 36 at the time) meets "Girl" (Marketa Irglova, Czech, 18). Guy and girl make beautiful music together. They get closer. Something could happen, but it doesn't. Life goes on, uncertainly.
I loved it when I first saw it, and spent that Oscar season rooting hard for Hansard and Irglova, whose lovely ballad "Falling Slowly" went on to win the Oscar for Best Original Song.
Also read: Broadway Musical 'Once' Plans National Tour in 2013
But when the stage version of "Once" was announced, the prospect scared me. The movie was small and fragile; it was a love story without a love scene, and it had great songs that didn't fall at the point in the narrative where a Broadway audience would want them.
Having met Hansard in Dublin in 1991 when he was appearing in the movie "The Commitments" and his band the Frames was just starting out, and then becoming reacquainted with him and acquainted with Irglova during Oscar season 2007-2008, I figured they weren't the kind to sell out for Broadway glory – but they weren't the ones putting the show together.
Broadway folks, I figured, would want to make things bigger. They'd go for more lavish musical arrangements and larger emotions, and bend the material to give it an end-of-Act I showstopper and a more emphatic conclusion. And the very particular and small charms of Hansard and Irglova would no doubt be difficult if not impossible for Broadway-trained actors to duplicate onstage.
But the reviews were almost all raves, and "Once" the movie meant too much for me not to check out the play when I was in New York for the Tribeca Film Festival. And sometimes, it seems, logic takes a holiday; sometimes the small, intimate and delicate can flourish in the unlikeliest of places.
It was certainly flourishing on the stage of the Bernard B. Jacobs Theater when I saw the show. "Once" the show is not "Once" the movie, and Steve Kazee and Cristin Milioti are not Hansard and Irglova. Subplots are beefed up, minor characters made bigger, storylines changed and one song added. (That song, "Sleeping," comes from Hansard's and Irglova's first Swell Season album, and proves to be a highlight.)
The show is very different from the movie, and completely wonderful. And to my surprise, and to the everlasting credit of director John Tiffany and writer Enda Walsh, it is small and subtle, not big and brassy. The marquee song, "Falling Slowly," comes halfway through Act I — the wrong time for Broadway, but the right time for the story.
Also read: 'Once' Review: Cast Album Not the Real Swell Season, But an Incredible Simulation
Kazee, who spent time with Hansard in Boston and in Dublin during the early stages of the project, never does an imitation but nonetheless nails the essence of the veteran musician. He clearly has the pipes to play up the drama and reach for the back row of the balcony, but in almost every instance he underplays the songs. Time and time again, he is exactly right.
(Pictured: David Patrick Kelly, Steve Kazee and Cristin Milioti on opening night.)
Milioti has a more thankless role; she isn't done any favors by a book that turns Irglova's character into comic relief. If Kazee captures the essence of Hansard, Milioti has almost no Irglova in her performance. (Not that she has to have any: She's playing "Girl," not "Marketa.")
But Milioti shines when she is singing. And a single breath, almost a stifled sob, that comes during a pause before the final bars of the show-ending reprise of "Falling Slowly" is a sublime moment that makes up for the rocky ones.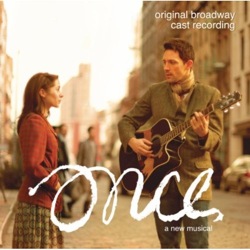 The songs are still at the heart of the material, and they are as affecting as ever – not just the expected ones like "Falling Slowly" and "When Your Mind's Made Up," but surprises like a gorgeous a capella rendition of "Gold" near the end of the show.
In addition, the conceit of turning the cast into a folk orchestra and the stage of the theater into a pub is marvelous, though if I'm going onstage during intermission to pay $13 for a beer, I'd rather it was a Guinness than a Corona. And the jam session that takes place before the show starts is a wonderful way to ease into the action. (Special kudos to David Patrick Kelly – who, before he plays the father of Kazee's character, turns a heart-stopping rendition of "Raglan Road" into the loveliest imaginable overture.)
Will this be enough to sway Tony voters? One school of thought is that "Newsies," Disney's revamping of its unsuccessful 1992 Christian Bale musical, is a more typical Tony show, with a bigger, brassier feel and perhaps a more lucrative future on the road.
"Newsies" also comes from the much-decorated songwriter and composer Alan Menken, who has eight Oscars, 11 Emmys and two previous Tony nominations — and Menken also wrote the music for another nominee, "Leap of Faith."
So maybe conventional wisdom says "Once" isn't going to be the big winner on Sunday night. But I can't help remembering a moment four years ago on the stage of the Kodak Theater, when Hansard and Irglova performed "Falling Slowly" at the Oscars.
The song was up against four bigger, more typical songs — and three of them were by none other than Menken. "Falling Slowly" was something of a favorite going in, but serious doubts remained: Would voters really go for the little song from the little movie that many of them probably hadn't even seen, when the winningest songwriter in Oscar history was also on the ballot?
But Hansard and Irglova quietly and firmly seized the spotlight at the Kodak Theatre (left). I watched them perform from the wings of the stage; from there, the affection in that big theater was so palpable, and the enthusiasm when they finished so warm and enthusiastic, that it was clear the Oscar would be theirs.
To this day, Menken no doubt thinks that he could have won if he hadn't split his vote with those three nominations. That night, though, it was clear to me that "Falling Slowly" was the one, and would have been against any of that year's competition.
It happened once for "Once." I wouldn't bet against it happening twice.