The Toronto Film Festival can be a launching pad or a graveyard, a marketplace or a fleeting moment in the spotlight.
It is the most influential fall film festival in North America, the unofficial kickoff to awards season and the crucial showcase for dozens of films that hope to catch on with viewers, critics and Oscar voters in the months to come.
Enough Best Picture nominees (including "The Hurt Locker" and "Up in the Air" last year, and "Slumdog Millionaire" have premiered there to make it the single most important showcase for Oscar movies.
(See accompanying article, "How TIFF Became an Oscar Contender.")
"If you're going to open any time in the next six months, it's a key launching pad," says Tom Bernard, the co-chief of Sony Pictures Classics, which is bringing nine films to Toronto and also expects to be in the market for new acquisitions. "And the audiences are incredibly perceptive. If your movie is going to play well with an audience, it usually plays incredibly well in Toronto."
"Toronto is where somebody said of '[Dangerous] Liaisons,' 'It's like eating chocolate in bed,'" Stephen Frears laughs of the TIFF reception for his 1988 film. "That's good enough for me." Frears, who has brought several films to TIFF, including "My Beautiful Laundrette" and "The Snapper," which won the festival's audience award in 1993, is attending the 2010 fest with "Tamara Drewe.
This year's TIFF, the 35th, opens Thursday with an impressive lineup of debuts and festival favorites from earlier in the year. With a particularly strong documentary slate that includes new work from Werner Herzog, Alex Gibney, Charles Ferguson and Errol Morris, the festival will run until Sept. 19.
Besides providing treats and quotes to almost 300 filmmakers, this year's TIFF promises to supply answers will be found to at least some of the many questions that surround the festival each year.
1. WHO'LL EMERGE WITH THE BIGGEST OSCAR BUZZ?
Contenders abound. A key film could be Danny Boyle's "127 Hours" (above), the story of hiker Aron Ralston, who cut off his own forearm to escape after being trapped by a boulder while hiking alone. The consensus at Telluride was that James Franco is a clear Best Actor contender, but the Best Picture chances for the Fox Searchlight release are less assured.
The Weinstein Company, meanwhile, will have a chance to get more answers to the crucial question surrounding "The King's Speech": Is Tom Hooper's Colin Firth/Geoffrey Rush movie, which deals with the relationship between Britain's King George VI and his speech therapist, just an acting showcase, or a true Best Picture contender? Word out of Venice and Telluride puts it securely in the latter camp; Toronto could seal the deal.
Darren Aronofsky's "Black Swan," meanwhile, screened in Venice to a few raves and some skepticism; if it plays well, it could cement its director's position as an imaginative, gutsy filmmaker overdue for awards attention.
And Mark Romanek's heartbreaking "Never Let Me Go" drew widely disparate views out of Telluride, from "[the film] is a masterpiece" (David Poland) to "I felt nothing" (Kris Tapley); Toronto could be crucial in tipping the scales.
Clint Eastwood seems to be in the discussion every year, but he generally waits until after Toronto to unveil his latest contender. This year, though, "Hereafter" will come to Toronto, albeit in a limited way — one screening for the public, and one for press and industry. Eastwood is always a major player and an awards threat, but his last three films haven't bowled over Academy voters, making the reaction to this Matt Damon/Cecile De France meditation on the afterlife a real moment of truth for Warner Bros.
Other films that have a chance to make a splash include Ben Affleck's "The Town"; George Hickenlooper's "Casino Jack," with Kevin Spacey as Jack Abramoff; and Sylvain Chomet's animated Jacques Tati adaptation "The Illusionist," which could become a significant threat to Pixar and DreamWorks in the Animated Feature race.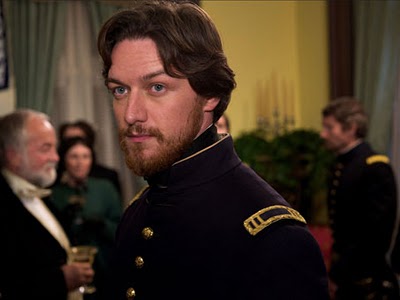 And then there are the films that have already screened at festivals earlier in the year but that could use a Toronto bump to give them a higher profile at a key time: Mike Leigh's "Another Year," Alejandro Gonzalez Inarritu's "Biutiful" and Derek Cianfrance's "Blue Valentine" fall into this category.
2. WHO'LL GET THE BIGGEST DEAL?
Clearly, it's not a good time for filmmakers looking to cash in on Toronto; chances are that fewer deals will be made, and the big-money acquisitions will be few and far between.
Still, there will be deals. "We always look to buy movies in Toronto," says Sony Classics' Bernard. "And the marketplace determines the price – if there's a movie that people feel could be a big movie, and the studios get into the mix, you could see big money deals even in this climate."
The most high-profile film going to Toronto looking for a deal is probably Robert Redford's "The Conspirator" (above), a drama about the Lincoln assassination starring James McAvoy, Robin Wright and Kevin Kline. It's hard to imagine that it won't walk away without distribution, or that something isn't already in the works.
Others include Dan Rush's "Everything Must Go," a change of pace for Will Ferrell in which the actor plays a dissatisfied man who tried to get rid of everything he owns in a yard sale; Larysa Kondrack's political thriller about sex trafficking, "The Whistleblower"; "Milk" screenwriter Dustin Lance Black's directorial debut, "What's Wrong with Virginia," with Jennifer Connelly and Ed Harris; and John Cameron Mitchell's "Rabbit Hole," in which Nicole Kidman and Aaron Eckhart play parents trying to cope with the death of a child.
The latter film, based on the Broadway play by David Linsday-Abaire, has prestige art-house project written all over it, and topped indieWIRE's list of Toronto titles looking for distribution. But while it should find a willing distributor and get an Oscar push, the bigger money, such as it is, may well look for something more commercial.
Additional films looking for buyers include Rowan Joffe's "Brighton Rock," from the Graham Greene novel; David Schwimmer's "Trust," with Clive Owen and Catherine Keener; James Gunn's comic-book fantasy "SUPER"; Malcolm Venille's "Henry's Crime," with Keanu Reeves and Vera Farmiga; and "Wendy and Lucy" director Kelly Reichardt's spare period Western "Meek's Cutoff," which stirred up plenty of talk when it played in Venice and Telluride.
And if you're looking for a dark horse candidate to emerge, Justin Lerner's "Girlfriend" might well fit the bill; the drama about a young man with Down's Syndrome who comes into money and decides to romance a girl he's liked since high school is reportedly a rich and powerful piece of work.
3. WHO'LL TAKE A HIT?
Occasionally a film will land into Toronto with lots of hype and great expectations, only to fall flat once it screens. Last year, "Creation" fell into this category; it was the opening-night film (admittedly not a slot that usually goes to big awards contenders), but by the end of the night nobody was giving it much chance to figure in the awards picture. (And, indeed, it was shut out of all the significant awards.)
Julian Schnabel's "Miral" was not particularly well-liked in Venice, and it could take another stumble in Canada – or it could just as easily get a critical second wind. The deliberate melodrama of "Black Swan" (above) could fall flat, or soar; "The Town" could be seen as nothing more than a routine crime drama, or it could transcend its genre the way that, say, "The Departed" or Affleck's previous movie, "Gone Baby Gone," did.
4. WHICH CELEB WILL STEAL THE SHOW?
This one's easy – and it's not a movie star. Instead, the Boss of Toronto is all but certain to be the subject of a TIFF doc that's stirred up significant advance hoopla – and it's not Eliot Spitzer ("Client 9") or Joyce McKinney ("Tabloid").
Itt's Bruce Springsteen, whose work process is the subject of Thom Zimny's "The Promise: The Making of Darkness on the Edge of Town," which deals with the creation of Springsteen's 1978 album and was originally envisioned as a bonus disc on a deluxe box set edition of the album.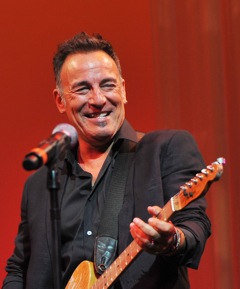 Springsteen (right) is reportedly going to introduce the film at its gala on Tuesday, September 14, and he'll appear in a separate "Mavericks" panel in which he'll be interviewed by actor Edward Norton. Tickets, of course, are long gone for both events.
5. WHAT CANADIAN FILMS WILL STAND OUT?
TIFF tries hard to put the spotlight on homegrown product, kicking off the fest with a quintessentially Canadian offering: "Score: A Hockey Musical." Five of the festival galas will be Canadian films, along with six special presentations, five in the Contemporary World Cinema program, one Midnight Madness selection and a variety of other films spread throughout the festival, which includes the six-film "Canada First!" program.
While the Canadian films are often overlooked by the international press more interested in major studio offerings and awards contenders, a few movies from the great white north have the potential to draw notice.
Canadian offerings that have the potential to attract international attention include "A Beginners Guide to Endings," a comedy from Jonathan Sobol starring Harvey Keitel and Scott Caan; "The Bang Bang Club," a dramatization of a group of four photojournalists in apartheid-era South Africa; Denis Villeneuve's "Incendies," a drama about twin sisters in the Middle East; "Les amours imaginaires" ("Heartbeats"), a new film from young director Xavier Dolan, whose first feature, "I Killed My Mother," was Canadian's official Oscar entry last year; and Bruce McDonald's "Trigger," with Molly Parker and Tracy Wright.
Other Canadian films that sound intriguing include "Daydream Nation" by Mike Goldbach; "The High Cost of Living" by Deborah Chow; the largely-improvised "Jaloux" by Patrick Demers; and "You Are Here" by Daniel Cockburn.
"Score: A Hockey Musical," meanwhile, will most likely remain a niche product outside of its homeland.
That's an opening look at Toronto. Lots more questions will be asked, and some of them answered, over the next 11 days.
Follow theWrap's complete Toronto coverage here.