Tribeca Film, the distribution arm of the Tribeca Film Festival, will take a bit of the festival on the road this summer, bringing 10 of its films to Los Angeles for a two-week repertory run.
The films include "Climate of Change," a documentary narrated by Tilda Swinton and produced by Participant Media ("An Inconvenient Truth"); the animated dystopian tale "Metropia"; and "sex & drugs & rock & roll," the Ian Dury biopic for which Andy Serkis (below) was nominated for a BAFTA award for Best Actor.
The well-funded Tribeca festival has tried to expand the reach of a traditional film festival with online and on-demand components. The Los Angeles run will mark the first time Tribeca Film titles have been shown in theaters outside of New York, although several of them have been available on video-on-demand for the past month.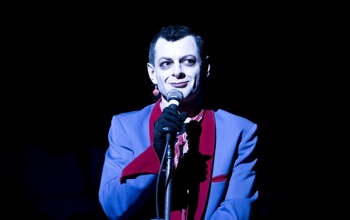 In a press release announcing the L.A. engagement, Tribeca Enterprises' chief creative officer, Geoff Gilmore, commented, "At this important time of transition in the independent film business, the creation of Tribeca Film has enabled us to advance the dialogue around the ways that films are experienced, helping filmmakers reach audiences and provide them access to films they would not otherwise see."
The films will screen for two weeks at Laemmle's Sunset 5 theaters in West Hollywood. Five of them will screen from June 25 to July 1, and the other five from July 2 to July 8.
The films, with descriptions excerpted from the Tribeca press release:
"Climate of Change," directed by Brian Hill. (USA, UK) – Tilda Swinton beautifully narrates this rich and inspiring documentary about a world of regular people taking action in the fight to save our environment. Executive produced by Participant Media, the company behind Al Gore's "An Inconvenient Truth," and the Alliance for Climate Protection.
"The Immaculate Conception of Little Dizzle," written and directed by David Russo (USA) – Forced to take a job as a night janitor at a shady research firm, a laid-off employee and his coworkers are unwittingly used as guinea pigs for new products that are doing strange things to their bodies and minds. A stylish, bittersweet fable about the search for meaning in our throwaway society. With Marshall Allman and Natasha Lyonne.
"The Infidel," directed by Josh Appignanesi, written by David Baddiel (UK) – Mahmud Nasir (comedian Omid Djalili) may not be the most observant Muslim, but deep down he is a true believer. His life is turned upside down when he learns he was adopted—but most scandalous is that his birth mother was Jewish! With Richard Schiff and Matt Lucas.
"Metropia," directed by Tarik Saleh, written by Fredrik Edin, Stig Larsson, and Tarik Saleh. (Sweden, Denmark, Norway) – In the year 2024, all of Europe is united by a vast web of underground railways, populated by an army of downtrodden worker bees. One such cog finds himself unearthing a vast Orwellian conspiracy in this animated noir. With the voices of Vincent Gallo, Juliette Lewis, Udo Kier, Stellan Skarsgård, and Alexander Skarsgård.
"My Last Five Girlfriends," directed and written by Julian Kemp (UK) – Based on the international best seller "On Love" by Alain de Botton, this delightful romantic comedy explores just how modern urban relationships go wrong. Surveying the wreckage of his last five relationships, thirtysomething Duncan (Brendan Patricks) concludes that love is a battleground where only the fittest survive.
"Road, Movie," directed by Dev Benegal (USA, India) – Loath to take over the family hair-oil business, young Vishnu jumps at the chance to drive his uncle's beat-up Chevy truck across India to its new owner. With the sumptuous landscape of India as his canvas, director Dev Benegal paints a delightfully original road movie.
"sex & drugs & rock & roll," directed by Mat Whitecross (UK) – "The Road to Guantanamo" codirector Mat Whitecross' ripsnorting portrait of mercurial British punk rock pioneer Ian Dury, played by BAFTA nominee Andy Serkis. From a troubled childhood and a battle with debilitating polio to the effects of fame on relationships and fatherhood, here are the highs and lows of a life lived sneeringly, unapologetically out loud.
"The Swimsuit Issue (Allt flyter)," directed by Måns Herngren, written by Jane Magnusson, Brian Cordray and Herngren. (Sweden) – What begins as a joke turns into a new shot at glory for a group of over-the-hill athletes who decide to form Sweden's only all-male synchronized swimming team. In Swedish with English subtitles.
"The Trotksy," directed and written by Jacob Tierney (Canada) – Like most high schoolers, Leon Bronstein (Jay Baruchel, "Tropic Thunder") is having an identity crisis. What differentiates Leon, however, is that he believes he is the reincarnation of Soviet thinker Leon Trotksy and predestined to follow the path of his namesake.
"The Wild and Wonderful Whites of West Virginia," directed by Julien Nitzberg. (USA) – Shoot-outs, robberies, gas-huffing, drug dealing, pill popping, murders, and tap dancing — what do these all have in common? The White Family. From executive producers Johnny Knoxville and Jeff Tremaine comes a shocking documentary portrait of Boone County, West Virginia's most notorious and surly family.