Veronique Peck, the widow of legendary actor Gregory Peck and a long-time active figure in the cultural life of Los Angeles, died Friday, August 17 at her home in Los Angeles.  She was 80.
The cause was heart failure, said her children, Anthony Peck and Cecilia Peck Voll.
She and Gregory Peck were married for nearly 50 years, until his death in 2003.
Witty, intellectual, and a sparkling conversationalist known for hosting lively soirees in her Holmby Hills home, Veronique Passani Peck was born in Paris, the daughter of architect Antoine Passani, and Russian artist Alexandra Passani. 
Also read: Notable Celebrity Deaths of 2012
She was educated at Marymount, and later became a reporter for the leading French daily, France Soir.  She interviewed leaders in the arts and politics, from Colette to General Dwight Eisenhower, Samuel Goldwyn, and on a life changing occasion, Gregory Peck.
The story of their love affair could have come from the movies. After their interview, Peck went to Italy to film "Roman Holiday," and months later upon his return to Paris, called the newspaper to track down the beautiful young journalist. As he told it, he heard the loudspeaker announce "Veronique Passani, c'est Monsieur Gregory Peck au telephone," and the busy newsroom went silent. When she reached the phone he reminded her of their meeting and invited her to lunch that day.  She hesitated, so he asked if she had a boyfriend.  She said she didn't, but still wouldn't agree to lunch. He persisted, and their lunch at a Left Bank restaurant marked the beginning of a love story that lasted for over fifty years. Much later, she told him why it had taken her so long to say yes. "I wasn't going to tell you this," she confessed, "but I had an interview that day with Dr. Albert Schweitzer.  At the apartment of Jean-Paul Sartre."  Gregory famously replied,  "Well, you made the right choice, kiddo."
Also read: Helen Gurley Brown, Groundbreaking Cosmopolitan Editor, Dead at 90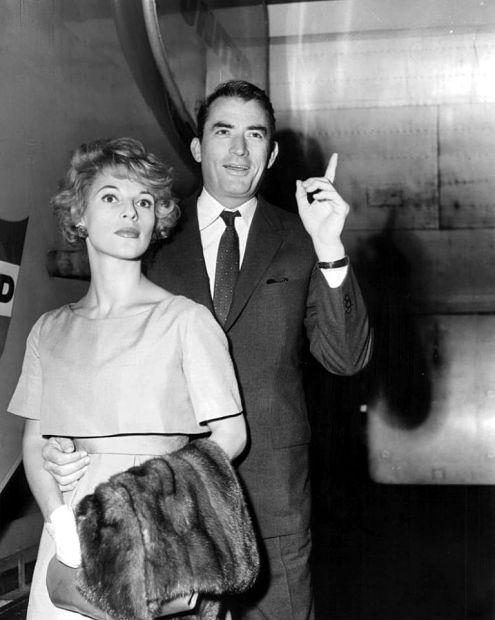 Veronique moved to the United States with Gregory at age 23 and began her life at her husband's side, actively supporting and sharing in many of his film industry and personal interests.  During his Chairmanship of the American Cancer Society in 1966, they toured 26 cities and together raised over $50 million for cancer research.  She helped to create and was principal fundraiser for the Inner City Cultural Center, an interracial theatre group in South Central Los Angeles.  She was voted Woman of the Year by the Los Angeles Times in recognition of her work as a Founder of the Los Angeles Music Center.  In 1976, Veronique Peck became an American citizen, one of her proudest moments. She never lost her French elegance, charm or the trace of a French accent, but as she put it, "I am French by birth, American by choice."
Gregory and Veronique were known to have one of Hollywood's most loving and enduring marriages.  They rarely left each others' side, and on film locations she would run lines with him and create the ambience of home in hotels or rental houses around the world.  He called her his soul mate. When producer Alan Pakula made the auspicious call to offer Gregory the role of Atticus Finch in a then unknown Southern writer's first book, Gregory asked him to please send over two galley copies so that he and Veronique could read it at the same time. They never ran out of things to talk about, or to see and do together.  They loved travelling, especially to Paris,and were frequent guests at the Elysee Palace during the presidency of their friend, Jacques Chirac.  At home in Los Angeles, they often gathered friends around the dinner table in the beautiful home they had created together, as Veronique continued to do after Gregory's passing in 2003.
At that time, Veronique took over producing the Gregory Peck Reading Series, which raises funds for the Los Angeles Public Library by bringing celebrated actors to read in the Central Library.  One of the cultural jewels of Los Angeles, the prestigious Series has welcomed actors from Morgan Freeman to Vanessa Redgrave, Kevin Spacey, Laura Dern, Sharon Stone, Robert Forster, Angelica Huston, Dick Van Dyke, Sally Field, Mark Ruffalo, lyricists Alan and Marilyn Bergman, and many more.  In 2009, Veronique was honored with the Light of Learning Award from the Los Angeles Library Foundation
She helped produce the memorable ceremony in 2011 celebrating the unveiling of Gregory's USPS "Forever" postage stamp as Atticus Finch, at the Academy of Motion Picture Arts & Sciences.  In April of 2012, she travelled to Washington for President Obama's private White House screening marking the 50th anniversary of "To Kill A Mockingbird."
Veronique is survived by her two children, writer/producer Anthony Peck, and documentary filmmaker Cecilia Peck Voll, by her brother Dr. Cornelius Passani, and her three grandchildren, Zack Peck (20,) Harper Peck-Voll (13,) and Ondine Peck-Voll (10).
The Peck family is planning a private service at the Cathedral of Our Lady of the Angels in downtown Los Angeles, where she will be laid to rest next to her husband Gregory.  Donations in her memory may be made to the Los Angeles Library Foundation.