Sunday's MTV Video Music Awards will feature an indoor black carpet, a theme of the space-time continuum of music, and something from Lady Gaga that we've never seen before.
That's the word from MTV president Stephen Friedman and VMA executive producer Jesse Ignjatovic, who revealed the concept behind this year's show exclusively to TheWrap (as well as an exclusive look at the stage design, below).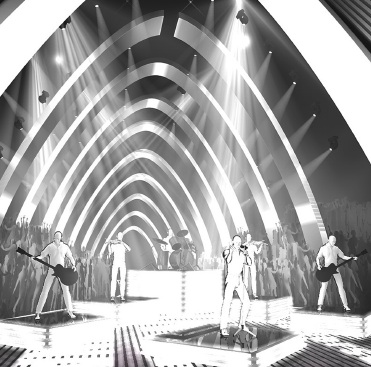 "We were looking at our audience and the way they interact and engage with music today, and thinking, how do we bring that to television?" said Ignjatovic, who pitched his concept to MTV back in January.
"You can go to your computer and hang with the new Kanye track, and then go to an Otis Redding track. Or listen to Katy Perry and then jump to the '70s and listen to Led Zeppelin.
"So our jumping-off point was that idea of people being able to engage with music in a timeless way, on transporting you on a journey through a space-time continuum of music."
Also along for the journey, Friedman revealed, will be the latest round of show participants, who were confirmed on Tuesday: Will Ferrell, Jack Black, Zoe Saldana, Victoria Justice and Kevin Hart. MTV announced Wednesday that Beyonce had been added to the list of performers.
As for this space-time continuum thing, it'll start with the red carpet – which won't be red, and won't be outside the Nokia Theater.
Instead, the black carpet will travel through the lobby of the adjacent J.W. Marriott hotel, and it will create an immersive environment that kicks off the theme of the show.
But have no fear, diehard MTV watchers: the preshow will also feature red-carpet hostess Selena Gomez and the cast of "Jersey Shore."
"They're going to be in attendance," said Friedman of Snooki, the Situation and crew (at last year's VMAs, right). "They'll definitely be involved in the preshow. And we're trying to figure out a way to fit some of them into the show as well."
That show, as MTV previously announced, will also include a tribute to the late Amy Winehouse and a salute to the not-so-departed Britney Spears.
It will begin with a performance by Lady Gaga, about which Friedman will only say, "It's something the world has never seen from her. The last time she performed on the show she raised the bar, and this is going to be unlike anything she has ever done."
Then again, reinventing the wheel is the whole point of the VMAs; where most awards shows have a firm template and can only make minor changes year to year, MTV's extravaganza varies dramatically from one show to the next. (The channel may be celebrating its 30th anniversary, but they barely mentioned the milestone except on their older-skewing sister channel VH1.)
"We almost have to do that, given who our audience is," said Friedman. "Every few years we have to reinvent everything to stay in touch with our audience – and with this show, the presumption is that if we did it last year, we really don't want to do it this year."
"It's almost a year-round job," added Ignjatovic. "You finish one show, and you have to immediately start thinking about what you should do differently next year."
Still, both men know that what viewers remember about the VMAs – far more than many of the planned set pieces, and certainly more than who wins the awards – are the unexpected water-cooler moments that can't be mapped out in advance: Kanye West interrupting Taylor Swift's acceptance speech to sing the praises of Beyonce, Eminem snapping at Triumph the Insult Comic Dog and feuding with Moby mid-show …
"There's no question that we can plan up to a certain point, but the show has an energy to it and things are going to start happening," said Ignjatovic.
And when Kayne has his "imma let you finish" moment while Swift is trying to talk, what goes through their minds backstage? Oh my God, what's happening?, or This will be a great water-cooler moment!?
"The honest answer?" said Friedman. "Both."