For more than a decade, Chely Wright was the perfect country star: pretty, perky and Christian, singing songs about the joys and heartaches of being a "Single White Female," posing seductively in videos and photos, and even forming a dreamy Nashville couple with boyfriend and fellow star Brad Paisley.
She also happened to be a lesbian, a potentially career-destroying fact that she tried to hide publicly and prayed to overcome privately — until May, 2010, when Wright came out of the closet on the "Today Show."
Her personal and professional struggles are the subject of the alternately harrowing and triumphant documentary "Wish Me Away," which came to Outfest on Friday night after winning the jury documentary prize at the Los Angeles Film Festival and at Frameline, the San Francisco LGBT Film Festival. (Photo, left, by Tanya Braganti)
A start time that coincided with the beginning of the much-feared Carmageddon weekend didn't deter a capacity audience that included comedian, actor and gay icon Lily Tomlin.
And at the end of the film, the audience erupted into an immediate standing ovation — followed by an even louder and more prolonged applause when co-producers and co-directors Bobbie Birleffi and Beverly Kopf brought Wright to the stage of the DGA Theater in West Hollywood.
It's easy to see why "Wish Me Away" won the festival awards, and why the audience responded so enthusiastically.
Starting with one of many startlingly honest and intense entries in a video diary kept by Wright (and not shared with the filmmakers until they were a year into the project), "Wish Me Away" is a lovely, raw and riveting document of a woman driven since childhood to be a star in an arena, mainstream Nashville, that probably never would have embraced her if its denizens had known she was gay.
"I didn't even have a secret underground network of friends that knew I was gay," Wright said. "I didn't tell anyone."
But the film is as tough on Wright and her decision to live a lie as it is on the country music establishment. And while it indicts organized religion for fostering an anti-gay mindset that even affected Wright's own family members, it also spends significant time with her "spiritual advisor," Welton Gaddy, who provides a voice of acceptance and reason and has one of the film's best lines: "There's nobody quite as mean as people being mean for Jesus."
Overall, this is an open-hearted, funny and inspiring chronicle of one woman's struggle with intolerance and doubt, of her journey from a state of near-suicidal self-loathing to a triumphant admission that nonetheless had the potential to destroy Wright's career. (The jury's still out on whether it will do that.)
At Outfest, "Wish Me Away" was clearly preaching to the converted, and the predominantly female audience appeared to be deeply touched and inspired by Wright's journey.
But that's not to say that the film can't touch a broader audience: this straight male may not have found any direct parallels in his own life, but I found the film by turns affecting, infuriating, hilarious and profoundly moving.
The filmmakers are currently looking for distribution and hoping for a fall release — and with New York's recent legalization of gay marriage and an election year approaching, the issues it raises are firmly in the news. (Wright, who lives in New York City, is getting married on August 20 to LGBT activist Lauren Blitzer.)
It wasn't her idea to chronicle her coming out, Wright told the crowd at a Q&A following the screening. Instead, she simply wanted to meet Kopf and Birleffi (who call themselves "the TV Gals") after seeing their work on the documentary series "Be Real" on Logo.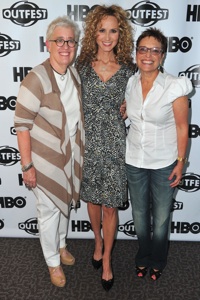 The directors came up with the idea of filming Wright while she was recording an album, writing her autobiography, "Like Me," and preparing to come out on the "Today Show" in May 2010 — and Wright agreed, though she'd had no editorial control over the end product. (Left to right: Birleffi, Wright and Kopf at Outfest)
Wright, whose latest album, the Rodney Crowell-produced "Lifted Off the Ground," is a graceful, understated and gripping exploration of the feelings that led to her coming out, said that she has received supportive phone calls from only two Nashville stars and isn't sure how her career will be impacted in the long run.
"We knew I would lose a certain percentage of fans," she said of the discussions she had with her manager, "and we were OK with that."
She also said she receives daily comments on Facebook criticizing her lifestyle, "telling me that I'm going to burn in hell" and saying that she is contributing to the eventual damnation of teenagers who look at her as a role model.
In the end, she added, the vitriol and the risks to her career were outweighed by the knowledge that she could get through to kids and teenagers who might otherwise feel alone and end up the way she did, "sitting on the edge of my bed with a gun in my mouth."
With two rows of the DGA Theater occupied by teenagers from the Gay, Lesbian and Straight Education Network (GLSEN), Wright was adamant that the film shows a moment in her life of which she is enormously proud.
"Sometimes," she said to rousing applause from the crowd, "you've got to pull your big girl pants up and go do the right thing."