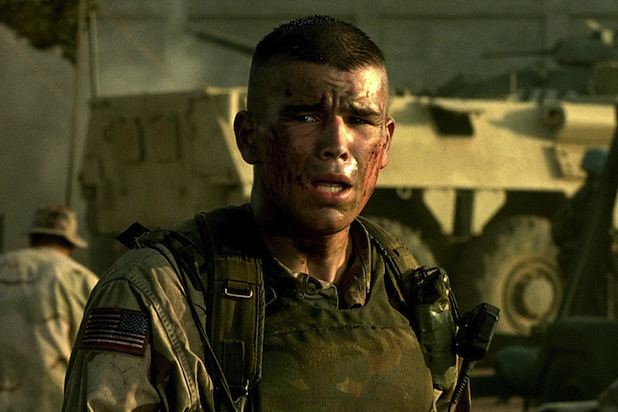 As Americans prepare to take a well-deserved day off from work to remember the servicemen and women who have sacrificed their lives for this country during times of war, TheWrap remembered their favorite movies tackling the tough topic.
Some are fun, some are sad, but all are classics that are worth watching this Memorial Day weekend if readers haven't already.
Also read: 'X-Men: Days of Future Past' to Extend Marvel's Box-Office Hot Streak With Dominant Memorial Day
From waging war with aliens to women raging against the military for justice, here are our favorite war stories of all time:
While many people pan "ID4" as a cheesy, big-budget
Will Smith
vehicle, I consider it one of my personal favorite feel-good, proud-to-be-an-American films. I always tear up when
Randy Quaid
sacrifices his life so his kids can live free from extraterrestrial tyranny. 
Bill Pullman's patriotic speech
 should also be required viewing for High School civics classes. — 
James Crugnale
Also read: Will Smith Not Returning for 'Independence Day' Sequel
"The Hurt Locker"
This film deserved a fate way better than forgotten Best Picture winner (though the statuette was a nice surprise). We talk about supporting our troops, but that's mostly hollow rhetoric, especially when they come back home — just look at the years of VA incompetence. This depiction of a damaged soldier unable to love anything but hellish battle is a small story, but one that reflects the long-term trauma of our seemingly endless series of wars. — Jordan Zakarin
"Glory"
The story of Massachusetts 54th Regiment, an all-black regiment fighting for the Union Army, might seem like another tale of African-American courage told through the eyes of white people — especially because
Ed Zwick
's film focuses largely on
Matthew Broderick
's Robert Gould Shaw. But two things save the film from
"The Help"
-style revisionism: First, the subtle and wise performances of the black actors, including
Morgan Freeman
and
Denzel Washington
. And second, the raw courage of the 54th itself. It doesn't matter who provides the voiceover when history dictates its own truth. —
Tim Molloy
"The Invisible War"
Women have fought and died for this country, too, and this Oscar-nominated 2012 documentary honors them by exposing their struggle to get justice after suffering sexual assaults at the hands of their peers, and even commanders. Director Kirby Dick's investigation into the epidemic of rape within the U.S. military was so powerful, it inspired Secretary of Defense Leon Panetta to
change military policy on how cases are prosecuted
before it was even released in theaters. There are many aspects of America's military worth celebrating, but how it has handled — and hidden — sexual assaults isn't one of them, and people need to know about it. — Greg Gilman