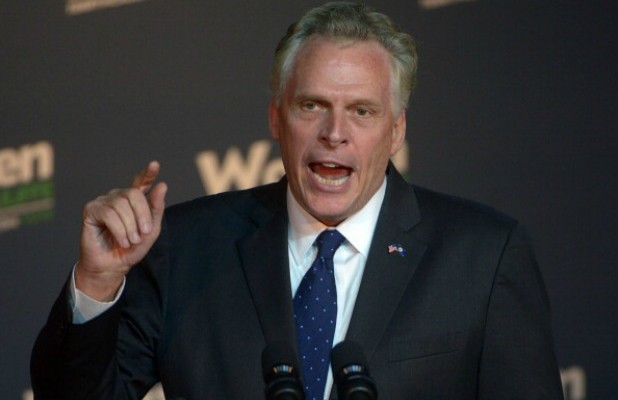 The union representing Associated Press employees is calling for the reinstatement of two employees fired for an erroneous report about Democratic gubernatorial candidate Terry McAuliffe, saying the news agency has overreacted to "a mistake."
News Media Guild President Martha Waggoner noted that two fired staffers in the AP's Richmond, Va., bureau were so well-regarded that Virgina's top politicians are attending an event Nov. 18 to support them. Gov. Bob McDonnell and Lt. Gov. Bill Bolling are Republicans, and Sens. Tim Kaine and Mark Warner — both former governors — are Democrats.
Also read: AP Fires Third Staffer in Terry McAuliffe Fallout
Waggoner said the AP could have taken steps to punish the staffers that stopped short of costing them their livelihoods.
"There's progressive discipline — which this isn't," Waggoner told TheWrap.
An AP spokesman declined to comment Wednesday.
Three AP staffers were fired — Richmond-based political reporter Bob Lewis and news editor Dena Potter, and Atlanta-based editor Norman Gomlak. The guild is only seeking Lewis and Gomlak's reinstatement because Potter is a manager and isn't eligible for guild help — but Waggoner said AP rank-and-file support her, as well.
Also read: AP Fires 2 Journalists Responsible for Mistaken Terry McAuliffe Report
Lewis filed a story alleging that McAuliffe lied to a federal official investigating a death benefits claim. It was published on Oct. 9 and the AP retracted the story less than two hours later. A Quinippiac poll released Wednesday found McAuliffe (pictured) with a seven-point lead in the governor's race over Republican Ken Cuccinelli.
The mistake came at a time that the AP is working with fewer staffers — there were painful layoffs in 2009 — and as its main editing desk was split into four regional desks, including the one where Gomlak worked. Many former AP employees — including, full disclosure, your humble correspondent — left the company rather than apply to work on one of those desks.
While once a story about state politics might once have been edited by an editor in Richmond, now it is likely to be edited by a staffer at the South Desk in Atlanta. where Gomlak worked. The editor working most closely on a story may have no firsthand knowledge of a state, which sources are most reliable, or the local history, flavor and feuds that can shape an issue.
News editors like Potter are also facing more pressure than ever: She oversaw both Virginia and West Virginia, and was covering a West Virginia courthouse shooting on the day of the McAuliffe error. Waggoner said Potter only briefly handled the McAuliffe story, at the end of a 15-hour workday.
The story was then sent to the South Desk. Typically, regional editors like Gomlak aren't involved in reporting stories, but they often contact reporters with questions.
The union is seeking Lewis and Gomlak's reinstatement by asking the AP for a grievance meeting.
Waggoner noted that Lewis worked for the AP for nearly 30 years.
"Somebody like Bob who has a stellar record shouldn't be fired after one mistake," she said.  "It's a serious mistake, but it's a mistake. … I doubt anybody regrets it more than the people involved."
Lewis and Gomlak are lucky in exactly one respect, Waggoner said: They have a union representing them. Many reporters don't.