This is a year in which at least five films may have a legitimate shot at winning the Academy Award for Best Picture, and the events of this weekend could go a long way toward suggesting which movie has the upper hand.
After all, the two key events from last year that suggested that the dark horse indie "CODA" could actually score a Best Picture win were the Screen Actors Guild Awards on Feb. 27, when "CODA" won the Outstanding Performance by a Cast in a Motion Picture award over "Belfast" and "King Richard," among others; and the Producers Guild of America Awards on March 19, when it secured its spot as the frontrunner by winning the major guild award that most accurately predicts the Oscar.
This year, the Producers Guild Awards fall on Saturday, Feb. 25 and the SAG Awards on Sunday, Feb. 26. That's a one-two punch that could go a long way toward bringing some clarity to a confusing race.
"Everything Everywhere All at Once" could come out of the weekend as a strong frontrunner, or it could be reeling on Monday morning. "The Banshees of Inisherin" or "Top Gun: Maverick" or "The Fabelmans" could show some needed strength. Or things could get more muddled while "All Quiet on the Western Front" waits in the wings to show its strength.
Mind you, the SAG ensemble award has never been a very reliable Best Picture predictor, and it has matched the Academy's top prize less than half the time in the 13 years since the Oscars went to 10 nominees. The Producers Guild Award is far more reliable, but even it has been a mismatch three times in the last seven years as the Academy has grown increasingly international.
Still, the SAG ensemble award has a track record of identifying potential Oscar dark horses, including "Shakespeare in Love," "Crash" and "Parasite" before "CODA." And the PGA is the only other major award that uses the Oscars' ranked-choice system in its marquee category, and it has matched 10 times in the last 13 years and 12 times in the 20 years before that.
So let's look at the presumed Oscar frontrunners at this point and their best and worst-case scenarios on this all-important awards weekend.  
"Everything Everywhere All at Once"
Current status: Presumed frontrunner, with reservations.
Best-case scenario: It wins Producers Guild on Saturday and SAG ensemble on Sunday to give it a formidable trifecta with the Directors Guild Award it already won. And if it wants to rub it in, supporting-actor lock Ke Huy Quan is joined in the SAG winners' circle when Michelle Yeoh scores an upset over Cate Blanchett and Jamie Lee Curtis does the same over Angela Bassett or Kerry Condon.
Good scenario: A Producers Guild win and at least one SAG individual win. For "Everything Everywhere," PGA would make it a clear leader and SAG ensemble would be the icing on the cake … or the icing on the everything bagel, as it were.
Worst-case scenario: It loses PGA to one of its main rivals and can only manage a win for Quan at SAG. The big question about the chaotic and freewheeling "Everything Everywhere" has always been whether can win over the older Academy voters, or whether it's too polarizing and divisive to become the kind of consensus favorite that ranked-choice voting looks for. Its poor showing at BAFTA didn't mean too much, given the difference in voting bodies, but another stumble at the Producers Guild would be rough.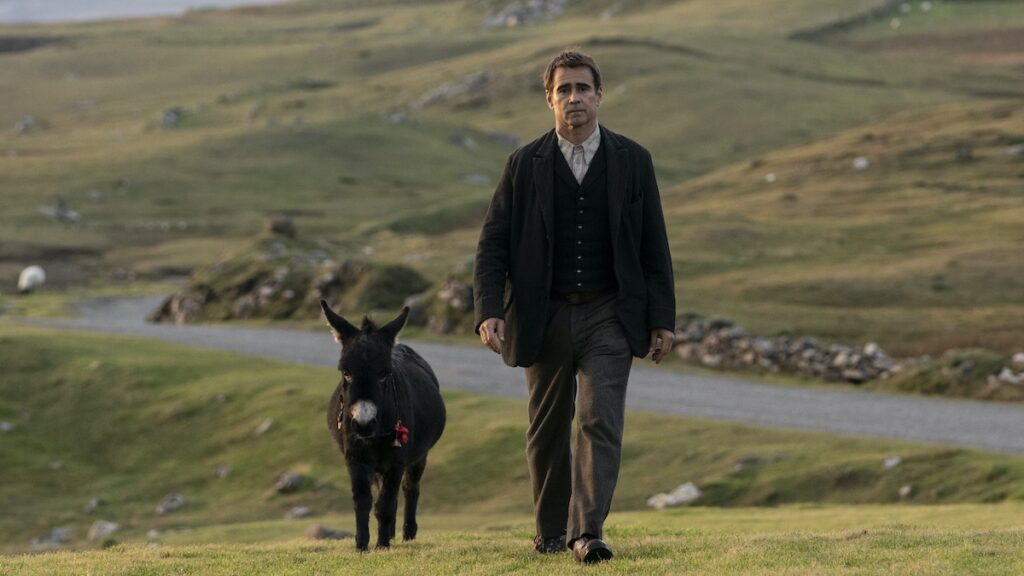 "The Banshees of Inisherin"
Current status: A strong contender that still needs to win when it counts.
Best-case scenario: Wins PGA and SAG ensemble and gets more than one individual SAG award. (Colin Farrell, Kerry Condon, Brendan Gleeson and Barry Keoghan are all nominated.)
Good scenario: Wins PGA or SAG ensemble. An individual SAG win for Condon, Gleeson or Keoghan probably wouldn't do much to move the Best Picture needle, but the ensemble win could identify it as a possible sleeper after the film has spent months getting lots of nominations without many wins.
Worst-case scenario: A shutout. For now, "Banshees" is a well-liked but edgy film that could be more palatable to older Oscar voters than "Everything Everywhere," even if it's easy to find voters who are put off by its more gruesome aspects. (Those fingers!) But its Golden Globe win in the musical or comedy category doesn't mean anything with Oscar voters, and its good (but not great) showing when it had home-court advantage at BAFTA is only slightly more promising. It needs significant wins.
"Top Gun: Maverick"
Current status: The movie that "saved" Hollywood (at least Steven Spielberg said so), and might deserve some awards for doing that.
Best-case scenario: Wins Producers Guild. Since it's not nominated for any SAG awards, its fate is entirely in the hands of the PGA. And that's probably where Tom Cruise, Jerry Bruckheimer & Co. would like it to be. The producers are the body of voters presumably most likely to appreciate the impact of the box-office returns for the blockbuster "Top Gun" sequel—so if it has any chance of winning the big one, it has to start here.
Good scenario: There is no middling scenario for this movie. It has one nomination from the PGA and none from SAG, so it has to win that one.
Worst-case scenario: Something else wins PGA and everybody writes off "Top Gun."
"The Fabelmans"
Current status: The former frontrunner that faded.
Best-case scenario: It wins PGA and SAG ensemble, of course, and capitalizes on all the goodwill that exists for Steven Spielberg. (The recent Directors Guild Awards included a parade of directors talking about how much they idolized Spielberg, who then watched two of those adoring disciples, Daniel Kwan and Daniel Scheinert, beat him for the top award.)
Good scenario: It wins either PGA or SAG, and Spielberg gets some more attention on top of his moving recent speech at the Berlin International Film Festival.
Worst-case scenario: The film that seemed to be the likeliest Best Picture winner when it premiered in (and won the audience award at) the Toronto International Film Festival once again misses out on any awards and sinks further into also-ran status.
"All Quiet on the Western Front"
Current status: Potential spoiler, huge question mark.
Best-case scenario: Different movies win on Saturday and Sunday, and everything remains confusing. There's nothing this German-language war movie can itself do at the PGA or SAG Awards, because it wasn't nominated for either of them. (And it wasn't nominated for the DGA or WGA Awards, either.) But the last few years have taught us that precedent means less and less at the Oscars, and "All Quiet" has enough Oscar nominations (nine, tied with "Banshees" and second only to "Everything Everywhere") to show real strength throughout the branches. Aside from Best Picture, it was nominated by voters in the Cinematographers, Designers, Makeup and Hairstyling, Music, Sound, Visual Effects and Writers Branches, tying it with "Elvis" for the most individual-branch nominations of any Best Picture nominee. Unprecedented as it would be, BAFTA's big winner has the potential to forge the kind of consensus that wins in the top category.
Good scenario: There's no real gradation here for "All Quiet." If nothing comes out of the weekend as a clear favorite, it's helped. If something else gets a boost, it's hurt.
Worst-case scenario: "Everything Everywhere All at Once" wins both PGA and SAG Ensemble and assumes the air of a dominant frontrunner, and on Oscar night "All Quiet" has to "settle" for Best International Feature Film and a couple of below-the-line awards.
"Avatar: The Way of Water," "Elvis," "Tár"
Moving to the films for whom a Best Picture win seems unlikely, "Elvis" would, of course, be helped by a PGA win and a SAG win for Austin Butler. "Tár" could wiggle out of the "critics' movie" column with a win at PGA, however remote that possibility is. The PGA could also help "Avatar," though it's in nowhere near as strong a position as its 2009 predecessor.   
"Triangle of Sadness," "Women Talking"
The former film isn't nominated by the PGA or SAG. The latter has a SAG ensemble nom, and a win would obviously make it more visible to Oscar voters.