Director Edgar Wright's newest genre-blending bouillabaisse "Last Night in Soho" opens nationwide this week. Full of all the touchstones that fans of Wright's work know and love — with some fresh new twists thrown in for good measure — it's enough to make you want to have an Edgar Wright movie marathon soon after. And it's with this in mind that we decided to reappraise his entire filmography, from the good to the very greatest. How's that for a slice of fried gold?
8. A Fistful of Fingers (1995)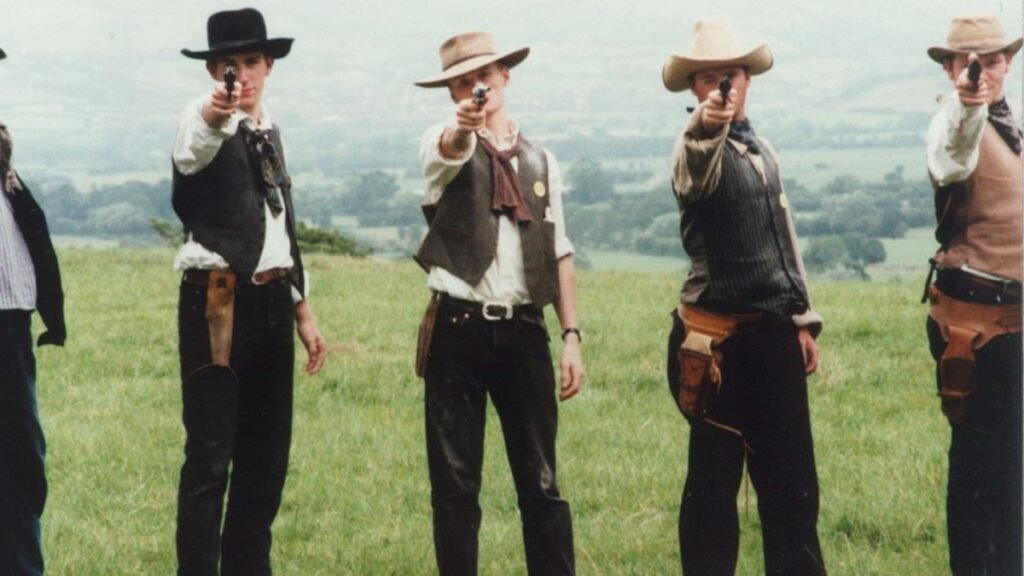 Wright's first feature — made for $15,000, barely feature-length and never commercially released — is a silly send-up of spaghetti westerns that is more a curio for die-hard fans than anything else. (You can find grainy copies online.) While the movie is undeniably goofy and amateurish (there are also several gags that feel truly cringe in 2021, like when a stick of dynamite goes off in front of a white character and they appear to have Black face afterwards). But there are also glimpses at what would become Wright's hallmarks – splashes of ultra-violence, finely tuned editorial flourishes, jokes that combine visual humor with razor-sharp writing and a seemingly encyclopedic knowledge of all things cinema. Wright has said that he would like to give the movie a proper release one day, complete with a commentary track. Let's hope it happens.
7. Hot Fuzz (2007)
The middle chapter in the so-called Three Flavors Cornetto trilogy, which Wright co-wrote with leading man Simon Pegg, is the bumpiest of the bunch. A celebration of Tony Scott and Michael Bay-style macho action movies set in a sleepy English hamlet, "Hot Fuzz" is a lot of fun but ultimately wares out its welcome. (At a staggering 121 minutes, it is far too long.) In this installment, Pegg plays Nicholas Angel, a goodie-two-shoes metropolitan cop who is transferred to the village of Sandford, Gloucestershire. That's where he befriends dimwitted cop Danny Butterman (Nick Frost) and uncovers a murderous conspiracy amongst the villagers, who will do anything to maintain their idyllic community. That's a lot to chew on, even before the layers of pop culture references, balletic action sequences and too many characters to count (played, wonderfully, by performers like Jim Broadbent, Paddy Considine and Timothy Dalton). Grafting an adrenalized buddy cop movie into a sleepy British countryside murder mystery was already ambitious before adding on flashes of Italian slasher movies and notes of British folk horror. Still, it's hard to fault a movie for attempting too much, and "Hot Fuzz" remains a blood-splattered joy.
6. Baby Driver (2017)
After consciously uncoupling from Marvel Studios over the direction of his long-in-the-works "Ant-Man" movie (spoiler alert: the movie ended up just fine), Wright announced his next project would be "Baby Driver." A pseudo follow-up to the Mint Royale video he'd directed in 2003, Wright has described "Baby Driver" as a type of musical, thanks to the way the elaborate car chases and shootouts are timed specifically, both in terms of the performance on set and later in editorial, to songs that the title character (Ansel Elgort) plays on one of his many iPods. (In one of the very best moments in the film, he has to re-start a song because it isn't syncing perfectly enough with a bank heist.) "Baby Driver" is the only film Wright has written by himself, and you feel like he's sometimes trying to get a collection of long-simmering ideas onto the screen more than working about the particulars of the story or characters. (The recent Geena Davis documentary "This Changes Everything" on Netflix rightfully roasts the film for its wafer-thin characterization of Lily James' Debora.) Points are also deducted for the inclusion of Kevin Spacey as Baby's mobster father figure, who in the years since the movie's release has been publicly disgraced. (The jury's still out for how icky we should be feeling about Ansel.) There's no denying the dexterous inventiveness of the many car chases and action set pieces, how terrific the soundtrack is and how much fun the supporting cast is clearly having (including Jon Hamm, Eiza Gonzalez, Jamie Foxx and Paul Williams). The movie is also notable for being forced to shoot in Atlanta for tax purposes but feeling like it was actually meant to be set in Atlanta. That's no easy feat.
5. Scott Pilgrim vs. the World (2010)
Wright's long-gestating adaptation of Bryan Lee O'Malley's beloved indie comic book (which he first read during the press tour for "Shaun of the Dead") is arguably his most visually ravishing movie. Taking inspiration from the original comic book, 8-bit videogames, Japanese anime and everything from Mario Bava horror films to Brian De Palma's gonzo 1974 musical "Phantom of the Paradise," "Scott Pilgrim vs. the World" is a Kung Fu rom-com, swoony and love drunk with the limitless possibilities of cinema. Michael Cera plays the title role, a sad sack Canadian who falls in love with Ramona Flowers (Mary Elizabeth Winstead), a mysterious American who has a cadre of evil exes who Scott must defeat in increasingly over-the-top sequences (my favorite is the face-off with the Katayanagi twins). With a supporting cast that includes Chris Evans, Brie Larson, Anna Kendrick, Kieran Culkin and Jason Schwartzman, "Scott Pilgrim vs. the World" drifts from one fight sequence to the next, with interstitial material that usually involves some kind of interpersonal banter or a big musical number. (Wright ingeniously hired different musicians to create music for different characters within the film – Metric wrote the song for Larson's Clash at Demonhead, and Beck penned song for Scott Pilgrim's band the Sex Bo-ombs.) Taken as a whole, "Scott Pilgrim vs. the World" is a lot. Mileage will certainly vary (Universal assumed they had a hit on their hands, but it fizzled at the box office, only gaining momentum in the past decade as a cult favorite), and it once again fails its mostly underwritten female characters (the concept, in 2021, of making emotional baggage something to be hidden and vanquished is pretty lame). But as a pure visual feast, Wright has yet to top it.
4. The Sparks Brothers (2021)
For Wright's first foray into documentary filmmaking, he chose a fascinating subject: the American pop duo Sparks (brothers Ron and Russell Mael), musicians who are as deeply under-appreciated as they are hugely influential. Wright takes a surprisingly straightforward approach, as a series of talking interviews with those who are fans of the band (everybody from Beck to Mike Myers) and those who collaborated alongside them (Giorgio Moroder, Alex Kapranos, Jane Wiedlin) unspool alongside animated interstitials (Simon Pegg and Nick Frost provide voices during these segments) and light fly-on-the-wall footage of the brothers going about their lives today. "The Sparks Brothers" is galvanizing, largely because the band's music is so good and even if you know of them, chances are whoever you're watching the movie with does not. As the movie chugs along, it unfortunately falls into a standard "and then the next album happened" format that occasionally feels frustrating, not just because it is such a staple of these kinds of documentaries, but because of the pieces of their life and career that are casually sidestepped. (Things like their failed collaboration with Tim Burton and a truly bewildering appearance on "The Gilmore Girls" would have made for fascinating documentary film fodder.) Still, "The Sparks Brothers" had a very clear agenda – get more people interested in Sparks, a band that should have much more recognition than they already do. Hopefully it moved the needle in the right direction.
3. Last Night in Soho (2021)
With "Last Night in Soho," Wright returns to the horror genre (sort of) with what is arguably his most mature and sophisticated film yet. The film starts off as a sort of coming-of-age fable about young Eloise (Thomasin McKenzie), who moves to London from the British countryside (a reverse "Hot Fuzz" if you will) to attend fashion school. Of course, she gets more than she bargained for, and is soon leasing a room from an eccentric old lady (Diana Rigg, who passed away shortly after filming concluded). That's when things take a decidedly hard left turn. Eloise is obsessed with 1960s London and soon finds herself visiting that time and place, inexplicably linked to a singer named Sandie (Anya Taylor-Joy). From there, the narrative goes in some truly wild directions, and explaining it would ruin the fun. "Last Night in Soho" takes some big swings; whether or not they all connect is up for the viewer to decide. Working with brilliant South Korean cinematographer Chung Chung-hoon, Wright conjures a London that is both dangerous and beautiful, full of greasy neon lighting and even greasier men. (His swinging '60s soundtrack selections and the score by Steven Price are as impeccable as always.) This is Wright growing as a filmmaker, someone who is doubling down on previous thematic concerns (chiefly the potential foolhardiness of romanticizing the past) while also expanding his visual sensibilities and changing his formula for the better; this is his first movie with a female lead. It's also genuinely scary and unsettling, in a way that Wright's previous films never were. And while there are some missteps in the final act, the movie ends on a note so delicious that it really makes it hard to complain about what came before.
2. Shaun of the Dead (2004)
After directing two seasons of the delightful British sitcom "Spaced," he teamed with the show's co-creator and star Simon Pegg for a feature. Enlisting several of the show's co-stars (including Nick Frost), they paid homage to George Romero's "Night of the Living Dead" (building off of an episode of the show loosely modeled after zombie videogame "Resident Evil"), injecting it with a truly British sensibility and, of course, combining it with a gentle lampooning of romantic comedy tropes. "Shaun of the Dead," on the forefront of the zombie renaissance (there are references to everything from Danny Boyle's "28 Days Later" to Italian horror filmmaker Lucio Fulci), is the rare horror comedy that is actually scary and actually funny. Shaun (Pegg) is a London schlub who works at an electronics store and whose best friend Ed (Frost) is dragging behind him in terms of responsibility and maturity. (His friendship with Ed causes conflict between Shaun and his girlfriend and his roommate.) As Shaun is trying to figure his life out, a zombie outbreak hits London, causing further chaos. The movie is an absolute romp, a breathlessly paced thrill ride of the highest order. In many ways, it announced Wright as a major talent, all while establishing what we could expect from him in the years to come – a thoughtfully curated soundtrack, inventive camerawork, a surgically precise editorial rhythm and a gleeful willingness to combine unfamiliar genres into a single, satisfying whole. He's still continuing on this trajectory today, and we couldn't be happier.
1. The World's End (2013)
Wright wrapped up his genre-bending trilogy of friends with Simon Pegg with his most ambitious and best film. It's a doozy. "The World's End" concerns a group of friends (including Pegg, Nick Frost, Martin Freeman, Paddy Considine and Eddie Marsan) who return to their hometown to complete the "Golden Mile," an epic pub crawl that has them visiting 12 different bars. While there, though, they realize the quaint hamlet they once called home is altogether different – or maybe it's altogether the same? – with a large portion of the townsfolk replaced by otherworldly automatons. The film combines inspiration from "Invasion of the Body Snatchers," John Wyndham's "The Midwich Cuckoos" and Jackie Chan's "Drunken Master," alongside a parable about the dangers of homogenized consumerism and the unreliability of nostalgia. "The World's End" is such an endlessly invigorating watch (and rewatch), with each pub they encounter correlating to a story point and the 12 pubs relating to the 12 steps of recovery (one aspect of Pegg's journey is him stumbling toward sobriety). It's perhaps Wright's most dense movie, full of visual embroidery (the flashback at the beginning to the characters as children coincides with the arrival of the extraterrestrial artificial intelligence; just look for the shooting star) and textual depth (each character is named after a station in the royal court). This also might be Wright's best soundtrack, if only because there's a sort of musical number set to Kylie Minogue's "Step Back in Time," and for that we must applaud it. If this is the final movie that Wright, Pegg and Frost make together, they will have ended on a high note – full of nuance, grace and a kind of mournful melancholy new to their collaborations (Pegg in particular will break your heart). Rich and rewarding, "The World's End" is Wright at his very best.