While January ushers in a fresh start to the year, this month also unveils a new slate of binge-worthy shows. Most eye-catching on our list of some of the best new shows to stream this month is a new murder-mystery howdunit from "Glass Onion" writer-director Rian Johnson, video game-based adaptation starring Pedro Pascal and Bella Ramsey, a revival of the beloved "That '70s Show" and a dark comedy starring Jason Segel and Harrison Ford, all of which can be found on Netflix, HBO Max, Amazon Prime Video, Hulu, Peacock, Paramount+ and AMC+ this month.
Check out our curated list of some of the best new shows to stream in January 2023 and where and when you can stream them.
"Ginny & Georgia" Season 2 (Netflix)
The sophomore season of "Ginny & Georgia," created by Sarah Lampert with Debra J. Fisher serving as showrunner, shifts tonally, but remains bingeable with its countless storylines about the messiness of life. Ginny (Antonia Gentry) struggles to process her mother Georgia's (Brianne Howey) dark past, but eventually the mother-daughter duo reunites to overcome a greater big bad that threatens everything Georgia has worked for in Wellsbury. From the show's portrayal of diverse experiences like Ginny's mixed race, the Baker twins' deaf father and a layered family dynamic to its varied soundtrack, the target audience stretches far and wide. Readers will especially love all of the literary references, since Ginny herself loves writing and English. Emotional scenes between characters, accurate representation of mental health, Georgia's bachelorette, she and Paul's wedding and Wellington (which echoes "Bridgerton") round out the many reasons to watch Season 2. Georgia's ambiguous actions will leave watchers questioning what is black and white — diving deeper into the gray areas — of life. Buckle up, peaches!
"The Last of Us" (HBO)
All the buzz about "The Last of Us" alone makes it worth putting on your watchlist. The latest video game-based adaptation starring Pedro Pascal and Bella Ramsey has received much praise after its premiere on Jan. 15, with new episodes rolling out weekly. Adapted from the Naughty Dog video game, the HBO series follows Joel (Pascal), a survivor of the apocalypse, who is hired to smuggle Ellie (Ramsey) out of a quarantine zone 20 years after modern civilization has fully declined. Craig Mazin ("Chernobyl") wrote and co-showruns the series alongside Naughty Dog co-president Neil Druckmann. HBO wastes no resources in world building, as this is as rich and emotional a world as we've come to expect from big HBO shows.
"That '90s Show" (Netflix)
Hello Wisconsin! The iconic "That '70s Show" basement is back in business with a new group of mischievous teens in the revival series "That '90s Show." Picking up in 1995, over a decade after the original left off, the spinoff builds on the legacy of its predecessor by following Eric and Donna's daughter, Leia Forman (Callie Haverda), as she sets off to visit her grandparents Kitty (Debra Jo Rupp) and Red (Kurtwood Smith) in a welcome break from her parents. As Leia longs for an adventure, her prayers are answered when she meets Gwen, her rebellious next-door neighbor who introduces her to her brother and their friends. With a new generation of troublemakers to keep them busy, Kitty is enthusiastic to have the house filled with the friends while Red remains his curmudgeon self. If you're feeling nostalgic for the beloved sitcom, "That '90s Show" promises to tug on your heartstrings with cameos from OGs Ashton Kutcher, Mila Kunis, Wilmer Valderrama, Laura Prepon and Topher Grace plus a killer '90s playlist.
"Mayfair Witches" (AMC+)
Based on the first novel in the "Lives of the Mayfair Witches" trilogy, "Mayfair Witches" stars Alexandra Daddario as Dr. Rowan Fielding, a neurosurgeon hailing from a long line of witches. As Rowan struggles to master her newfound powers — guided by a slate of well-versed witches — she must also confront a sinister presence that has threatened the fate of her family for generations before the being makes Rowan its next target. Centered in the haunted Mayfair House, the eight-episode Anne Rice adaptation from the executive producer of "Better Call Saul," will kickstart the thrills and chills while Daddario' striking performance makes for an engaging watch.
"Poker Face" (Peacock)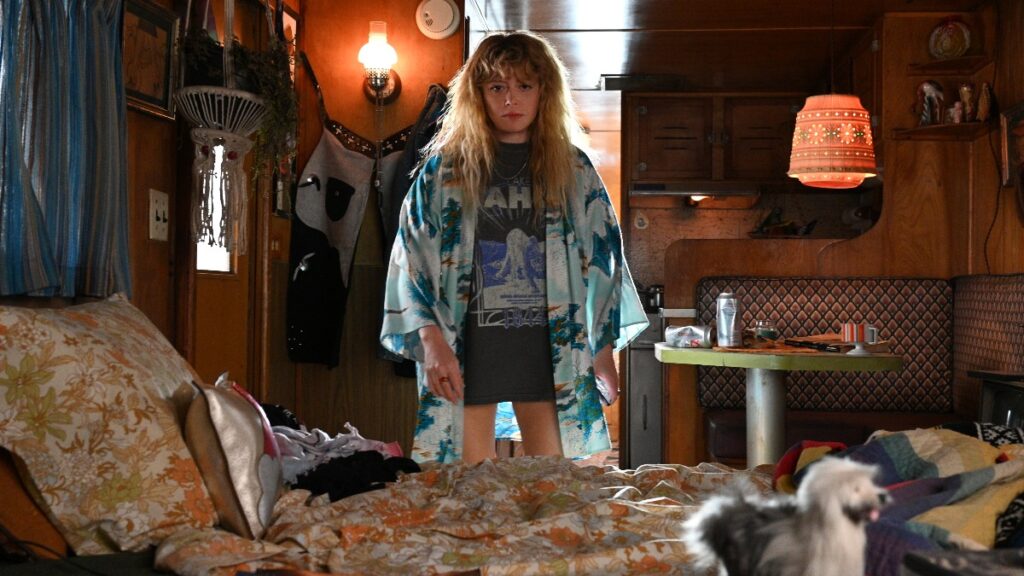 If you loved "Glass Onion" and are craving a bit more Benoit Blanc, look no further than "Poker Face," hailing from "Glass Onion" writer-director Rian Johnson. The Peacock original series introduces Natasha Lyonne as Charlie, a self described "death magnet" who can't help but solve every murder she sees as her razor-sharp intuition acts as a human lie detector. As she travels in her Plymouth Barracuda across the country, she makes it her mission to unravel mysteries of each shady figure she encounters. If you weren't sold yet, the ten-part first season — which marks the Oscar nominee's first TV show he created himself — features a rotating slate of top notch guest stars, including Adrien Brody, Chloë Sevigny, Hong Chau, Jameela Jamil, Stephanie Hsu, among others.
"Shrinking" (Apple TV+)
Have you ever wished your therapist would tell you the unfiltered version of exactly what they think you should do? Jason Segel stars as a grieving therapist who decides to take a new, arguably unethical approach to his job in Apple TV+'s new dark comedy "Shrinking." After the devastating loss of his wife, Segel, naturally, finds himself to be stuck in a rut — a feeling that begins to dissipate when he starts practicing radical honesty in every arena of his life — including with his patient. After blurting out that his patient should leave her toxic husband — and his advice is taken — Segel finally feels relief through this breakthrough, which gives him hope that things will get better. Harrison Ford stars alongside Segel in the comedy also featuring Jessica Williams, Christa Miller, Luke Tennie, Michael Urie and Lukita Maxwell.
"Hunters" Season 2 (Prime Video)
Season 2 of Prime Video's "Hunters" concludes the series, picking up three years after the first season which starts in the late '70s New York. The show's star squad includes M16 agent and nun Sister Harriet (Kate Mulvany), hacker and Black Power alum Roxy Jones (Tiffany Boone), Holocaust survivor Mindy Markowitz (Carol Kane), intel specialist Lonny Flash (Josh Radnor), former Marine Joe Torrance (Louis Ozawa Changchien) and new leader/codebreaker Jonah Heidelbaum (Logan Lerman). Jerrika Hinton's role of FBI Agent Hunter Millie Morris expands as well. The group of talented individuals seeks out and kills Nazis. The second season explores more of the "why's" than the "who's," and even though Ruth Heidelbaum (Jeannie Berlin) and Meyer Offerman aka Wilhelm Zuchs (Al Pacino) died in the first season, their characters reappear in flashbacks in the second and final installment. Created by David Weil, "Hunters" is executive produced by Jordan Peele.
"The 1619 Project" (Hulu)
Pulitzer Prize-winning journalist Nikole Hannah-Jones, who covers racial injustice for The New York Times Magazine, created "The 1619 Project," a series which draws attention to the 400th anniversary of the beginning of American Slavery. Started in 2019, the ongoing initiative includes a series of essays, a podcast, a book by Jones and now this docuseries, told through the lens of Jones' personal story. The docuseries confronts how the construct of race has seeped into every aspect of life in America, from voting to policing to music. The six-part series lands on Hulu Jan. 26, with episodes titled Democracy, Race, Music, Capitalism, Fear and Justice.
"Wolf Pack" (Paramount+)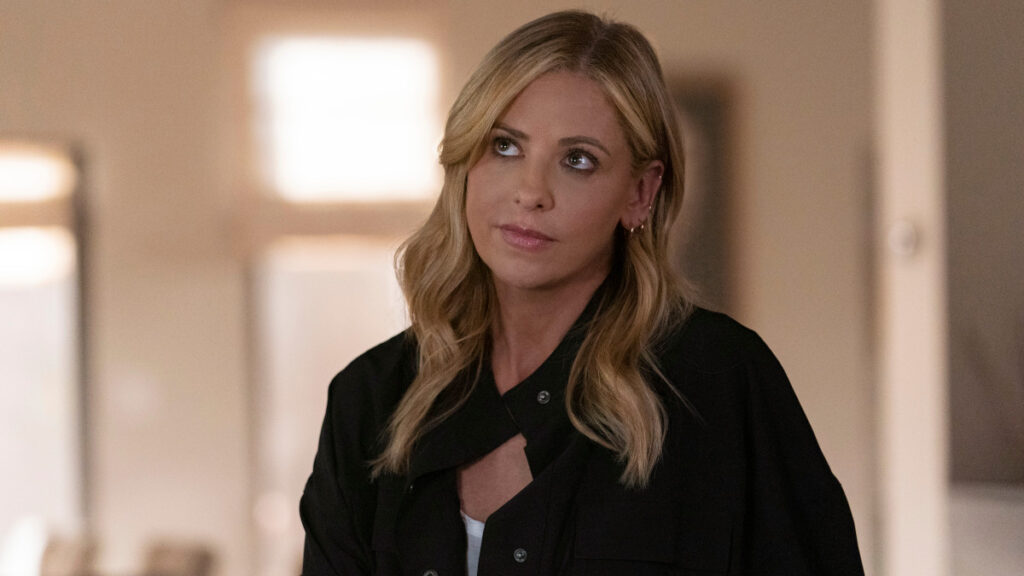 Based on Edo Van Belkom's book series, "Wolf Pack," starring Sarah Michelle Gellar, Rodrigo Santoro, Armani Jackson and Bella Shepherd, hits Paramount+ Jan. 26. Gellar, who will be trading vampires for werewolves, executive produces alongside the lupine expert Jeff Davis ("Teen Wolf"). The lives of Everett (Armani Jackson) and Blake (Bella Shepard) drastically change when a California wildfire awakens a supernatural force that attacks their school bus near the blaze. The two teens gravitate toward each other, and when they meet two other teens adopted sixteen years earlier by a park ranger after another fire, the pack assembles under the full moon. Kristin Ramsey (Sarah Michelle Gellar) enlists the help of Garett Briggs (Rodrigo Santoro) to track down kids wounded in the attack. The show will also star Chloe Rose Robertson ("Wildflower") as Luna, and Tyler Lawrence Gray ("Our Town," "Macbeth") as Harlan.
"Lockwood & Co." (Netflix)
Ruby Stokes, who plays Francesca in the Netflix drama series "Bridgerton," leads the cast of this latest book to TV series adaptation alongside Cameron Chapman and Ali Hadji-Heshmati. The adaptation from Jonathan Stroud's book series is produced by Complete Fiction and directed by Joe Cornish ("Attack My Block"). The eight-episode Netflix original releases globally Friday Jan. 27. Lucy Carlyle (Stokes) discovers her gift for sensing paranormal activity. She teams up with Anthony Lockwood (Chapman) and George Karim (Hadji-Heshmati) to create a ghost detection agency. Lockwood & Co rivals any adult-lead initiative, bringing the trio into deadly confrontations with spirits of all kinds. The cast also includes Ivanno Jeremiah ("Humans"), Luke Treadaway ("Ordeal by Innocence") and Morven Christie ("The Bay"). Edgar Wright is an executive producer.
"Cunk on Earth" (Available Jan. 31 on Netflix)
Comedian Philomena Cunk is raising the stakes as she makes it her mission to tell the wide-spread story of civilization in this witty mockumentary. As Cunk pieces together the greatest inventions that got us to where we are today, she asks experts hard-hitting questions, including, but not limited to, "What was the Soviet onion" and "Do we know if China has a roof?" Determined to unveil the largest secrets of the world, Cunk sets sail across the globe to investigate the progress of humanity — and what's left to come. If you need a laugh — or desperately need to have an existential crisis — throw on this humorous series.