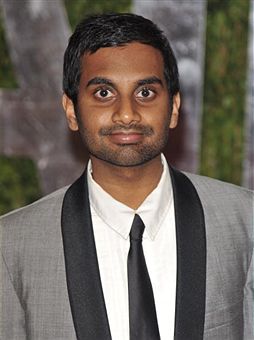 In today's Callbacks — your daily roundup of casting news from Deal Central — Aziz Ansari takes "30 Minutes or Less," Winona Ryder makes a major comeback and a trio of tough guys circle Tony Scott's latest crime drama.
• Aziz Ansari (NBC's "Parks and Recreation") is about to land his first lead movie role and I have to say, it's about damn time.
The stand-up comedian is in negotiations to star in director Ruben Fleischer's action comedy "30 Minutes or Less," according to the Hollywood Reporter.
Ansari will play a history teacher who is forced to rob a bank with his best friend (a pizza-delivery man) when a pair of a white trash criminals strap a bomb vest to the latter. Danny McBride (HBO's "Eastbound & Down") has been rumored to play the leader of the dimwitted bad guys.
Ansari has been relegated to scene-stealing supporting actor for far too long in films like "Observe and Report" and "Funny People." I'm glad he's been giving a chance to topline his own movie, and I hope the studio finds someone equally funny to pair him with, such as a fellow NBC Thursday night actor of color like "Community" stars Donald Glover or Danny Pudi.
Michael Diliberti and Matthew Sullivan wrote the Black List script which Fleischer chose as his "Zombieland" follow-up over "Mission: Impossible IV," a bold move that indicates Fleischer is interested in more than just a studio paycheck.
Ansari will embark on a stand-up tour this summer while on hiatus from his NBC sitcom. He's developing several comedies at Universal with director Jason Woliner and producer Judd Apatow.
Ansari next appears in "Get Him to the Greek," the quasi-sequel to "Forgetting Sarah Marshall" starring Jonah Hill and Russell Brand. He's also been rumored to host the MTV Movie Awards, which would be a high-profile gig for the up-and-coming actor.
• Jennifer Garner is in talks to join Winona Ryder in the cast of Ron Howard's untitled infidelity comedy for Universal and Imagine, according to the L.A. Times and Deadline, respectively.
Ryder will play Kevin James' wife whose infidelity is discovered by her husband's best friend (Vince Vaughn), who confronts her directly and struggles with whether or not to spill the beans. Allan Loeb ("Wall Street 2: Money Never Sleeps") wrote the script based on an idea by Imagine's Brian Grazer.
The project marks a comeback for '80s icon Ryder, who beat out Kate Beckinsale, Carla Gugino and Uma Thurman for the coveted role, according to Entertainment Weekly. She recently wrapped "Black Swan," Darren Aronofsky's highly anticipated follow-up to "The Wrestler" and last appeared in "Star Trek" and "The Informers."
Garner last appeared in the ensemble of "Valentine's Day." She previously starred opposite Ricky Gervais in "The Invention of Lying," which I ordered last night On Demand and found to be fairly excruciating. She next stars in "Butter," which just added Rob Corddry and Ashley Greene to its cast.
The title is unclear at the moment but it could be anything from "Cheaters" to "Your Cheating Heart." Filming begins next month in Chicago.
• Javier Bardem, Jason Statham and Mickey Rourke are circling Tony Scott's "Potzdamer Platz," a drama about two soldiers in a New Jersey-based crime family
who try to expand internationally, reports Deadline.
Scott's production company Scott Free first acquired Buddy Giovinazzo's script in 2000, and has since hired "Sexy Beast" writers David Scinto and Louis Mellis to pen a rewrite.
20th Century Fox will have first crack at the project since Scott Free is based there, though a half-dozen other companies are also interested in the $38 million drama, which is currently seeking financing and distribution so it can make its proposed start date this fall.
The film will likely be released under a different title, as "Potzdamer Platz" refers to a train station/commerce center in Germany, and the story's setting is being changed to Puerto Rico.
Scott was hoping to lure his "Crimson Tide" star Gene Hackman out of retirement but his return to the bigscreen appears unlikely. His last film was 2004's "Welcome to Mooseport."
Scott's next film will be Fox's runaway train drama "Unstoppable," starring Denzel Washington and Chris Pine of "Star Trek" fame. I guess this means Scott's proposed remake of "The Warriors" will continue to sit on the back burner.
"Potzdamer" marks the third project that will star Statham and Rourke, who also appear in Gela Babluani's "13" and Sylvester Stallone's "The Expendables."
To be honest, Scott has lost me with his last few movies. "The Taking of Pelham 123" should've been a can't-miss movie that wound up being barely better than a trainwreck. "Deja Vu" had its moments but failed to stick the landing, and don't even get me started on "Domino," which was an over-edited nightmare. Meanwhile, I loved "Sexy Beast" but was severely disappointed by Scinto & Mellis' "44 Inch Chest." They do write some juicy tough guy dialogue though.
Also reported on Deal Central today:
• Ashley Greene and Rob Corddry have joined the cast of Jim Field Smith's "Butter"
• Vera Farmiga will star in and make her directorial debut with "Higher Ground"
• Vanessa Hudgens has been cast in Neil Patrick Harris' adaptation of the musical "Rent"
• Jim Carrey and Ewan McGregor's gay comedy "I Love You Phillip Morris" was delayed indefinitely by its distributor