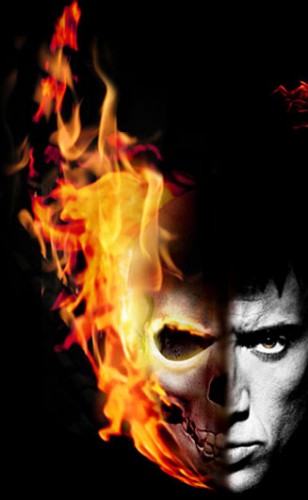 In today's Callbacks — your daily roundup of casting news from Deal Central — Nic Cage considers another "Ghost Rider" movie from the makers of "Crank," possible "Three Musketeers" director Doug Liman circles WB's "All You Need Is Kill," Disney president Rich Ross makes a Jerry Bruckheimer project walk the plank, Oren Uziel will write "Just Another Love Story" for "Spider-Man" director Marc Webb and "The Karate Kid" gets an inevitable sequel on the heels of its impressive opening weekend haul.
Previously on Deal Central: Patrick Dempsey will play "Tom's Dad" for director Lasse Hallstrom and producer Johnny Depp, "Battlestar Galactica" veteran Michael Hogan joins the cast of WB's "Red Riding Hood," Robert Downey Jr. steps into Steve McQueen's shoes, Martin Sheen joins the CIA, and Sam Raimi is off to see The Wizard of Oz.
• "Sorceror's Apprentice" star Nicolas Cage and "Crank" directors Mark Neveldine and Brian Taylor are in early negotiations to team up for Columbia's "Ghost Rider: Spirit of Vengeance," according to the Hollywood Reporter.
Cage would reprise his role as Johnny Blaze, a stunt motorcyclist who makes a deal with the devil in order to save the life of a loved one. As a result, his soul is twinned with that of a demon, and he becomes a man with a flaming skull who rides a motorcycle from hell.
I can't believe I just typed that ridiculous sentence. I really thought Cage's career had turned a corner with "Bad Lieutenant: Port of Call – New Orleans" and "Kick-Ass" but I guess I was wrong. It's a shame the Oscar-winning actor can't find a thoughtful drama (like "Leaving Las Vegas") to remind people that he can actually, you know, act.
Scott Gimple and Seth Hoffman have already written the "Spirit of Vengeance" screenplay (awful title, by the way) based on a story by David Goyer ("The Dark Knight"). Neveldine and Taylor may rewrite the script, but that hasn't been decided at this point. Plot details, as if those silly little things matter, remain under wraps, and it's unclear whether any characters from the original besides Blaze will appear, though Eva Mendes is not expected to return.
Apparently, Columbia hopes to put the film into production by late fall because the rights to the franchise will revert back to Marvel if the studio doesn't act on a sequel before November. They even considered the possibility of moving forward with the project without Cage, who just signed on to star in the Nu Image/Millennium thriller "Trespass," which begins shooting in August.
Avi Arad, Ari Arad, Michael De Luca and Stephen Paul are producing the sequel, while Goyer and Mark Steven Johnson will exec produce. The original "Ghost Rider," directed by Johnson, earned nearly $230 million worldwide.
Neveldine/Taylor (as they prefer to be credited) recently directed "Gamer" and also wrote the screenplay for WB's ugly-looking "Jonah Hex." CAA represents Cage, while UTA represents Neveldine and Taylor.
• "Fair Game" director Doug Liman is reportedly circling Warner Bros.' drama "All You Need Is Kill" as speculation flies that the studio has cooled on his "Three Musketeers" project, according to Deadline.
Summit and director Paul W.S. Anderson's 3D take on "The Three Musketeers" begins filming this summer with a pretty solid cast, so quite frankly, I never really saw the point in rushing a dueling project.
WB acquired Dante Harper's adaptation of Hiroshi Sakurazaka's "All You Need Is Kill" in a seven-figure spec deal earlier this year. The story follows a soldier who is pressed into battle against a superior alien species, gets killed in action, and relives his last day alive over and over. Eventually, he sees things change and becomes a better warrior as he discovers hints that might be the key to altering the outcome.
Sam Raimi recently met with WB on the project before committing to Disney's "Wizard of Oz" prequel, and Liman will be sitting down with studio execs later this week.
• Disney president Rich Ross has evidently nixed a high-profile WWII project from producer Jerry Bruckheimer because it didn't fit the studio's family-friendly franchise mandate, according to Deadline.
Bruckheimer spent two years developing an adaptation of Steven Pressfield's historical novel "Killing Rommel," which chronicles a British battalion's daring attempt to capture German Field Marshal Erwin Rommel, whose Panzer tanks were overrunning the North African desert and driving Winston Churchill crazy. The tone of the project is described as "Mad Max" meets "The Dirty Dozen."
Pressfield ("The Legend of Bagger Vance") wrote several drafts with Randall Wallace, who's no stranger to war movies, having written "Braveheart," "We Were Soldiers" and Disney's WWII epic "Pearl Harbor."
Ross previously jettisoned an adaptation of "20,000 Leagues Under the Sea" and the "Wild Hogs" sequel, but this is the first Bruckheimer project to be dropped.
The decision leaves Deal Central wondering what will become of Bruckheimer's long-gestating, highly-anticipated (at least by me) adaptation of Lorenzo Carcaterra's "Apaches," another hard-R movie about a group of retired cops who continue to fight crime. TheWrap's calls to Disney were not immediately returned.
The last time Bruckheimer made a non-Disney movie was "Black Hawk Down," which the producer moved to Revolution Studios. Bruckheimer is currently in Hawaii overseeing the production of "Pirates of the Caribbean: On Stranger Tides."
• Oren Uziel will write Mandate Pictures' remake of Ole Bornedal's Danish thriller "Just Another Love Story," reports Variety.
"Spider-Man" director Marc Webb is attached to direct and produce the project, which he may shoot after wrapping Sony's superhero reboot.
The story follows a photographer who pretends to be the boyfriend of a woman with amnesia and then must elude the woman's real boyfriend who is bent on revenge.
Mandate president Nathan Kahane will exec produce with James Mangold, Cathy Konrad, Michael Obel and Bornedal. Nicole Brown will oversee the project for Mandate.
Uziel previously sold "Shimmer Lake" to Fox Atomic, and recently wrote the script for Kevin Tancharoen's fairly awesome "Mortal Kombat" short film.
• And finally, Deadline reports that Sony's Columbia Pictures execs are beginning to meet with writers to generate ideas for a sequel to "The Karate Kid" after the remake took in a surprising $56 million its opening weekend.
I loved Harald Zwart's remake and honestly, I haven't seen a public audience cheer that loud (during the final tournament) in years. A sequel is simply a matter of inevitability. But the studio had better strike while the iron's hot — and before star Jaden Smith experiences a growth spurt.
If I were pitching Sony, I'd have Dre Parker return to Detroit and use his kung fu moves on some inner city punks. Imagine "The Crow" meets "Gran Torino" for teens!
In related news, Zwart confirmed to MTV that he's attached to direct a movie based on the popular computer game "RollerCoaster Tycoon." Jay Scherik and David Ronn are working on the screenplay.