Scale matters in streaming, and even with NBCUniversal titles, Peacock just isn't big enough yet
If Comcast is serious about its streaming ambitions, it must weigh its two most likely expansion plans: Buying out Disney's ownership stake in Hulu or an M&A with a competitor.
In its first-quarter earnings, Comcast showed impressive growth in Peacock subscribers to 22 million. But while revenue was up 45%, Peacock's losses were mounting ($704 million vs. $456 million a year ago), the NBCUniversal parent reported Thursday.
Become a member to read more.
Questions remain about Comcast's endgame with both Peacock and NBCUniversal as a whole. Can a major SVOD succeed with demand mostly driven by library titles like Peacock? How much more money is Comcast CEO Brian Roberts willing to part with before Peacock turns a profit? The streamer is set to lose $3 billion in 2023, after a $2.5 billion loss in 2022.
Buying out Disney's stake in Hulu would likely cost nearly $20 billion, and would probably put an acquisition of Warner Bros. Discovery or Paramount Global off the table. Whether it's the Hulu buyout option or an M&A with a competitor, Comcast needs to make a move if it wants to be a top player in the streaming era long-term, Parrot Analytics' viewer demand data shows.
Parrot Analytics data — which takes into account consumer research, streaming, downloads and social media, among other engagement — shows one contributor to Peacock's results: a jump in demand for the platform's originals in the quarter. Peacock's share of U.S. demand for its original series hit a new high in the first quarter of 2023, with the debut of "Poker Face" and Season 2 of "Bel-Air" both setting records for peak U.S. demand for the streamer's catalog. 
Our Content Valuation analysis has found that "Poker Face" is a powerful subscriber acquisition driver for Peacock. Peacock's investments in original content are clearly paying off in subscriber growth by providing people a powerful incentive to sign up.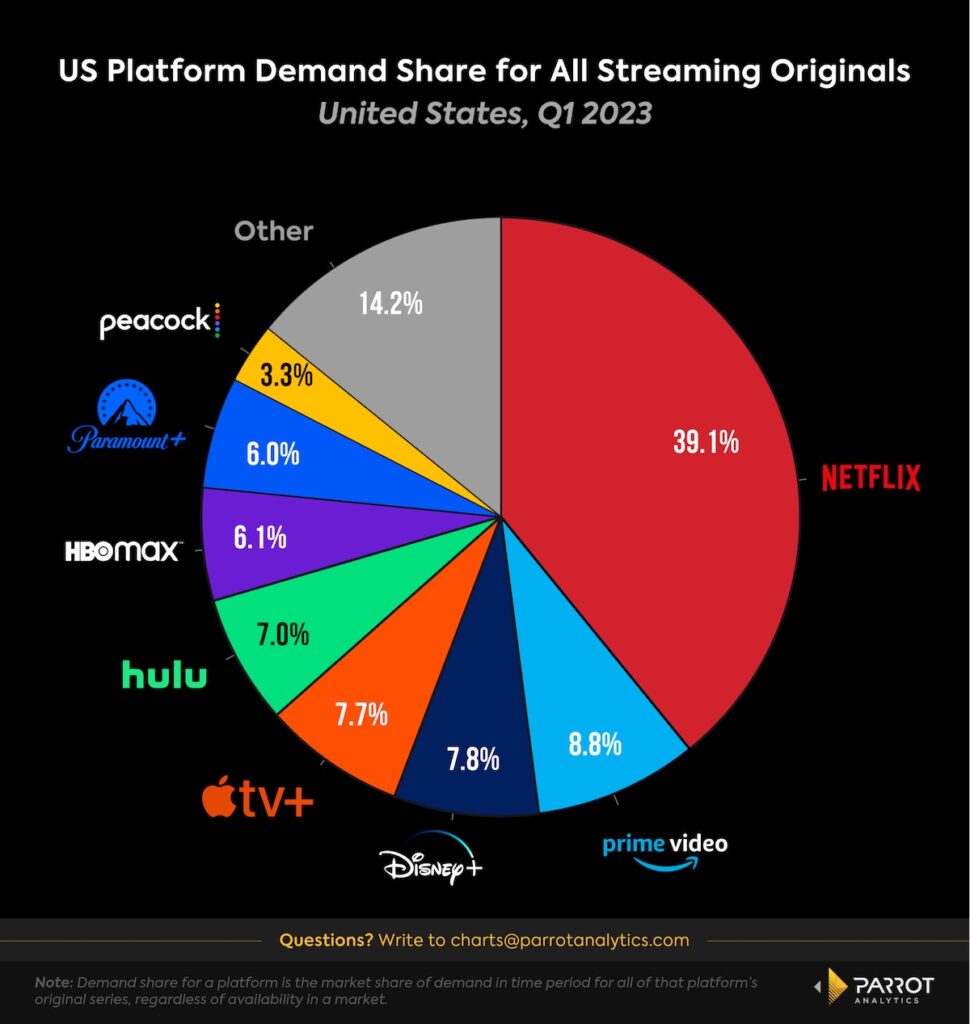 The 3.3% share of demand for streaming original series in the U.S., driven by Peacock titles, represents a new peak for the streaming service. But it's still well behind competitors. That said, 3.3% is triple the streamer's share of demand two years ago. The debut of "Poker Face" (peak of 27.1 times more demand than the average show in the U.S.) and the second season of "Bel-Air" (peak of 25.9 times average demand) saw the two highest U.S. demand peaks for any Peacock original. These were significantly higher than previous top Peacock originals "The Lost Symbol" (17.2 times peak demand) in 2021 and "Brave New World" (15 times) in 2020. Demand for original content is a key leading indicator of subscriber growth, and Peacock's 60% subscriber growth in a year underscores that.
However, the vast majority of demand for shows on Peacock still comes from library titles. Only one of the 25 most in-demand titles on Peacock with U.S. audiences was a Peacock original: "Poker Face," which ranked as the 20th most in-demand show available on the service for the quarter. "Saturday Night Live" continues to be the gem in Peacock's catalog. Its 60.7 times average demand far surpassed demand for any other series on the streamer. Other highlights include WWE content, continued high demand for "The Office" and "Yellowstone," the cornerstone of the Paramount franchise that Peacock was able to nab for itself, thanks to a licensing deal which predates the creation of Paramount+.
NBCUniversal as a whole has one of the most in-demand and valuable TV libraries in the industry. The company has been successfully leveraging this to both increase Peacock's paid subscribers, which now stands at 22 million, and keep said subscribers on the service. NBCUniversal-originated series accounted for a tenth of all U.S. TV demand in the first quarter of 2023. This makes it the fourth most popular corporate library as measured by TV demand in the U.S. 
As of the first quarter, NBCUniversal was ahead of Netflix (8.3%), but trailed its legacy media competitors Disney (20%), Warner Bros. Discovery (17.2%) and Paramount Global (12.5%) in this crucial category. This 10% corporate demand share is still highly valuable to Comcast, especially if Roberts were to look to either offload NBCUniversal in a combination with a rival, or acquire Paramount or Warner Bros. Discovery in the coming years. Either combination would position the combined entity ahead of Disney in U.S. corporate demand share for TV content.
Christofer Hamilton is a senior insights analyst at Parrot Analytics, a WrapPRO partner. For more from Parrot Analytics, visit the Data and Analysis Hub.