Experts floated a variety of scenarios for the streamer to TheWrap — from a deal with Comcast to tech giants Apple, Amazon, Alphabet or Microsoft
Wall Street speculation over Hulu's fate has ramped up in recent weeks after Disney CEO Bob Iger said in February that all options are on the table, including a potential sale of the company's majority stake to the highest bidder. But who has the finances and the need to buy a domestic streamer?
TheWrap spoke to a range of experts about who might potentially buy Disney's two-third stake in Hulu. The options range from Comcast — which owns the remaining third — to tech giants Apple, Amazon, Alphabet and Microsoft. Or, some said, Disney could keep it in some form, either buying out Comcast or restructuring its deal.
Become a member to read more.
As is typical with deals this big and momentous, the companies stayed quiet. A spokesperson for Microsoft declined to comment. Representatives for Apple, Amazon, Alphabet, Comcast and Disney didn't respond to TheWrap's requests for comment.
Meanwhile, Disney is studying "the business very, very carefully," Iger said in a talk at Morgan Stanley's Technology, Media and Telecom Conference Thursday, adding that Hulu is a "solid platform" that is "very attractive for advertisers." But he also acknowledged that the current streaming environment is "very, very tricky."
"Before we make any big decisions about our level of investment, our commitment to that business, we want to understand where it could go," he said.
Hulu had 48 million subscribers as of December, making it smaller than Paramount+ but larger than NBCUniversal's Peacock. Its growth has slowed, but it has the second-highest average revenue per user among the major services, behind only Netflix. Once derided as "ClownCo" in the tech press, it's become a serious contender. But it remains hobbled by its complicated corporate history, which also clouds any potential sale.
Control of Hulu was one of the assets Disney won in its $71 billion Fox deal, but less than six months after that transaction closed, Disney+ launched. For a while, Hulu found a home in the Disney Bundle alongside ESPN+. But with Wall Street pressuring media companies to show profits over direct-to-consumer (DTC) subscriber growth, the existence of two entertainment services under one roof is proving harder to justify.
"My belief is that Disney's preferred route is to find a buyer for Hulu and to focus their streaming effort entirely on Disney+ and take as much general entertainment content as they believe they need into Disney+," LightShed Partners media analyst Brandon Ross told TheWrap. "It's superfluous to run side-by-side products and to have to market both, maintain separate infrastructure, et cetera."
Comcast can't be counted out
Under a 2019 agreement, Disney can buy out Comcast's minority stake in Hulu stake as early as January 2024, and Comcast can require that Disney do so. Disney has guaranteed a minimum total equity value of $27.5 billion for Hulu, suggesting that Comcast's share would be worth at least $9 billion. As of Oct. 1, 2022, Disney valued Comcast's stake at $8.7 billion, according to its latest annual report.
Comcast executives have given mixed signals. "I think there's no indication that anything else is going to happen than Disney writing us a big check for the asset in '24," NBCUniversal CEO Jeff Shell said at an investor conference in December.
But his boss, Comcast CEO Brian Roberts, has previously suggested that the media conglomerate would be open to buying the majority stake if Disney put it up for sale.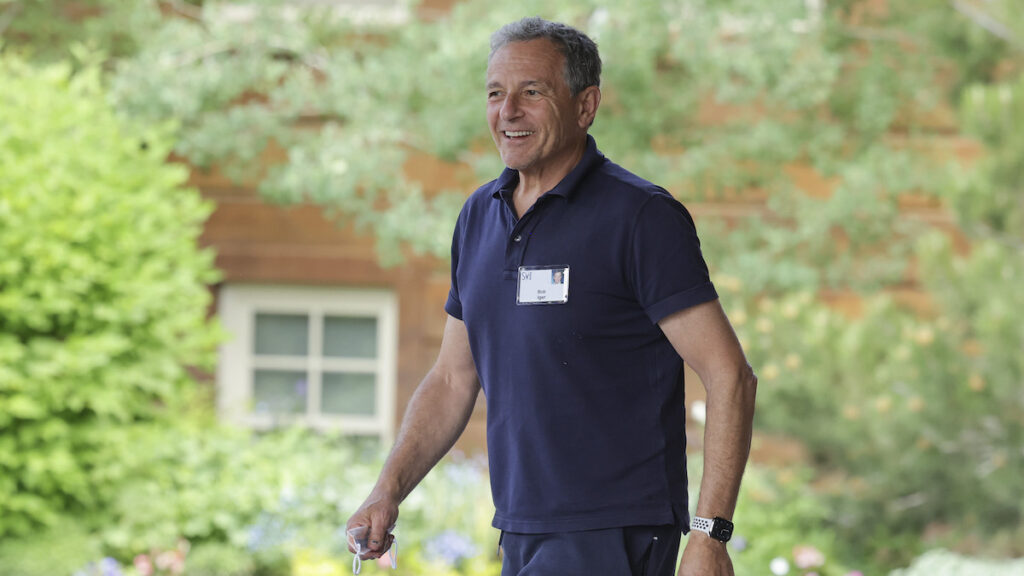 If a sale to Disney along the lines of the 2019 agreement is "the way it plays out, that would be great," Comcast president Mike Cavanagh said at the Morgan Stanley investor conference on Wednesday when asked about Iger's latest comments. "But if there's something different that comes along, we'll consider things. We won't do anything unless it is better in our minds than that."
Cavanagh expressed confidence in the company's current "hand," including the fast-growing if still small Peacock, which has less than half the number of subscribers Hulu does at 20 million.
Could Comcast be bluffing and actually eager to bolster its position in streaming? NBCUniversal played a key role in creating Hulu along with News Corp., then the parent of the Fox networks, and for a long time, Hulu was the home of "Saturday Night Live" and other NBC shows.
It's possible that Disney and Comcast could restructure their existing partnership, analysts at MoffettNathanson said.
"If Comcast is willing to rework the deal, we think it could be an elegant way for both companies to claim victory and end up with a 50/50 JV that is unconsolidated from results," the firm wrote in a Feb. 9 research note. "Disney would still be able to retain control of the content production, especially all the FX Networks programming that feeds into Hulu. Importantly, this would also avoid Disney having to cut a $9 billion check to Comcast and would provide Disney the excess cash to further delever and invest in its other streaming and linear businesses."
Citigroup analyst Jason Bazinet speculated that Disney could use a Hulu sale to Comcast as an opportunity to obtain control of the distribution rights to the Marvel characters Hulk and Namor.
"While the cost of securing these rights is likely small relative to the value of Hulu (we estimate the value at only $0.3 billion), it would fit with Mr. Iger's desire to focus on core brands and franchises," Bazinet wrote. He estimated Hulu's total price tag could be anywhere from $19.8 billion to $27.5 billion — the value set in the 2019 agreement between its owners.
Ross believes that Comcast has other ambitions, which include possibly buying Warner Bros. Discovery, which would get in the way of a Hulu deal. "I don't think that they want to get ahead of that, try and buy Hulu and then not be able to get a WBD deal through regulatory if that's their ambition," he said.
Gerber Kawasaki managing partner Hatem Dhiab told TheWrap that he doubts Comcast would have the cash to buy out Disney's stake or that even if it could finance the deal that it would make sense for the business.
Hulu "doesn't help Comcast with its international expansion aspiration," he said. "So unless they get a massive discount from Disney in a fire sale, I don't see them doing it. They already have their streaming tech and strategy and are executing well through Peacock apps and NBC properties."
Brian Frons, the former president of ABC Daytime, also pointed out that Comcast has already started pulling its content from Hulu to put on Peacock.
"It's hard to believe they would send the content back or retreat from trying to make Peacock a success," Frons told TheWrap. "So why would they want to rework their deal with Disney? It's just kicking the can down the road for both companies."
Microsoft is a streaming contender
Microsoft could emerge as a possible "dark horse" in the event that the tech giant's $68.7 billion acquisition of video game publisher Activision Blizzard isn't approved by regulators, Ross said. In December, the Federal Trade Commission announced it was suing to block the deal, citing the merger's potential impact on competition between Microsoft and its main console competitor, Sony.
In July, the tech giant struck a partnership with Netflix to use its ad-serving technology to help power the streamer's $6.99 per month Basic With Ads tier, which launched in 12 markets in November, including the United States.
"I think that it's pretty clear that they're trying to build this connected television business by the deal that they made with Netflix," Ross said. "I think that the Netflix deal is probably one that's not going to last for all that long because Netflix is likely to build out its own advertising infrastructure."
While Microsoft's core focus in media has been its gaming business, Constellation Research founder, chairman and principal analyst Ray Wang told TheWrap that buying Hulu would allow the company to "diversify revenue streams and build the ad revenue it needs to beat Google."
"They'd see a three-prong strategy," he added. "Using gaming to drive ads, use ChatGPT to improve search, and use streaming and media to increase eyeballs and audience."
Other experts are more skeptical of a Microsoft-Hulu deal, given that efforts towards closing on the Activision acquisition have seen some positive momentum in Europe.
"Honestly, I can't see it. The company turned [Hulu] down in 2011," Fitz-Gerald Group principal analyst Keith Fitz-Gerald told TheWrap. He expects Microsoft to pursue Netflix instead — which would be a lot to swallow, but Microsoft's market capitalization is $1.89 trillion against Netflix's $138 billion, putting it in the range of possibilities.
Wedbush Securities analyst Dan Ives told TheWrap that while Hulu would "not be out of the question for Microsoft given its streaming ambitions," he expects that the Activision deal will ultimately get done by Microsoft by the "late summer timeframe."
Streaming media analyst Dan Rayburn added that Microsoft CEO Satya Nadella has "made it clear that Microsoft plans to continue to stay focused on it core business and owning Hulu doesn't help it… sell more gear, more licenses, more cloud services," he told TheWrap. "It's not a fit for its current business in any way."
Apple, Amazon and Alphabet are bulking up
Apple could also potentially throw its hat in the ring for Hulu given its "very longstanding relationship with Disney," Dhiab said. Disney was a partner to Pixar and Apple before the late Apple co-founder Steve Jobs sold the animation studio to the media company and joined its board.
"Although they never make large deals, maybe this would be a one that's attractive enough," he said. "Apple, which is making a huge bet on entertainment and content, does have the cash to do this deal. It would also bring them some great IP and new content to its service and most importantly an already built infrastructure that can navigate the intricacies of Hollywood."
And Hulu's high revenue per user could fit with Apple CEO Tim Cook's emphasis on growing the company's services revenue, diversifying it away from hardware.
But Ross said he doesn't expect Apple to buy Hulu, arguing that Apple TV+ has a "different focus which isn't necessarily ad-driven." Frons added that Apple "seems to be growing nicely on its own" and doesn't need Hulu.
Two other potential contenders would be Amazon and Alphabet, which Frons noted also "have a tremendous amount of cash on hand."
Amazon in particular might be interested in Hulu after its purchase of MGM, which has long partnered with Hulu on programming like "The Handmaid's Tale."
Alphabet and Amazon "both know how to sell advertising. They both would benefit from the content, and production capabilities that one assumes would come with the Hulu brand name," Frons added. "They have the need, the expertise and the cash."
Wang argued that Alphabet already has YouTube and Amazon already has Prime Video, which would complicate any kind of deal. "[There is] really no need to do so unless the valuations are much lower," he said. "They will also fail antitrust."
Hulu could just stay home
While many companies could look at buying Disney's stake in Hulu, Rayburn emphasized that it doesn't necessarily mean they ultimately would place a bid.
"With so many companies looking to cut content spending, no one will want to get into a bidding war for Hulu," he added.
Dhiab agreed that he didn't see traditional streamers spending $30 billion or $40 billion for a property like Hulu during a time of austerity in Hollywood. And that could also discourage anyone trying to raise money to take Hulu independent, he added: "Tougher global macroeconomics and more expensive capital will also keep private equity firms away from a deal this rich."
Meanwhile, the 2024 deadline in Comcast and Hulu's 2019 agreement ticks ever closer. If Disney ends up with Hulu by default, then Iger will have another headache to leave his successor: How to make a general entertainment property work in its franchise-focused strategy.